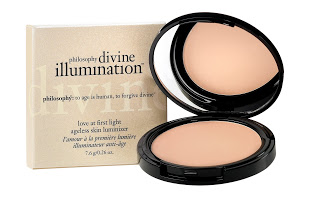 Ok, I am prepared to overlook the crazy-long name; it's almost more than one breath, because this stuff is actually pretty good. I've spent the better part of my beauty life trying to get my head around luminizers; yes, I know how they're supposed to work but I've never quite managed to get them to. I'm not a lover of shimmer; especially sloshed all down your 'decollete' and really, it's often a question of the Emperor's New Clothes – i.e. you don't look gently highlight, you actually look like your face is covered in glitter, no matter how 'glowy' you might feel. So the fact that Divine Illumination isn't sparkly is a very big plus for me. I used it over tinted moisturiser and used a flat foundation sponge to apply it. Because I couldn't really believe my own eyes – it gave a really pretty sheen that didn't shine, glint, dazzle, etc, just gave a little bit of a candle lit thing – I asked a friend what she thought. The converstation went pretty much like this:
"Emma, does my face look odd this morning?"
"No, in fact, the sun is catching your cheekbones and making them look glowy."
"It's just that I'm wearing an illuminatior and worried that I look a bit – well, metallic."
"No, it's not at all obvious and is just giving you a very slight sheen. You look really well."
So, my opinion gathering got off to a good start. Then, I bumped into another friend. She said:
"Oh – you look really tired."
So, what can I tell you? I thought it looked good; Friend No1 thought it looked good and Friend No2 didn't. I still rate it as one of the best illuminators that actually does illuminate, and doesn't, unlike most others in this sector, cover you in galactic glitter and tell you that's 'glow'.
It's out this month as a QVC exclusive at £24.
Transparency Disclosure
All products are sent to me as samples from brands and agencies unless otherwise stated. Affiliate links may be used. Posts are not affiliate driven.