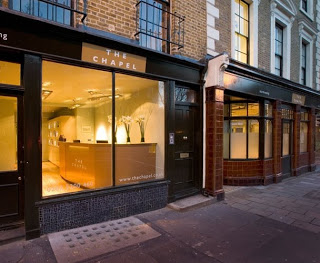 It's high time I did some individual salon reviews, but being continually short of time, I've recruited one of my favourite fashion bloggers, Disney Roller Girl (www.disneyrollergirl.blogspot.com), to test drive a pampering pedicure.
I wouldn't say my feet were in that bad a state of repair but when my boyfriend asked me if I was wearing shoes in bed one too many times, I concluded it was time for a pedi. The last time I had my feet seen to was 10 years ago when they enjoyed the attentions of a Scholl therapist who told me I had the prettiest feet she had ever seen. How time flies. This time, British Beauty Blogger waved me in the direction of The Chapel, an award-winning beauty salon with branches in Tunbridge Wells and Islington. Jeez Louise, what took me so long?
After a mini tour of the Islington premises, I was delivered to one of four vast velvet sofas while beauty therapist Kay fussed around me, presenting my sparkling water with a Tunnock's Teacake. We had a relaxed chat about what I wanted. The Chapel's philosophy is to discover what's important to the customer and give them a personal, unforgettable experience. What followed was no brisk shape and paint but a full 75 minutes of intensive pampering, resulting in a pair of baby-smooth feet that would not look out of place at the end of Suri Cruise's legs. In the pedicure area I was greeted by another plush velvet couch and a carefully arrayed fan of current magazines including that day's Grazia. Next to that, an arrangement of pink and red nail polishes – the colour choices I had requested.
Kay got to work cleaning my feet with antibacterial lotion while talking me through the process. Cuticle cream was applied around the toenails, nails were filed straight across and then the moment I had been waiting for, a thorough going over with the foot file. Ladies (and gents), for best effect you should be foot-filing daily before a bath or shower, not after. I have to say, the sloughing felt wonderful and left my heels resembling mozzarella rather than parmesan. Success! Kay then massaged in Leighton Denny's Diamond Sole Mate, a satisfyingly grainy exfoliating scrub that works really hard to eradicate dead skin. This was rinsed and my foot left to soak while the process was repeated on the other foot.
We chatted about The Chapel. The salon is unique in that most treatments (but not the pedi) are charged by the hour which I couldn't get my head around. Isn't that a bit hard to budget for? But the impressive thing about The Chapel is its five star customer service. I'm a virgo and highly critical so believe me, I notice good service, especially the details. Hotel-immaculate loos, lockable drawers for your handbag (and the key is presented on a beaded bracelet), the aforementioned Tunnock's Teacake and current magazines – these are the simple but crucial touches that add up to an experience you'll want to tweet about.
Post-soak, my feet were smothered in intensive oil, massaged and the cuticles were treated. Next, a cooling moisturiser to seal in the oil and more gentle snooze-inducing massage. Then finally, the colour. After prepping toenails with OPI Chip Skip (a balancing agent to prime the nail) and Ridge Filler base coat (to help polish glide on), Kay brushed on two coats of Leighton Denny's Glamour Puss, a deep, exotic pink. No slap dash application here, Kay spent a good few minutes tidying up the edges with a tiny brush and moisturising remover. To finish, some quick-dry drops, a top coat and the instruction to maintain the colour with a high shine top coat every two days. In conclusion, my 75 minute treatment was nothing short of perfect and my feet are now super-smooth, soft and sandal-ready.
The Chapel pedicure costs £45 for 75 minutes
http://www.thechapel.co.uk/islington/index.html
Transparency Disclosure
All products are sent to me as samples from brands and agencies unless otherwise stated. Affiliate links may be used. Posts are not affiliate driven.