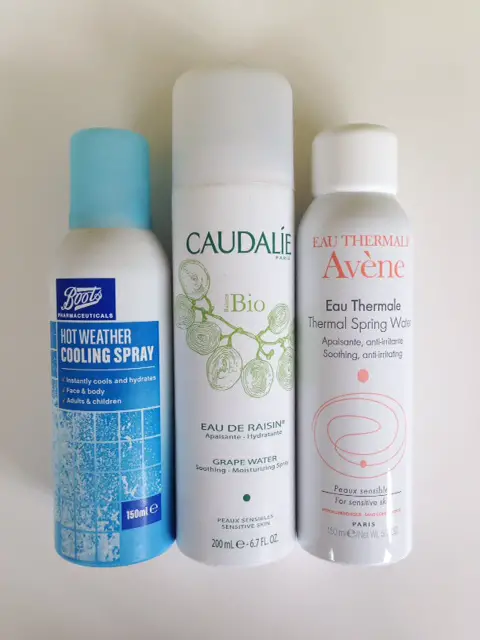 There is just no way to pretend that anything beauty can truly beat the heat; the most we can go for is respite and I've literally just pulled out of my fridge my absolute go-to products for close and sticky days like today.
The Boots Cooling Spray isn't particularly beauty oriented but for as long as these have existed I have had them in the fridge – particularly when my children were a bit younger (I think I started off with Magi Cool) to use on those 'can't sleep' nights. The Cooling Spray definitely takes the heat out – it is an instant cool down and works for long enough for you (or children) to at least get back to sleep again. I find it is particularly effective on the back of the neck for instant relief. It's £4.19 HERE.  These are usually completely sold out when the temperature rises so if you're buying, do it now!
Caudalie Grape Water doesn't have the specific cooling element, but straight from the fridge it is just a delight for hot faces and bodies – it's 100% organic extracted from the grapes during the harvest and is absolutely fine for sensitive skin. This is one to keep in your handbag for spritzing on the go and adding back a little bit of moisture. It's HERE for £9.50.
Avene Eau Thermal is the ideal cooler for itchy, rashy skin. Anyone with a skin condition knows that heat is the most uncomfortable thing that can happen to it so anything that stops it feeling tight or breaks the itch/scratch cycle is going to be helpful. Avene specialises in sensitive and reactive skin, so you will get a soothing element from this thanks to its virtually PH neutral water and it's also very soothing if you've had too much sun. I've just spotted an offer for two 150ml cans for £10 HERE
I've also spotted Salon Science Hydra Cooling Spray (£14) – a cooling spray for hot, dry and tight scalps but haven't tested it so can't say whether it hits the spot or not, but if your scalp suffers in the heat, I'd say it's worth a try. It's HERE.
Other tips to cool you down that I've used are to sleep with wet hair to keep your head really cool (yes, you will look a nightmare in the morning!), especially if you have a fan in your room. In fact, a fan boosts the cooling element of all the aforementioned products. If you can bear not to, don't use a body moisturiser before you go to bed – that layer of product can make your skin even hotter – save it for the cool of the morning.
On the plus, hot and humid weather is the perfect time to sort out those pores – they will naturally open in the heat and you can have a great clear out without relying on steam!
If you have any cooling tips, I'd love to hear them.
Transparency Disclosure
All products are sent to me as samples from brands and agencies unless otherwise stated. Affiliate links may be used. Posts are not affiliate driven.