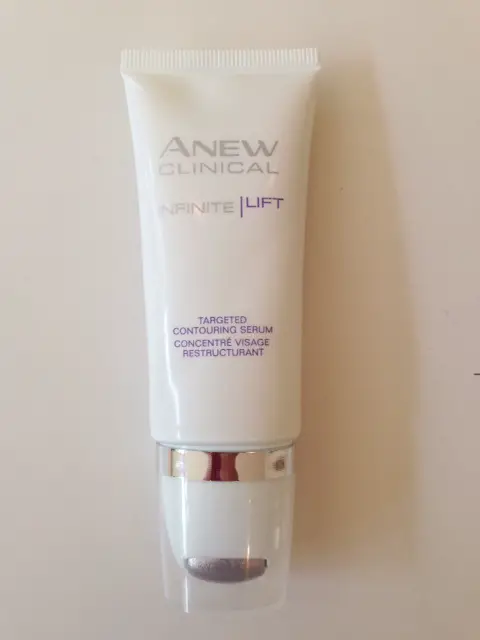 This is the kind of product that I find genuinely upsetting. Part of the remit of this blog is to guide consumers through the ridiculous promises that some brands make – to test out the claims and to give honest feedback. The fear of looking older than you really are is strong enough in most cases that you can lose your senses over a promise. Everything tells you this can't work, but there's just that little seed of maybe that can persuade you to part with hard cash. In this instance, listen to your inner sceptic.
The promise from Avon Anew Clinical Infinite Lift Contouring Serum is this: "To tighten, firm, and contour the appearance of your skin". The blurb further reads: "anti-ageing pioneers at Avon developed an advanced lifting product that targets visible signs of sagging and provides a multi-dimensional looking lift that tightens, defines, firm and contours the look of the skin…. to leave skin lookin visibly tighter and younger."
Oh no it doesn't. Not even a little bit. I've had this sitting on my face for at least ten minutes and there is no miracle taking place. Instead I have a dried film that when rubbed forms into exactly the sort of little squirls of products that you never want to see on your face. Bearing in mind that the leaflet in the box promises an immediate lifted 'feel' with results over time (but no time is specified) then it's disappointing from minute one when all you're going to get at the off is a feel. I didn't even get a feel to be honest.
The product sits on the skin – it needs to be used twice a day – and oh, grrrrr! It makes me so angry that a formula that will create dry squirls is advocated as a great thing to put on your face, not once but twice a day, with no real end in sight for the promised miracles. It's peptide based, so like any peptide, it will be able to stimulate collagen, but you know, this is such an oversell. It's all talk and very little action in my view and exactly the kind of youth chasing product that feeds our fears about ageing.
Transparency Disclosure
All products are sent to me as samples from brands and agencies unless otherwise stated. Affiliate links may be used. Posts are not affiliate driven.