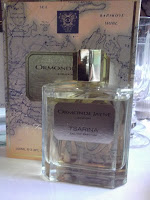 The latest collection of fragrances from Ormonde Jayne has been two years in the making. Linda Pilkington, creator of Ormonde Jayne, takes inspiration from the East, Latin America, China and Russia and gives them a London twist. It's a collection that reflects the cultural diversity of London and still seems exotic and far-flung.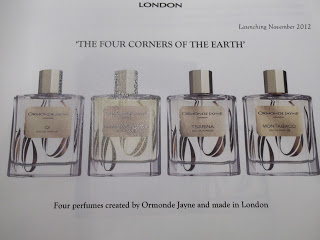 Montabaco, named by Geza Schoen (who has a hand in all the creations here), and whose own range is Escentric Molecules, is the gaucho fragrance in the line-up – leather, suede, wood and tobacco leaf over rich florals, and like all of The Four Corners of The Earth bar one, packs a weighty punch. It's the most masculine of the four and lives up to its name.

Nawab of Oudh is the next fragrance, inspired by the Nahwabs who once ruled over the Oudh province of central India. Being a perfume simpleton, I always assumed Oudh was from Arabia but seemingly not. Linda describes it as the Oudh for people who don't like Oudh, but there seems such a whack of it that if you really don't like Oudh, you won't like this! However, shining through is a beautifully soft amber and rose roundness; Nawab settles into the skin gently and slowly.

I'm totally biased in favour of Tsarina from the four new arrivals. It's just about everything I could every want in a fragrance; they call it a floral oriental – I don't know what to call it because it seems to defy that category. It's sweet, rich, floral and vanilla-dipped without ever moving into a gourmande genre. It reminds me of a perfume from long ago but I can't remember which it is; Tsarina is ultra-feminine and I can't stop smelling my arm which is doused in it!

Finally, Qi, which means Breath of Life. This is representative of China, where strong fragrances aren't popular so it has been given the most delicate of hands. It's dry, green and very fresh with green lemon blosson, neroli and freesia and tea notes that sing through.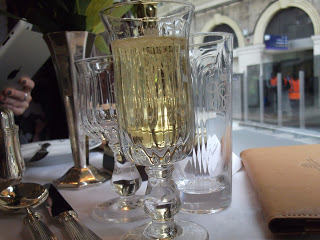 A large part of my day today was spent on The Orient Express – what better place to launch the fragrances? When it came to talking about creating these scents, Linda and Geza (who have a collaborative working relationship, hence Geza's part in The Four Corners Of The Earth Collection), lit up the carriage. They're not in the slightest bit pretentious – I nearly kissed Geza when he said the worst perfume known to man/womankind is Womanity because I could not agree more (figs, caviar and hazelnut – bleugh) – and Geza has that extraordinary ability to think in scent. By that I mean that he can think a smell which sounds all kind of odd… if you ask him what adding another ingredient, such as peppercorns, to a top note he will be able to think what that smells like and know if it will work without smelling it physically. I don't know if there is a word for people who can that but it has to be very rare.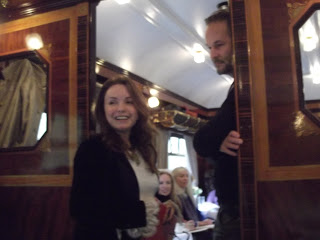 Linda and Geza
I've known the Ormonde Jayne brand since it first arrived (Tolu is a favourite), and meeting fragrancers is one of my least favourite activities. They get all excited about ingredients and molecules and I can never smell what I'm supposed to smell. I need a literal translation – I can't read between fragrance lines. So, I guess the end product is the most important thing and Tsarina is the one that translated best to me. It's opulent and decadent, a little bit spoilt and princessy but very feminine so to me, that does represent what I imagine a Tsarina might be like. 

These are phenomenally expensive at £260 for 100ml but for true fragrance coinnoisseurs they'll be worth every penny when they launch in November.




Transparency Disclosure
All products are sent to me as samples from brands and agencies unless otherwise stated. Affiliate links may be used. Posts are not affiliate driven.