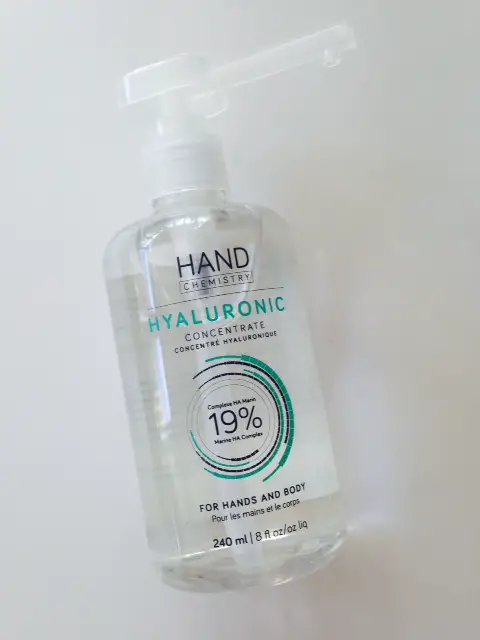 You know, if someone asked me what my dream body product would be, Hand Chemistry Hyaluronic Hand & Body really would be it. I'm not one to over-enthuse over skin care but oh-my-goodness! Hand Chemistry Hyaluronic Hand & Body is beyond good. It's from Deciem, the brand that made Hand Chemistry, my all time favourite hand cream and one of the few that has shown measurable results over the longer term as well as an instant short term effect, so I guess I should have known.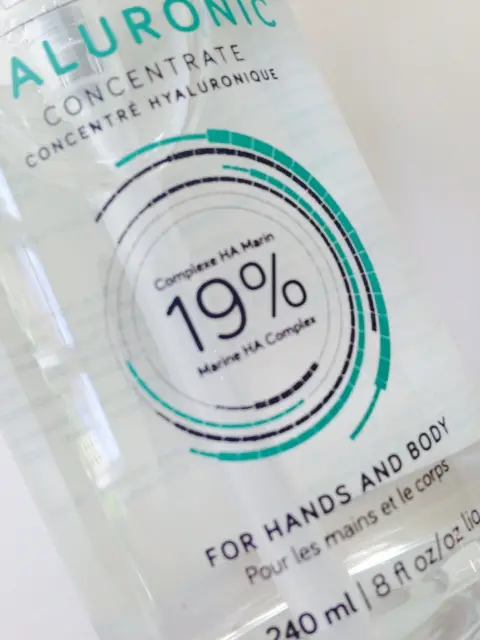 So, to the detail. Hand Chemistry Hyaluronic Hand & Body claims a next generation active marine hyaluronic complex 400 x more hydrating than hyaluronic acid alone. I can't prove it, but it's impossible to make such claims without strong evidence. Where hyaluronic in many products falls down is that it cannot penetrate the skin as well as implied; however, at 99.5% pure the Hand Chemistry actives are able to penetrate more effectively. It's the same level of purity as hyaluronic found in the body.
In texture, Hand Chemistry Hyaluronic Hand & Body might come as a bit of a surprise – it's not an instant absorption product – it feels silky on the skin but also a little wet.. you need to give it ten seconds or so for the water to evaporate away and then you're good to go. It feels completely serum-like and you'll feel a difference on your skin within moments. Twice a day for a couple of weeks and you'll really feel a transformation. It also contains tamarind extracts and red marine algae.
It takes a lot for me to get overly-excited about skin care (although a lipstick can set me off in a nano-second) but I think we have something here that is very, very special. Notes from testing are that you should be generous with it (I've also applied to my face but can't officially recommend that you do the same because it's not indicated for face … nothing bad happened though!), it will feel a little tacky at first, don't waste it on the palms of your hands as they won't absorb the product, and finally, if you're unlucky enough to get sunburn, apply it liberally to reddened areas.
Hand Chemistry Hyaluronic Hand & Body is £27.99 and launches into Boots in May.
Transparency Disclosure
All products are sent to me as samples from brands and agencies unless otherwise stated. Affiliate links may be used. Posts are not affiliate driven.