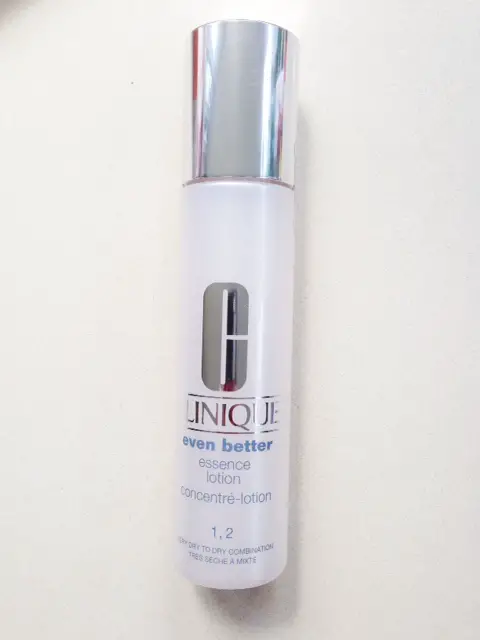 You're going to have to bear with while I try and explain this in a digestible way! Basically, Clinique Even Better Essence Lotion is an extra moisturising step in your beauty routine – after cleansing and before your moisture routine. Containing an NMF complex (which is what had me confused from the get-go), it takes inspiration from Asian beauty routines where an essence is a standard part of skin care. In texture, essence is like a thick water and it's use is to help skin receive and retain moisture better.
So, NMF. Stands for Natural Moisturising Factor. In Clinique Even Better Essence Lotion, this means botanical ingredients including watermelon, apple, cucumber and lentil extracts helping the skin to activate and process enzymes into skin-friendly amino acids. We're told to expect soft, supple and hydrated skin. I used Clinique Even Better Essence Lotion on Saturday and yesterday (just pat it into the skin) and both times, I would say my skin did feel more hydrated. It leaves a not-unpleasant, light film that makes skin feel pliable and stronger. I've explained NMF in a very basic way, because, to be frank, I only understand it in a very basic way. For all I know, it could be the Marketing Department at it again with another way to make everything sound more high-tech than it really is. BUT, what I do know is that I love skin essences (look at Shiseido and also L'Occitane for excellent essences or 'skin softening lotions' ) and I could feel the difference. It's also got hyaluronic, which is a big help to the overall feeling of hydration.
I think this new 'essence' phase is great for people who really enjoy the ritual of a skin care routine – if you're a swipe and go kind of girl (or guy) then it might be too much faff.
Clinique keep on popping out these surprises – bearing in mind that Clinique is part of the Estee Lauder group, it's a natural follow that other brands within the group will gradually begin to incorporate essences into the UK beauty routine.  When it launches, Clinique Even Better Essence Lotion will cost £30. We should see it in the UK in June.
Transparency Disclosure
All products are sent to me as samples from brands and agencies unless otherwise stated. Affiliate links may be used. Posts are not affiliate driven.