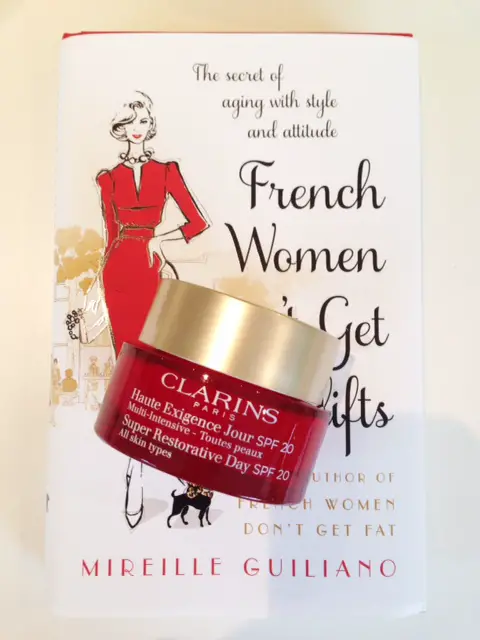 I've been looking forward to writing this post for absolutely ages – very rare for me to get excited about anything skin care. But, Mireille Guiliano, the author of French Women Don't Get Fat and French Women Don't Get Facelifts  was at the launch of Clarins Super Restorative to give all of us Brits a talking to on how much better French women are at everything. Honestly, I was SO ready to dispel any idea she might have of superiority, to share my Paris tales of how I never really see anything of the super-elegant women and how I think they're really just as much of a myth as the English drinking tea a 3 o'clock every afternoon. I was prepared. But, she turned out to be utterly charming, totally sensible and completely engaging. Those headline grabbing titles hide a multitude of extremely sage advice.
There is a difference, I think, culturally but Mireille was the first to say that yes, of course some French women get fat and of course some French women have face lifts (there really is no denying that one since half of Paris's surgeons run very lucrative Harley Street practices that they Eurostar to and from weekly). However, I think ageing is far more acceptable in France than it is in say the UK or the US, where we preface every single thing with 'anti-ageing' as though getting older is the very worst thing that can happen to any woman. I think French women give ageing the finger, they're open to ageing and actually, while no, they don't exactly embrace their lines and wrinkles, being older is something that is looked forward to for many reasons. Mostly, it's so that they can relax, see family, do all the things they never had time to do before and crucially, see it as a time to help others. There is nothing that can make you feel old more than feeling useless. So, it's an attitude, rather than a look.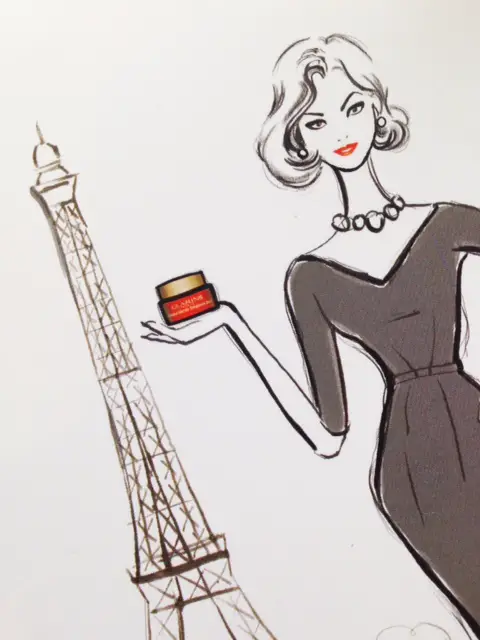 On to Clarins Super Restorative. Well, Clarins have a very sound – and very French – approach on this one. Mainly, that menopause is a normal, no drama, life phase – it's not the end of everything, it's the beginning of something. There is no getting away from the skin facts, however. Namely, that in the five years following menopause, skin loses thickness and collagen production at quite a sound rate. The result is dryer skin that is less plump and therefore more lined – that won't be news to anyone. But Clarins are not skirting the issue of menopause – no coy references to 'hormonal changes' – they're just coming out with it. M.E.N.O.P.A.U.S.E. Another skin phase, just like all the other skin phases every woman goes through in life.
Of course, they're here to sell product but in fact, Clarins Super Restorative has a life of its own – it's one of the biggest selling 'word of mouth' products, and the new rebooted version launches in September. The key ingredient is Harungana which has the very impressive claim of working 40% more effectively than retinol on the synthesis of collagen. I hate to regurgitate a press release and I'm more interested that women of menopausal age keep buying it and recommending it than any of the ingredient claims, so all I'm going to say on this is that Harungana helps to keep cells in shape. During menopause, your cells shrink to a weird shape because without oestrogen, that's just what happens. With oestrogen, cells are star shaped. What Clarins are claiming here is to return your weird cell shape to a star shape and with that, plumper, more bouncy skin.
While a change of attitude about ageing and menopause is free, Clarins Super Restorative is not! Super Restorative Day Cream is £69 and Super Restorative Night Cream is £73. Either version is fine with me but both together sounds like a very good plan.
Transparency Disclosure
All products are sent to me as samples from brands and agencies unless otherwise stated. Affiliate links may be used. Posts are not affiliate driven.