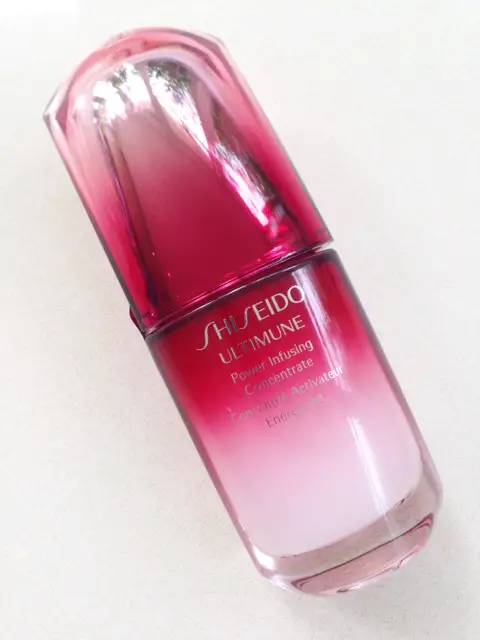 Right, well I hardly know where to start with Shiseido Ultimune. On the one hand, I'm completely irritated by yet another marketing led skin care aspect that we're supposed to embrace (skin immunity) and yet on the other, I'm convinced enough that I'm using it already.
There are so many new skin care launches so be prepared to be assaulted with all kinds of must-haves with names to be filed under Totally Made Up in your beauty notebook. To get to the very bottom line of Shiseido Ultimune, it's an extra step in our beauty routine that helps anything else you put on (Shiseido or not) work more effectively. It makes sense that skin, as the largest organ of the body, has its own immune issues; the Shiseido theory works on the fact that stress weakens the skin's immunity and therefore has an effect on skin condition. So, if I look at it from the marketing angle, take something that everyone suffers from (or thinks they do), find a way to prove it has a detremental effect on how you look, and then offer up a product to cure it. Simples. However, stress and immunity have provable links in the medical world, so everything actually makes sense and Shiseido is exceptionally strong on research. Their claim is to reactivate and restore Langerhans cell function. The best way I've seen Langerhans described is as 'the air traffic control of the immune system', sending out immune cells to capture bacteria and fight off injuries. How this translates to beauty is that skin is strong enough, with boosted Langerhans, to slow down ageing. That's the theory anyway.
We're really not great at prevention in the UK – we like cure – and Shiseido Ultimune is all about prevention, so you need to get your head around believing that Ultimune is doing something positive for the future. If you can do that, then Ultimune launches on 4th September for £60.
Transparency Disclosure
All products are sent to me as samples from brands and agencies unless otherwise stated. Affiliate links may be used. Posts are not affiliate driven.