[Unpaid/Affiliate/Ad] The magic of the festive season is often amplified by the thrill of the countdown, and there's no better embodiment of this anticipation than a beauty advent calendar. If you're searching for the ultimate beauty advent calendar for 2023, look no further. I've curated an impeccable list of the top ten beauty calendars, blending luxury and beauty in one enchanting package.
Despite some voices hinting at a waning interest in beauty advent calendars, the 2023 editions stand strong as a testament to their evergreen appeal. These aren't just calendars; they're curated experiences, opening doors to new beauty products and brands with every passing day.
Designed not just as a festive indulgence, these calendars act as a beauty discovery platform. Perfect for those eager to explore top beauty brands and products for 2023. Ready to unveil the best in beauty for the holiday season?
Let's delve into the standout Beauty Advent Calendars for 2023, crafted to capture both your heart and the latest beauty trends. And remember, the popularity of these curated gems means they often sell out rapidly—so it's best to act quickly!
MAC Frosted Frenzy Beauty Advent Calendar 2023
Best beauty advent calendar 2023 for: the colour curious cosmetics fanatic.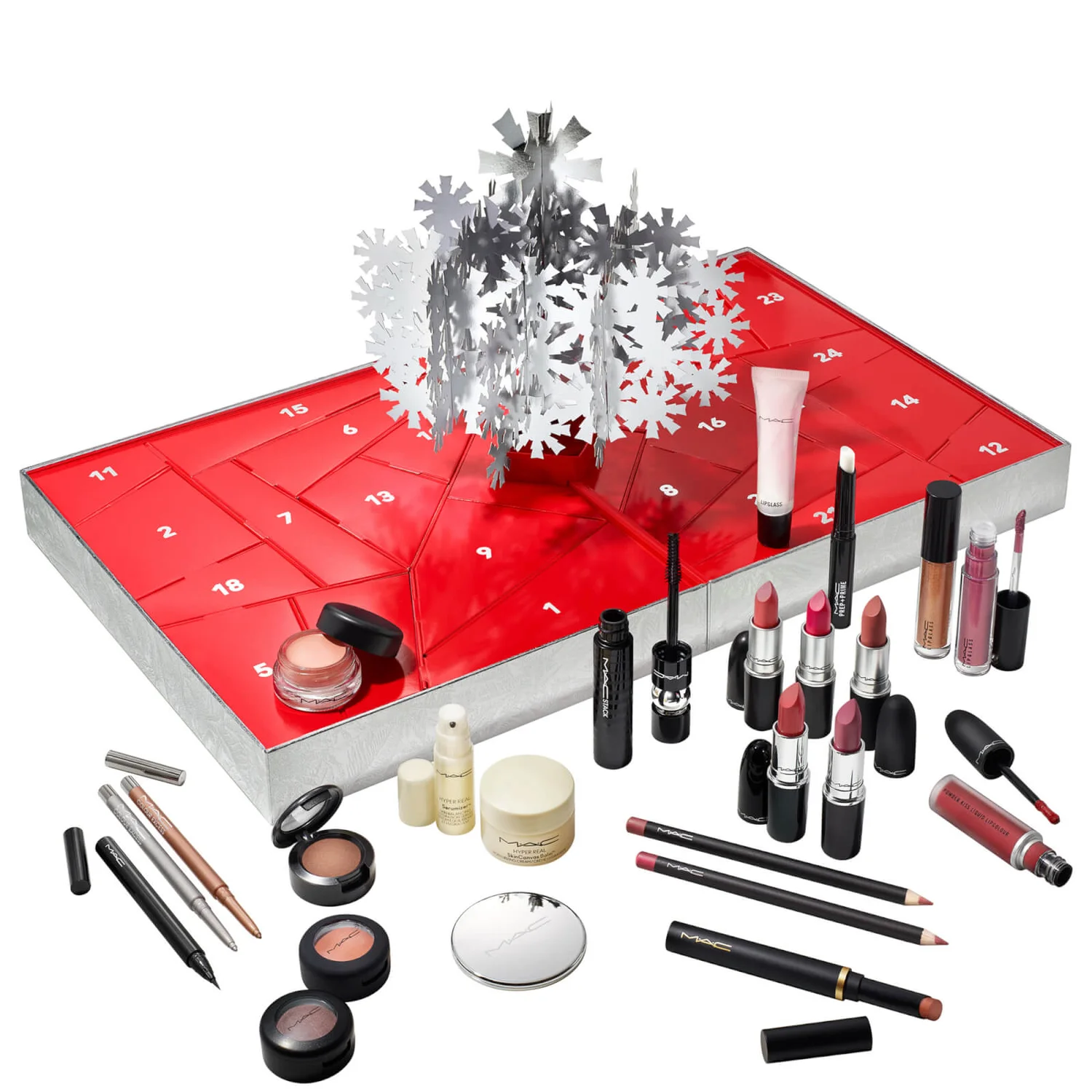 Immerse yourself in MAC's 2023 Frosted Frenzy. Designed for true makeup aficionados, its pristine white and chrome design is undeniably festive, securing its spot on many wish lists. You'll find a thoughtful mix of mini and full-sized items, with some limited editions that are exclusively available here.
MAC Cosmetics, a universally adored brand, presents this calendar as a careful curation including skincare, brushes, and a mirror — every essential a makeup lover could dream of.
Retailing at £170 but packed with contents valued over £485, this is one calendar you could consider breaking apart for individual gifting. It might not be the conventional advent approach, but it's a smart strategy for those watching their budget and keen on gifting makeup or skincare.
Buy the MAC Frosted Frenzy Beauty Advent Calendar 2023 HERE.
Full-Size MACStack Mascara- Mega Brush
Full-Size Tinted Lipglass
Powder Kiss Liquid Lipstick
Prep + Prime Lip
Full-Size Lipglass
Brushstroke 24 Hour Liner
LIMITED-EDITION Colour Excess Gel Pencil
Full-Size Velvet Blur Lipstick
LIMITED-EDITION Mirror
Full-Size Retromatte Lipstick
Eye Shadow
Pro Longwear Paint Pot
Mini MAC Hyper Real SkinCanvas Balm
Full-Size Retromatte Lipstick
Lip Pencil
Full-Size Lipstick- Lustreglass
Lip Pencil
Eye Shadow
Hyper Real Skin Canvas Serumizer
Full-Size Lipstick- Lustreglass
Full-Size Tinted Lipglass
LIMITED-EDITION Colour Excess Gel Pencil
Full-Size Powder Kiss Lipstick
Eye Shadow
The Liberty Beauty Advent Calendar 2023
Best beauty advent calendar 2023 for: The beauty curious.
Does the allure of the Liberty Beauty Advent Calendars ever fade? With their iconic packaging mirroring the iconic Liberty London Store, these calendars have carved out a niche for themselves. The charm is so enduring that even their empty boxes find a second life on eBay, repurposed for the subsequent festive seasons.
The 2022 edition wasn't just another calendar – it became the fastest-selling product in Liberty's illustrious 137-year history. This year? Brace yourself for another likely sell-out.
Dive into an eclectic blend of contents: discover niche fragrances by Vilhelm and Bibbi, immerse in the aromatic aura of the Liberty Stately Bouquet Scented Candle, and pamper your skin with premium face creams from esteemed brands like Dr. Barbara Sturm, Augustinus Bader, and Paula's Choice. The much-sought-after Rose Inc Cream Blush is another gem you'll uncover.
And with whispers of Liberty unveiling their very own beauty range, anticipate delightful surprises from that collection. The cherry on top? An elegant Estella Bartlet gold-plated bracelet. This calendar scores a perfect 10/10, offering a rich variety spanning skincare, fragrances, haircare, and cosmetics. Don't miss out on this 2023 beauty extravaganza!
Contents listed below worth £1040.00 – it's £250 to buy HERE. It's yet to launch but I will update the moment it does. A content list is below.
Liberty Stately Bouquet Scented Candle 60g
Dr. Barbara Sturm Face Cream 20ml
The Seated Queen Cassiopeia's Serum Concentrate 10ml
Sunday Riley Luna Sleeping Night Oil 15ml
(Malin+Goetz) Rum Bar Soap 50g
Byredo Lipstick in Solid Ground or Commuter 3g
Charlotte Mensah Manketti Hair Oil 15ml
Augustinus Bader The Rich Cream 15ml
Aromatherapy Associates Deep Relax Rollerball 10ml
Verden D'Orangerie Hand Cream 75ml
Dr Sebagh Serum Repair 20ml
Liberty Pocket Mirror in Elegance Print
Bibbi Parfum Ghost of Tom Eau de Parfum 10ml
Votary Night Star Serum 30ml
Surratt Relevee Mascara 6ml
 Dizziak Deep Conditioner 50ml
Larry King Haircare Spoilt for Choice Hair Oil 30ml
OTO Cleansing Jam Exfoliator 25ml
Zelens Instant Recharge Renewal Mask
Paula's Choice Skin Perfecting 2% BHA Liquid Exfoliant 30ml
Davines Oi Shampoo 90ml
Estella Bartlett Stars So Bright Gold Plated Bracelet
111 Skin Celestial Black Diamond Eye Mask 6ml
Le Labo Rose 31 Liquid Balm Perfume 9ml
Rose Inc Cream Blush Refillable Cheek & Lip Colour in Daylily
REN Clean Skincare Overnight Glow Dark Spot Sleeping Cream 50ml
Vilhelm Parfumerie Poets of Berlin 10ml
The Uniform Hairclip Duo
 PLUS a brand new launch from Liberty
BUY HERE
The Jo Malone Beauty Advent Calendar 2023
Best Beauty Advent Calendar 2023 for: Luxury Indulgence and making an impression.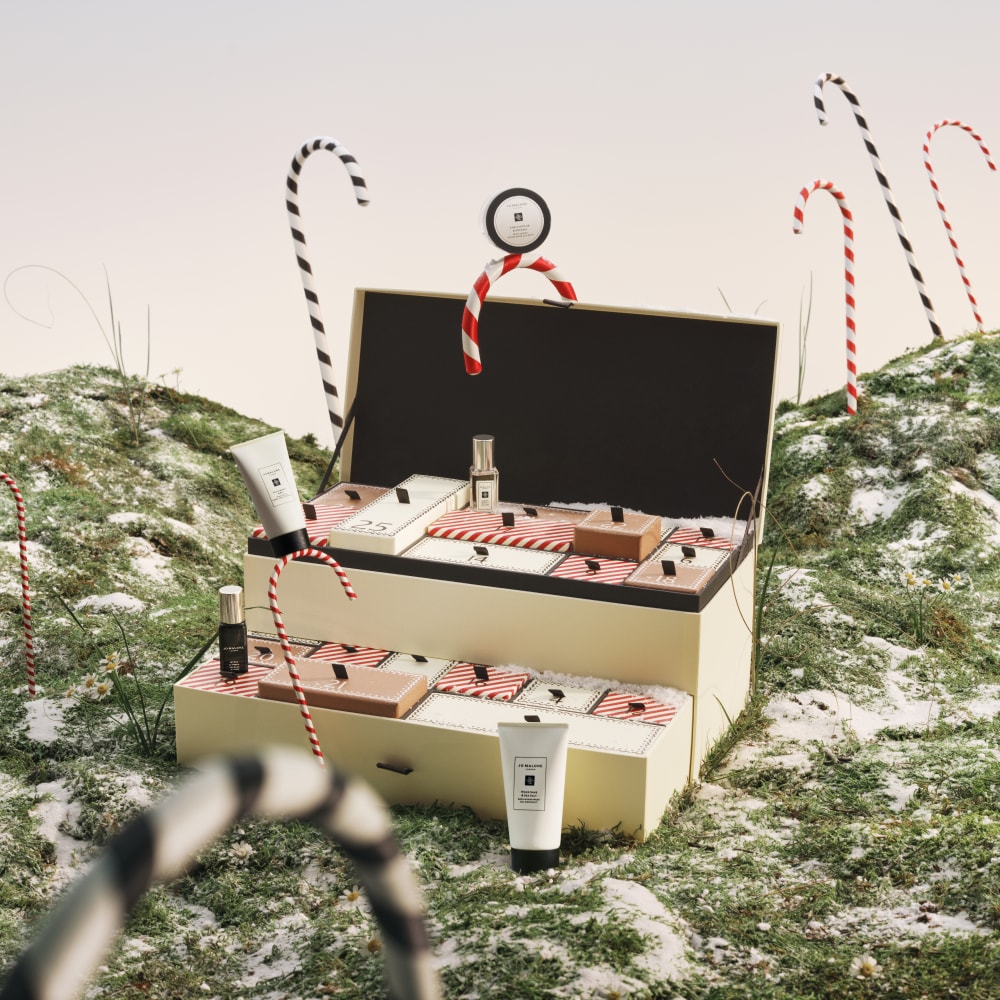 Historically, when discussing the best beauty advent calendars, Jo Malone has always clinched a top spot—and for good reason. Recall their inaugural advent calendar release? Enthusiasts lined up, wrapping around the Jo Malone store, eager to get their hands on this epitome of luxury.
2023 promises nothing less, with the tantalizing theme of "Gingerbread House" taking center stage. Adorned with whimsical candy stripes and delicate icing patterns, it's an aesthetic treat even before you dive into the contents.
Inside, you'll be greeted with an aromatic medley, featuring hand and body fragranced products. Favourites making a return include the invigorating Blackberry & Bay, the sophisticated English Pear & Freesia, the opulent Myrrh & Tonka, and the refreshing Wood Sage & Sea Salt.
Priced at £350, the full list of what this calendar houses is detailed below. Given past trends, it's likely to be a quick sell-out, so early anticipation is key. Step into the fragrant world of Jo Malone and make this festive season unforgettable:
Buy The Jo Malone Beauty Advent Calendar 2023 here.
Ginger Biscuit 9ml
White moss & Snowdrop 9ml
Scarlet Poppy Cologne Intense 9ml
Wild Bluebell Body Mist 30ml
Orange Bitters Cologne 9ml
English Pear & Freesia 9ml
Wood Sage & Sea Salt Hand Cream 30ml
Cypress & Grapevine Cologne Intense 9ml
Peony & Blush Suede cologne 9ml
Wood Sage & Sea Salt Body & Hand Wash 50ml
Velvet Rose & Oud Cologne Intense 9ml
Poppy & Barley Cologne 9ml
Grapefruit Body & Hand Wash 50ml
Wild Bluebell Cologne 9ml
Myrrh & Tonka cologne 9ml
Peony & Blush Suede Body & Hand lotion 50ml
Silverbirch & Lavender Cologne 9ml
English Pear & Freesia Body Creme 50ml
Nectarine Blossom & Honey Cologne 9ml
Vitamin E Lip Conditioner 15ml
Oud & Bergamot Cologne Intense 9ml
Blackberry & Bay Hand Cream 30ml
Wood Sage & Sea Salt Cologne 30ml
The Soap & Glory Beauty Advent Calendar 2023
Best beauty advent calendar for: tweens and teens keen to experiment with beauty products
Every festive season, my inbox buzzes with the same query: "What's the ideal beauty advent calendar for 'tweenagers'?" It's true; the market often overlooks this spirited age group nestled between childhood and the teen years. While they may not be ready for the intense serums and anti-aging creams that many calendars offer, they certainly don't want to be sidelined from the advent calendar excitement!
So, for our tweens and young teens craving a touch of beauty magic, I present the Soap & Glory Beauty Advent Calendar. The emphasis here isn't on the high-end beauty regimens, but rather on fun, whimsy, and a playful introduction to the beauty world. Inside, they'll discover cute hair scrunchies, nail files for those DIY spa days, refreshing body washes, a nourishing lip mask, and delightful bubble bars for that luxe bath experience.
While the Plumping Hydrating Day Lotion might seem an odd addition, I find it to be a gentle nudge into skincare without overwhelming young skin. Plus, the sizes are generous without being wasteful. Priced at a wallet-friendly £46, it stands out as one of the most affordable beauty advent calendars of 2023.
In a nutshell, this is the go-to beauty advent calendar for tweens and teens itching to dip their toes into the beauty universe. Interested in the full rundown? Check out the complete list of contents below:
Buy the The Soap & Glory Beauty Advent Calendar 2023 here.
Clean on Me Body Wash 75ml
The Righteous Butter Body Butter 300ml
Call of Fruity Body Wash 75ml
Call of Fruity Body Butter 50ml
Scrub of Your Life Body Scrub 200ml
Magnificoco Body Butter 50ml
Speed Plump Intensely Hydrating Day Lotion 50ml
Magnificoco Body Scrub 50ml
Perfect ZZZen Body Milk 75ml
Heel Genius Foot Cream 125ml
Hand Food Hand Cream 50ml
Face Soap & Clarity Vitamin C Facial Wash 50ml
The Fab Pore Pore-Refining Sheet Mask 29g
Original Pink Fragranced Rollerball 10ml
Soap & Glory Nail File
Soap & Glory Massaging Face Mitt
Soap & Glory Scrunchie
Bright + Beautiful Biodegradable Brightening Sheet Mask 29g
Speed Plump Super-Hydrating Miracle Moisture Hydrogel Sheet Mask 25g
Pout About It Hydrogel Lip Mask 2.5g
Puffy Eye Attack Under-Eye Brightening Hydrogel Patches 3g
Soap & Glory Reusable Cleansing Pad
Perfect ZZZen Bubble Bar 40g
Perfect ZZZen Scented Candle 30g
SpaceNK Beauty Advent Calendar 2023.
Best beauty advent calendar for: those who aren't easily impressed!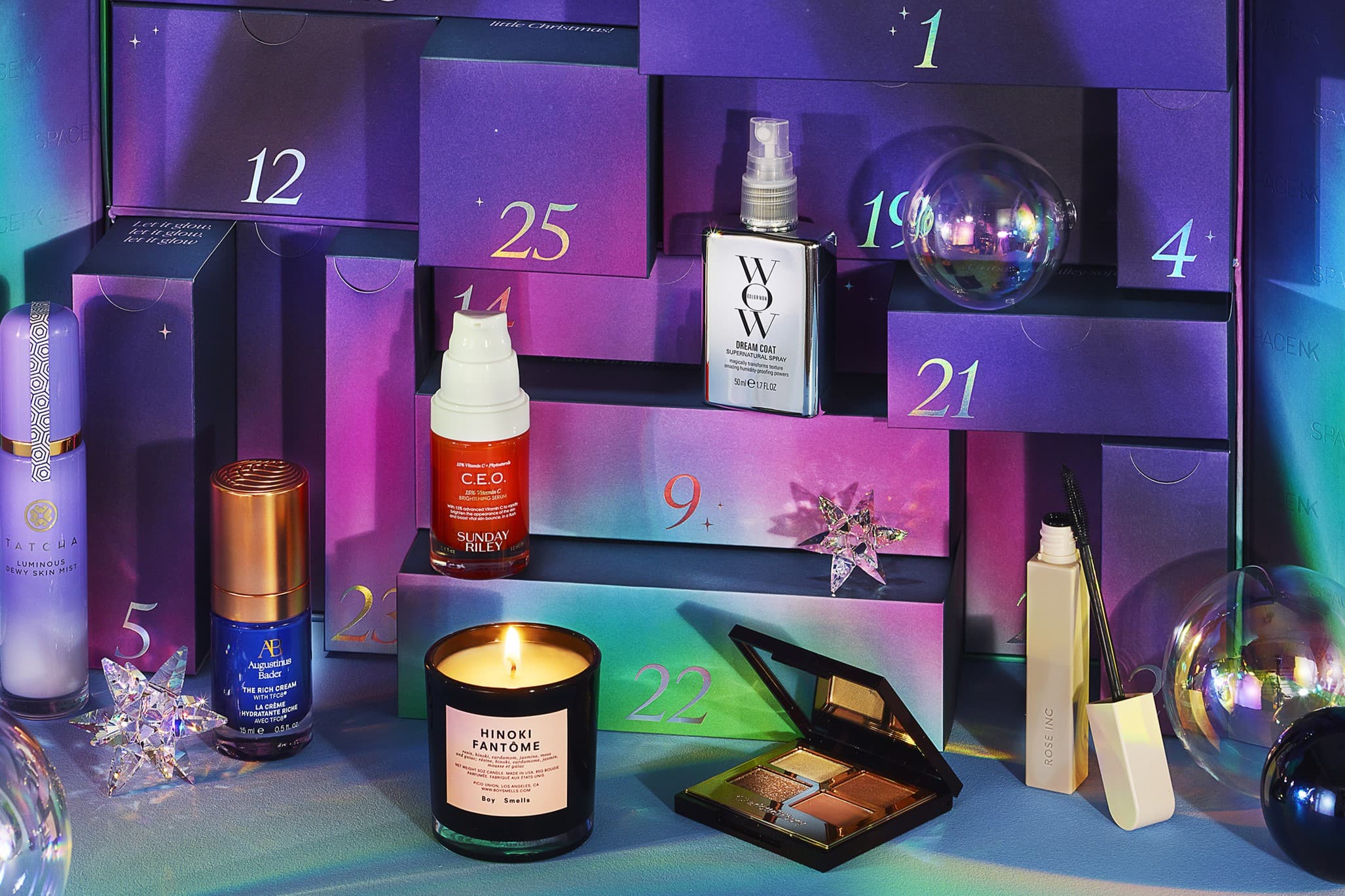 Let me introduce you to the SpaceNK Beauty Advent Calendar for 2023, and trust me, 'grand' doesn't even begin to cover it! I've got a sample right here with me, and its size is genuinely astonishing. But what truly caught my attention isn't just its imposing stature, but the brand's commendable eco-conscious choices: every inch of this calendar is recyclable, adorned with environmentally-friendly water-based inks and aqueous varnish. A green thumbs-up for sustainability!
SpaceNK seems to have taken a fresh, non-repetitive approach with their product selection this year. Amid the offerings, you'll encounter distinct and lesser-known brands like Kosas, Naturium, and Bread Beauty. And for the Charlotte Tilbury aficionados, there's a treat in the form of a 4-pan eyeshadow palette to glam up your festive looks.
With its impressive dimensions and product count – a whopping 33 items, 19 of which are full-sized – this calendar easily stands out amidst other luxury contenders. Priced at £240, it's a steal considering you're getting products valued over £1000. Quite the festive bargain, right?
For those eager to dive deep, the detailed contents list awaits below:
Buy the SpaceNK Beauty Advent Calendar 2023 HERE
Dr. Barbara Sturm Cleanser 150ml
Olaplex No. 4 Bond Maintenance Shampoo 100ml
Olaplex No. 5 Bond Maintenance Conditioner 100ml
Charlotte Tilbury Bigger Brighter Eyes Eyeshadow Palette
Drunk Elephant Lala RetroTM Whipped Cream 30ml
Sunday Riley C.E.O. 15% Vitamin C Brightening Serum 15ml
Farmacy Beauty Green Clean Makeup Removing Cleansing Balm 50ml
111 SKIN Rose Gold Illuminating Eye Mask x3
Rose Inc Ultra-Black Lash Lift Serum Mascara 10.7ml
Naturium Niacinamide Serum 12% Plus Zinc 2% 30ml
Tula Skincare Cooling & Brightening Eye Balm 10g
Bread Beauty Supply Hair-Oil: Everyday Gloss 30ml
Nécessaire The Body Serum Fragrance Free 250ml
Summer Fridays Jet Lag Mask 64g
Kosas Wet Lip Oil Gloss Shade Exposed 4.5g
Biossance Vitamin C Rose Moisturiser 15ml
Eve Lom Rescue Mask 50ml
Paula's Choice 10% Azeliac Acid Booster 30ml
Milk Makeup Hydro Grip Setting Spray 50ml
Tatcha Luminous Dewy Skin Mist 40ml
JVN Hair Complete Instant Recovery Serum 100ml
Malin+Goetz Vitamin B5 Body Moisturizer 30ml
Kate Somerville Goat Milk Moisturizing Cleanser 60ml
Medik8 Crystal Retinal 6 50ml
Augustinus Bader The Rich Cream 15ml
Boy Smells Hinoki Fantôme Scented Candle 85g
Colour Wow Dream Coat Supernatural Spray 50ml
19/99 Precision Colour Pencil in Nutura
Rare Beauty Perfect Strokes Matte Liquid Liner 7.5ml Joy
Niod Multi-Molecular Hyaluronic Complex 30ml
Laneige Lip Sleeping Mask 20g Chocolate
Erborian Skin Hero Bare Skin Protector 15ml
The Sephora Beauty Advent Calendar 2023
Best beauty advent calendar 2023 for: Tiktok fans.
Step into the festive season with Sephora's 2023 Beauty Advent Calendar, a masterclass in top-notch value and rar finds. Sephora's signature is its curation of unique brands, many of which are exclusive treats for the UK. This calendar epitomizes that exclusivity, flaunting beauty gems like ONE/SIZE by the influential Patrick Starr and the chic GXVE Beauty by Gwen Stefani.
While I'd earmark this calendar as an ideal pick for younger beauty enthusiasts, it's not merely about age. The brands housed within, such as Vegamour, Glow Recipe, and Rare Beauty, have a Gen Z allure. Yet, the calendar beautifully balances this youthful vibe with a diverse spread spanning haircare, skincare, and cosmetics. So, whether you're gifting it or indulging for yourself, Sephora's offering promises a delightful beauty voyage.
It's £189 HERE and contains over £1000 worth of products – 33 to be exact and we love a double drawer! Full contents listed below.
Buy the The Sephora Beauty Advent Calendar 2023 HERE.
Aromatherapy Associates De-Stress Muscle Gel 150ml
Aromatherapy Associates Support Breathe Bath & Shower Oil 55ml
First Aid Beauty KP Bump Eraser Body Scrub with 10% AHA 56.7g
Sol de Janeiro Bum Bum Cream 25ml
Molton Brown Orange & Bergamot Shower Gel 100ml
Commodity Milk Expressive 10ml
Floral Street Sweet Almond Blossom Eau de Parfum 10ml
Juliette Has A Gun Not A Perfume 10ml
NEOM Organics London Perfect Night's Sleep Scented Candle (1 Wick) 185g
Philip Kingsley Elasti-Styler 5-in-1 Treatment 100ml
VIRTUE® Healing Oil 9ml
K18 Leave-in Molecular Repair Hair Mask 15ml
Living Proof Triple Bond Complex 45ml
Gxve Beauty Original Me Clean High-Performance Matte Lipstick 3g
Ilia Limitless Lash Mascara 8ml
ONE/SIZE Beauty On 'Til Dawn Setting Spray 143ml
Rare Beauty Perfect Strokes Matte Liquid Liner 0.9ml
Rose Inc Satin Lip Color Lipstick 4g
Vegamour GRO Volumizing Lash Serum 3ml
NAILSINC Nail Polish 14ml
Beautifect Beautifect Blender
Tarte Leave Your Mark Vii Eye & Cheek Palette
BeautyPro Cica + Niacinamide Face Mask 22ml
BeautyPro Warming Eye Mask 16g
Elemis Pro-Collagen Cleansing Balm 50g
Glow Recipe Watermelon Glow Niacinamide Dew Drops 40ml
Ranavat Restoring Moonseed Treatment 8g
Sarah Chapman Glow On the Go 10ml
Sunday Riley B3 Nice 10% Niacinamide Serum 30ml
Tan-Luxe Super Glow Hyaluronic Self Tan Serum 30ml
Kate Somerville ExfoliKate Intensive Exfoliating Treatment 15ml
REN Clean Skincare Radiance Dark Circle Eye Cream 15ml
Drunk Elephant T.L.C. Sukari Babyfacial 50ml + Virgin Marula Luxury Facial Oil 3ml
Fenty Skin Fat Water Pore-Refining Toner Serum 10ml
Medik8 Hydr8 B5 Intense 30ml
Malin+Goetz Vitamin E Moisturiser 30ml
The Marks & Spencer Beauty Advent Calendar 2023
Best beauty advent calendar 2023 for: Treating yourself guilt-free after doing your present shopping 😊
Every year, the beauty world eagerly awaits the release of the Marks & Spencer Beauty Advent Calendar, and 2023 is no different. Boasting a value of £340, this treasure trove is available for just £40 with a minimum spend of £35. And let's face it, with the festive spirit in the air, reaching that shopping threshold is a breeze.
This year's calendar is a delightful mosaic of top-tier brands and beauty essentials. Dive into the enchanting scents of Shay & Blue Fragrance or indulge in a spa-like experience with L'Occitane Shower Gel. For those manicure moments, Nails Inc nail polish promises impeccable finish and colour.
But the beauty journey doesn't end there. The calendar also houses haircare wonders from Philip Kingsley, ensuring your locks look lush throughout the festive season. Skincare aficionados will be pleased with Clinique's dual offerings of moisturiser and lip colour, while REN's cleanser ensures your skin remains fresh and radiant. And to top it all, there's a treat from Murad, bringing that spa-quality touch to your skincare routine.
In essence, the Marks & Spencer Beauty Advent Calendar for 2023 is more than just a calendar—it's an experience. Don't miss out on this annual delight!
It's yet to launch – I'll update as soon as it does. Full contents below:
Philip Kingsley Elasticizer Booster Restoring Conditioner 20ml
Philip Kingsley Moisture Balancing Combination Shampoo 20ml
Philip Kingsley Moisture Balancing Combination Conditioner 20ml
Nails Inc Victoria & Albert Nail Varnish 10ml
Nail Inc Crown Place Nail Varnish 10ml
Percy & Reed Turn Up The Volume Volumizing No Oil Oil 60ml
Pixi Brow Tamer (Translucent) 4.5ml
Shay & Blue Atropa Belladonna Natural Spray Fragrance 10ml
L'Occitane Verbena Shower Gel 250ml
Apothecary Revive Clarifying Mask 75ml
This Works Deep Sleep Body Cocoon 100ml
Murad Essential-C Day Moisture Broad Spectrum SPF 30 25ml
Apothecary Meditate Hand Cream 30ml
Dr Paw Paw Overnight Lip Mask 10ml
Pixi LipLift Max (Sheer Rose) 2.7g
L'Occitane Cherry Blossom Hand Cream 75ml
Benefit Cosmetics Roller Lash Curling Mascara 8.5g
Leighton Denny Renovate Intensive Nail Repair Cream & Buffer 10ml
Nuxe Huile Prodigieuse Multi-Purpose Dry Oil for Face, Body, and Hair Mini 10ml
REN Clean Skincare Evercalm Gentle Cleansing Gel 150ml
Aveda Botanical Repair Styling Crème 40ml
Clinique Pop Lip Colour + Primer Plum Pop
Filorga Hydra-Hyal: Hydrating Plumping Serum 7ml
Clinique Moisture Surge 100H 15ml
Origins Ginzing Gel 30ml
The Rituals Beauty Advent Calendar 2023.
Best beauty advent calendar for: those who love treating their body as a temple.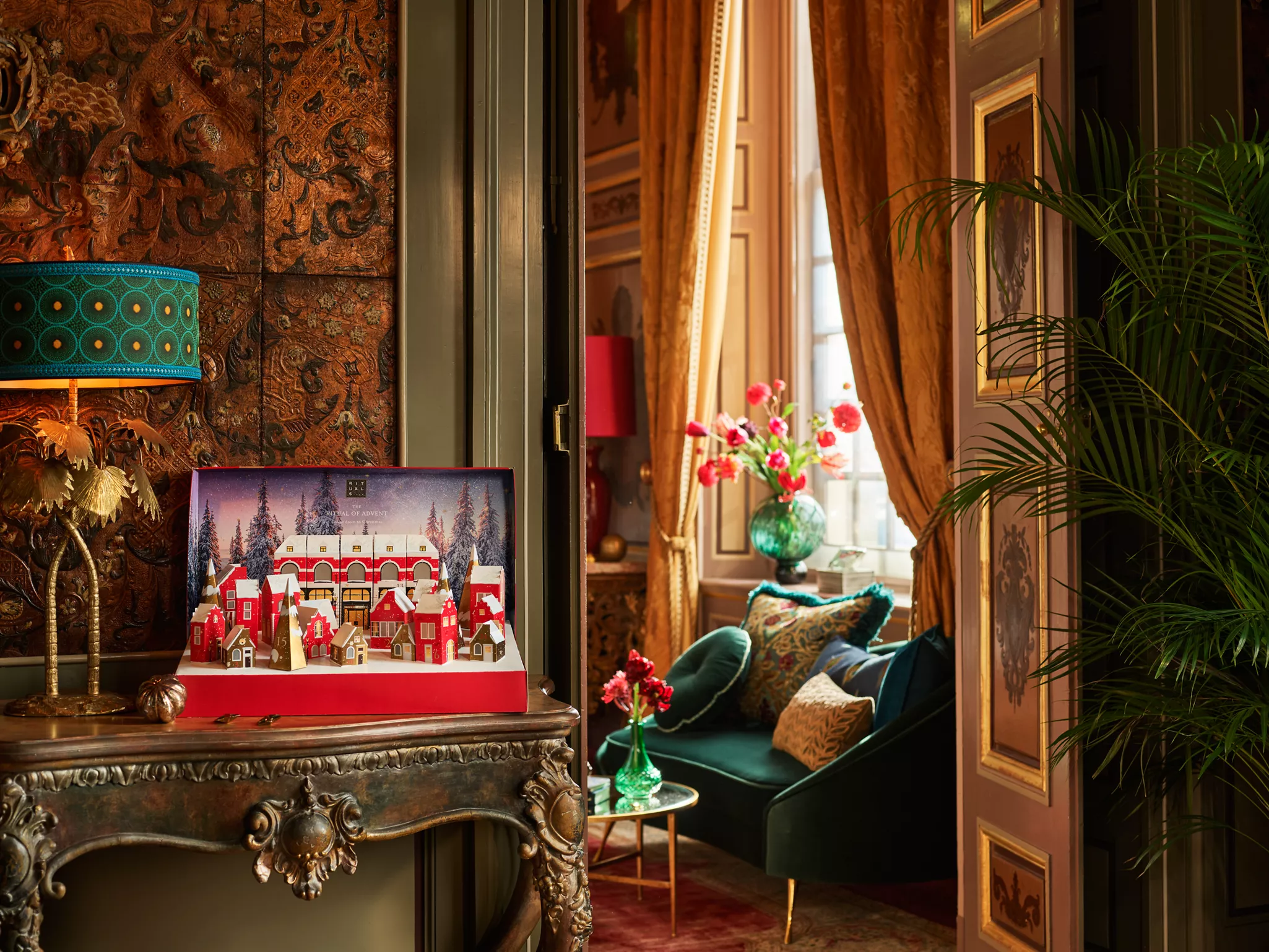 For those who cherish the magic of Christmas, the Rituals Beauty Advent Calendar for 2023 does more than just count down the days. It's a visual delight that doubles as a festive decoration, weaving the enchanting spirit of the season right into your decor. Painted with a heartwarming tableau of a snowy Christmas village, its palette of red, white, and gold captures the quintessential holiday charm that many of us hold dear.
Beyond its stunning exterior, the calendar unveils a meticulously curated collection of products. These range from generous full-sized treasures to charming minis, each carrying the signature fragrant allure that Rituals is renowned for. Every door opened immerses you in an aromatic journey, making the countdown to Christmas a sensory celebration.
In a season filled with joy, traditions, and memories, the Rituals Beauty Advent Calendar promises to be a cherished part of your festivities, adding a sprinkle of beauty to every day of December.
There are three pricing tears, with the Luxury Advent costing £186 HERE.
The Dior Beauty Advent Calendar 2023.
Best beauty advent calendar for: Luxury fragrance lovers.
Prepare to be enchanted by an advent calendar that's not just a festive countdown, but a journey through opulence. Priced at £470, the Dior Beauty Advent Calendar for 2023 is undeniably a luxurious indulgence — and it offers content that justifies every penny.
The crown jewel of this collection? A limited edition Christmas ornament that promises to add a touch of Dior elegance to your tree. I mean, can you imagine a festive season sprinkled with Dior magic?
This year, Dior predominantly dazzles us with their makeup and fragrance collections. From sample-sized fragrance vials that let you dabble in a variety of Dior's iconic scents, to a full-sized candle that envelops your space in warmth and luxury, the calendar promises a daily dose of glamour. Let's not forget the array of exquisite lipsticks that are bound to make your festive looks unforgettable.
Here's a quick breakdown: seven captivating makeup items (which includes a chic nail polish), four aromatic candles to set the mood, three skincare essentials to keep you radiant, and a generous offering of eleven fragrance delights. And while it's yet to hit the shelves, I'll be on the lookout and will promptly update you once it's up for grabs. For those who wish to dive deeper, the detailed contents await below:
DIOR 30 Montaigne Scented Candle 85g
DIOR Ambre Nuit Bougie Scented Candle 35g
DIOR Saint-Honoré Scented Candle 35g
DIOR Thé Osmanthus Scented Candle 35g
DIOR Capture Total Le Sérum 10ml
DIOR Prestige La Crème 15ml
DIOR Prestige La Micro Huile de Rose Advanced Sérum 10ml
DIOR Vernis 108 Muguet 7ml
DIOR Vernis 999 7ml
DIOR J'adore Eau de Parfum 5 ml
DIOR J'adore L'Or 3.5 ml
DIOR J'adore Parfum D'Eau 5 ml
DIOR La Mousse On/Off 50ml
DIOR Mascara Diorshow Iconic Overcurl 090 Black 4ml
DIOR Miss Dior Blooming Bouquet 5ml
DIOR Miss Dior Eau de Parfum 5ml
DIOR Gris Dior 7,5ml
DIOR Jasmin des Anges 7,5ml
DIOR Oud Ispahan 7,5ml
DIOR Rouge Dior 100 Nude Look Velvet 1,5g
DIOR Rouge Dior 720 Icone Velvet 1,5g
DIOR Rouge Dior 999 Velvet 1,5g
DIOR Sauvage 10ml
Limited Edition Christmas Decoration
Anthropologie Beauty Advent Calendar 2023.
Best beauty advent calendar for: those who stay away from the mainstream.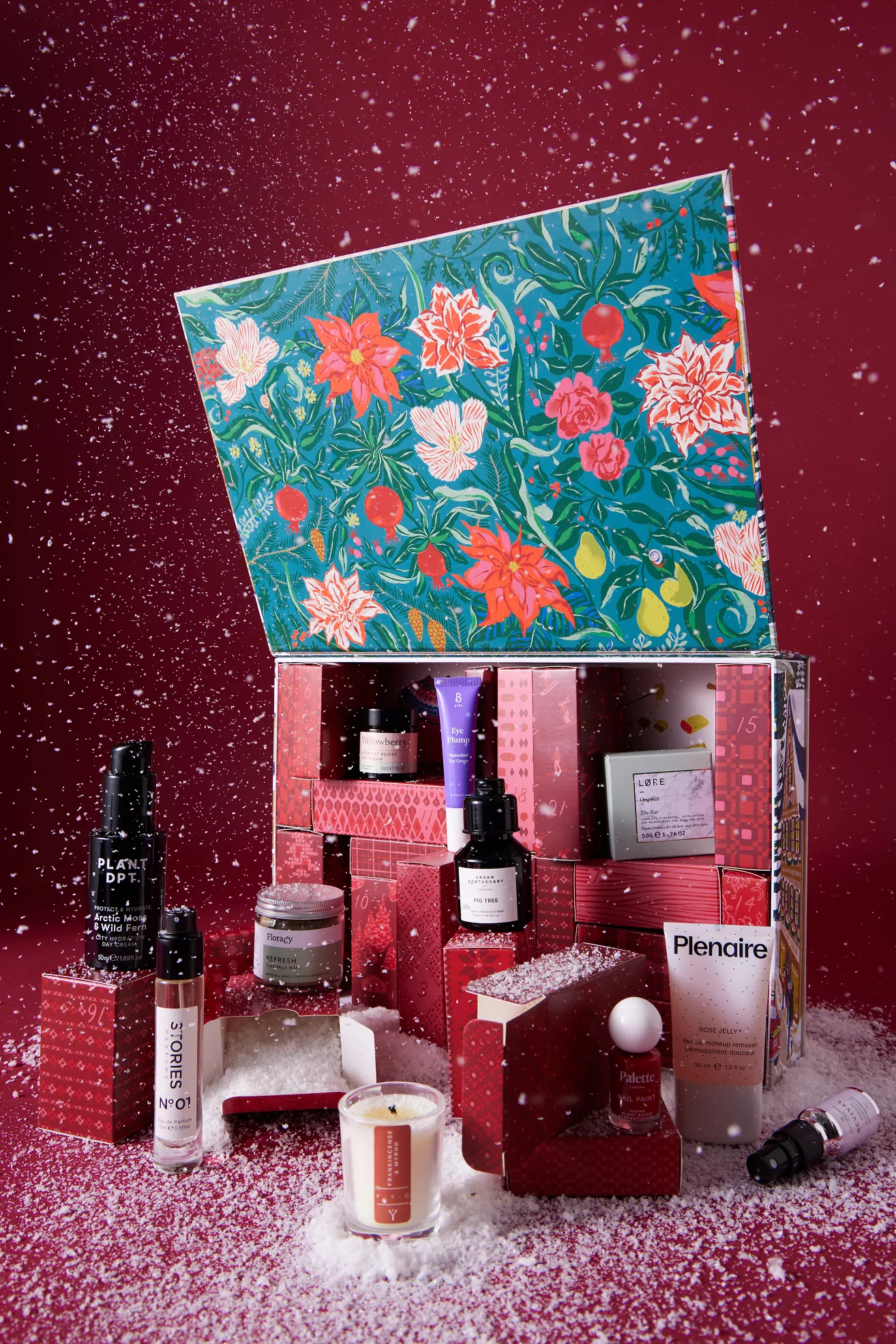 This is definitely the best beauty advent calendar for those who want something truly different. It's a voyage of discovery away from mainstream brands, with an artist designed box and a very thoughtful edit of products that cover fragrance, skin care and make up. It includes one of my all time favourite brands, Willowberry Skin Care. It has a value of over £300 and costs £78 HERE.
There are 24 boxes (what happened to doors?), each with something special in them in the form of luxury sample sizes. Sample sized products always come with me in my travel packing so they're always so useful to have in terms of cutting down weight and being experimental.
Plenaire Rose Jelly Gentl Makeup Remover
STORIES Nº.02 Eau de Parfum
Plant DPT Day Cream Moisturiser
Verden Hand & Body Balm
Adaptology Anti-Aging Serum
Dreem Distillery Moonlit Face Mask
Ilapothecary Eye Serum
Find Your Glow Candle
Anatome Sleep Oil
LØRE Originals Cleansing Exfoliating & Nourishing Bar
Solasta Skin Nourishing Rose Facial Oil
Urban Apothecary Fig Tree Hand & Body Wash
Herlum Sandalwood & Grapefruit Hand & Body Lotion
Floral Street Mini Discovery Set
Palette London Vermillion Poppy Nail Paint
Floragy Refresh Clay Face Mask
BYBI Beauty Eye Cream
Spritz Wellness Atmosphere Mist
UpCircle Cleansing Face Balm
Willowberry Nutrient Boost Day Cream
Sister & Co. Bath Oil
FEWE Take a Deep Breath Spray
Baie Botanique Facial Serum
Nailkind Nail Polish.
BUY HERE.
Conclusion
As I wrap up my guide to the best beauty advent calendars for 2023, it's evident that the world of beauty continues to offer incredible surprises year after year. Whether you're a makeup maven, a skincare enthusiast, or someone who loves to discover new fragrances, there's a beauty advent calendar tailored for you.
These curated collections not only make December mornings exhilarating but also introduce us to products we might've never tried otherwise. We've explored luxurious offerings, budget-friendly options, and calendars catering to specific age groups. Each one is a testament to the beauty industry's commitment to innovation and celebration.
If you've used any of these beauty advent calendars in the past or are looking forward to one in particular for 2023, we'd love to hear your thoughts. Which one caught your eye? Any surprises or must-have products you're hoping for? Share your comments below and let's keep the conversation about the best beauty advent calendars of 2023 going!
Transparency Disclosure
All products are sent to me as samples from brands and agencies unless otherwise stated. Affiliate links may be used. Posts are not affiliate driven.