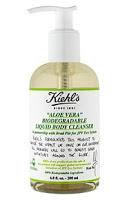 I'm currently putting together a feature for a national paper on beauty brands that donate to charity. While I'm a great supporter of breast cancer charities, I've become a little bit cynical about the number of companies who shove something pink into their range, donate 10p from each product and reap the hefty rewards of extra press coverage and sales from people who want to make a contribution. So I decided to write about the other companies that have on-going commitments, or even new initiatives that support other charities. So far, I've got prostate cancer, environmental, marine life and many others. Because I follow US beauty blogs I'm aware the big news from Kiehls is that they are collaborating with Brad Pitt on a range to benefit global environmental issues. So, although the first product, Aloe Vera Biodegradable Liquid Body Wash (complete with Brad's scrawl across the front) is already up on the USA website, with as much information you could care to want, the press office here say it's embargoed and they can't give me any information. None. Not a price, not a launch day, not a single item of information about the fund raising product. So, on a different tack I asked if there were any other charities they support. Oh yes, they said. The Terrance Higgins Trust (Aids). Great then, I'll write about that. Oh, we can't tell you anything, it isn't finalised. So that's two charities that have missed a great slot in a national thanks to some extraordinary marketing decision (because I do know in this case the PRs are just the front-line). It's things like this that make me despair for the beauty industry. To illustrate, the picture above is of the very product we Brits are not allowed any pictures or information about. See www.kiehls.com for anything else about it you'd like to know.
Transparency Disclosure
All products are sent to me as samples from brands and agencies unless otherwise stated. Affiliate links may be used. Posts are not affiliate driven.