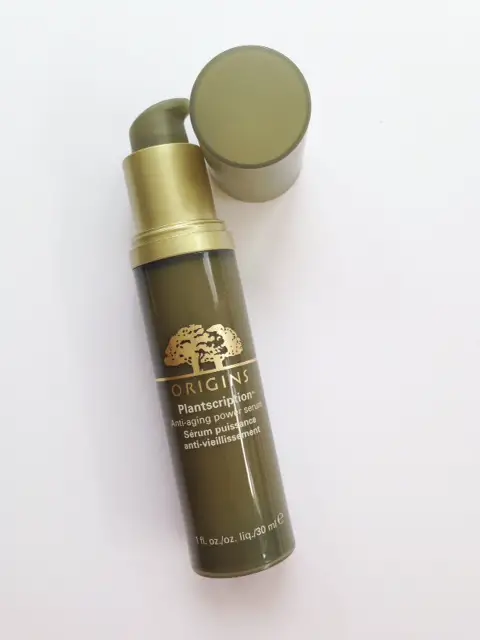 Origins Plantscription™ Anti-Aging Power Serum has the most spectacular offer from tomorrow, 15th August. Origins are so confident of their results that they're doing a sampling campaign with 15ml samples worth £24 available for the asking at any Origins counter (while stocks last) with no purchase required. At all.
I don't see many sampling campaigns this good, so let me tell you a bit about the product. Origins Plantscription™Anti-Aging Power Serum uses Hyaluronic Acid (my skin's favourite ingredient) but blends it with something quite unusual – pea extract! You might well wonder why pea is the key and it's because they're naturally full of amino acids and peptides; again, great ingredients for skin showing signs of lines and creases. There's also a new-to-me ingredient, Crithmum Maritum, often used as a retinol alternative (who knew?). There's also a good sprinkling of bamboo extract in the mix, too.
You may have heard about biomimetics in skin care before – literally translated, it means life imitation, so the theory around a biomimentic product, which OriginsPlantscription™ Anti-Aging Power Serum is, is that the formula is highly compatible with the natural functions of the complexion. Generally, I don't take much notice of test results, but ex vivo testing on Origins Plantscription™ Anti-Aging Power Serum produced increased epidermal volume (i.e. plumping and hydrating) by 46% in six days. Lead me to a bath of this!
And, if you think that doesn't sound like many ingredients so far, read on: Corn, Scutellaria Baicalensis, Micrococcus Lysate, Coffee, Sweet Almond Seed Extract, Cucumber, Laminaria Digitata, Centaurium Erythraea, Rosemary, Hyaluronic Acid, Pichia Cifferrii, Coffee Stem Cell, Raspberry Stem Cell, Soy Bean, Apple, Siegesbeckia, Palm and Coconut Glycerin. That's the full list – whew! It's important to give a special mention to the star player in Origins Plantscription™ Anti-AgingPower Serum, Anogeissus. In its native country of The Republic of Ghana, Anogeissus (a sacred tree) is used as a natural wound healer and antimicrobial. Its been stripped down by plant scientists at the University of Strasbourg and found to have an excellent ability to protect collagen and boost glycoproteins. The upshot of that is simple – firmer skin.
So, back to the sampling campaign. It takes a confident brand to sample at this level so I am expecting very impressive things from this product. I would head to counters as soon as you possibly can (John Lewis, House of Fraser, Selfridges, and selected Boots to name but a few) – full size product doesn't launch until September. But even then, there's another sampling campaign in full swing – this time between 1st and 15th September and if you buy any serum or moisturiser from Origins, you'll receive three deluxe sample sizes with it.
*Sponsored Post
Transparency Disclosure
All products are sent to me as samples from brands and agencies unless otherwise stated. Affiliate links may be used. Posts are not affiliate driven.