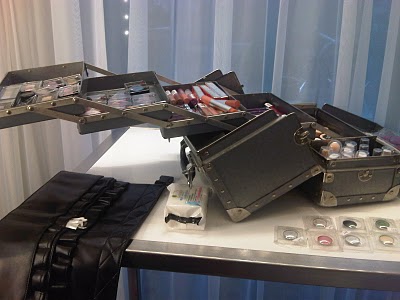 Sharon Dowsett's Maybelline make up kit..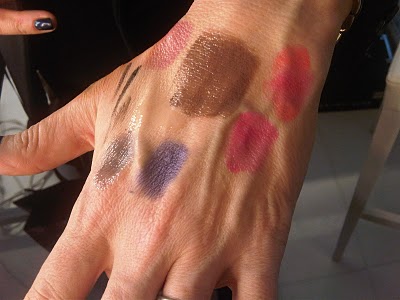 It started with a swatch…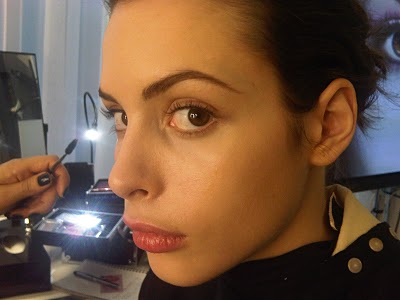 Couture brows.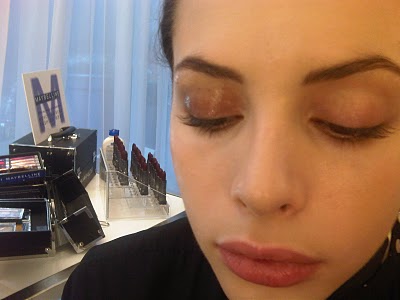 The pefect glossy eye.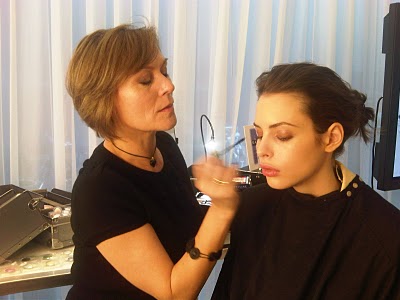 Yes Sharon, you have to do the other eye.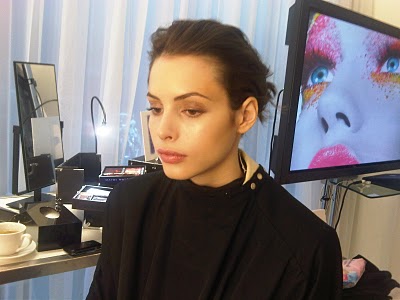 The finished result.
Edible Lipsticks!
I go to a lot of beauty launches but the Maybelline one today was a step up. Basically, a live shoot for their SS11 lookbook, they'd got Jackie Dixon from showmeyourwardrobe.com shooting the pictures, make up artist Sharon Dowsett, and nail guru David Barton all working on model, Kemp Muhl (the youngest ever model to appear on the cover of Harpers & Queen). God, if you ever want to see the living embodiment of flawless, meet Kemp!
Although I know David (who's single handedly taken my nails from something akin to pork scratchings and turned them into actual nails!), I hadn't really chatted with Sharon before. This is something I'm really sorry about now, because she is amazing. Not only do we share a love of all things Chanel (she was wearing a pair of Chanel boots that I nearly died of envy for), but she just 'gets it' when it comes to make up that real women want to wear, as well as being able to deliver trend looks for the catwalk. I've got some pics above of how she transformed a very pretty, but plain Maybelline colour – Chocolate Chic – into the most glamorous eye make up in the world. By adding a dab of Elizabeth Arden 8 Hour Cream to the colour she turned that brown into a dazzling, glossy, wet-look shade that looked absolutely beautiful and very high fashion. And, if you add 8 Hour cream to your eyeshadow, yes, it will crease. She doesn't make any bones about it – but because it's so malliable with addition of the balm, as long as you keep a check on it, a gentle finger swipe (or better yet, a flat eye brush) is all it needs to keep it looking pristine. It is high maintenance, but a look that's well worth it.
She added little couture eyebrow flicks to Kemp's already pretty damnn perfect brows by using a fine ended brush and Maybelline Eye Studio Gel Eyeliner (out in limited edition at their pop up shop in Shorts Gardens, Covent Garden but mainstream from spring) and then added Crystal Clear Watershine Lipgloss to both the brow (too fashion-y for every day I think) and the tiniest smidge under the brow line – gorgeous.
David's nail tips for the day were also fabulous – a slick of Maybelline Onyx Black Express Nail Polish as a base, and a second coat of Express Finish Diamonds (sparkly) in Red Comet or for goth couture. Nice.
You can see the results from the pictures above, but it's suddenly made me look at Maybelline in a whole new light – you *can* get high end looks from a lower priced range.
Transparency Disclosure
All products are sent to me as samples from brands and agencies unless otherwise stated. Affiliate links may be used. Posts are not affiliate driven.