Yesterday was a very happy day when everything I'd ordered from Sephora.fr arrived (Mr BBB works in France so they went to his address). In the end, I didn't order the make-up; instead, I got a Karl doll, a make-up bag (lined in white satin with mini Karls printed all over it) and of course, the snowglobe. Well, two snowglobes, actually. Well, what if one broke?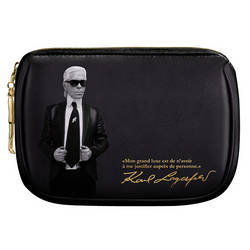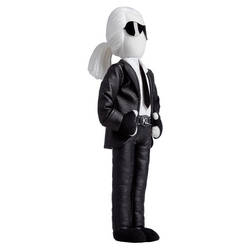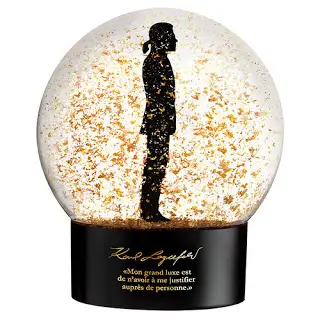 Everything is surprisingly good quality – I'm thrilled with all of it and of course, am about to order the make-up, too. I've got to admit though I am very surprised at how quiet Sephora have kept this range.. there is no shout out about it at all; when Mr BBB went into the flag ship store in Paris pre-launch, they'd never heard of it and it isn't flagged on the home page of the site. You have to know it is there to even do a search. I can't quite work out why. It's also not available in the States which is Sephora's biggest market and there must be a reason for that, too. Either it is in such limited quantities that there isn't enough to distribute out to other countries, or the range is being 'buried' for reasons unknown. When you think of the hysteria there would be if KL did a range for, let's say, H&M, there would be trampling underfoot. There is nothing approaching even excitement for the KL make-up range. It's bizarre.
Sephora also have a KL fragrance: it's pretty vile. Bland, dull and just smells like any other generic *sleb* fragrance. Avoid like the plague. 
Transparency Disclosure
All products are sent to me as samples from brands and agencies unless otherwise stated. Affiliate links may be used. Posts are not affiliate driven.