I'm a huge fan of toning shoes and own a positively indecent number of pairs of Fitflops, so I was extremely interested in the toning shoes from M&S, namely, Step-Tones. With a very similar USP to FitFlop, they were born of research from a leading sports science university, and aim to tone and hone your calves, reduce foot pressure and protect your feet, using a uniquely shaped sole that makes muscles work harder. Unlike FitFlop, they don't claim to make any inroads to your thighs and bum. So long as we know. Step-Tones have a segmented sole which apparently allow your feet to move as nature intended them to. There is also the big, yawning price gap. FitFlops start at £36 for the most basic of pairs, while Step-Tone start at £25.
Of late, I think FitFlop have gone slightly awry with sizing – if you have very narrow feet, I think you would struggle to find a pair to stay on – my beautiful purple Frous (£75) are far too wide, and yet my navy Lollas (£65) are perfect. I might add that my FitFlop Fiorellas (£75) are my favourite shoe in the world, ever. Step-Tone, on the other hand, hug the feet nicely and are probably the better option if you have a very narrow foot. When Step-Tones launched a couple of weeks back, a pair were being sold every two minutes, which clearly says that women are in search of the perfect calves and comfortable, stylish flats. And, after the slightly raised sole of FitFlop, Step-Tone feel very flat.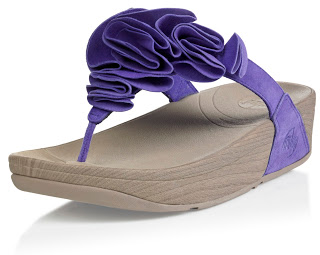 Frou
Style-wise, Fitflop are the clear winner, although that said, Step-Tone have a beautiful black patent pair with a camelia-type flower on the top (shown in red, £35) that are absolutely gorgeous, and a denim pair that I love for wearing with jeans (£29.50).
To sum up, both are delivering on comfort, although you should do some trying-on to find your own foot perfection, both deliver on style although FitFlop have the edge, and clearly Step-Tone are the winners on price. It's yet to be seen whether Step-Tone give the toning effect we're looking for – I know though years of wearing that FitFlop have certainly kept my calves and the backs of my legs in better shape that they would be otherwise, but my bum doesn't seem to show quite the same benefits! My heart is still with FitFlop purely because of the raised sole that gives my 5ft 3″ height a little lift, but my wallet might well prefer Step-Tones.
Transparency Disclosure
All products are sent to me as samples from brands and agencies unless otherwise stated. Affiliate links may be used. Posts are not affiliate driven.