So, back to Paris Monday and Tuesday for a Parisian style blogger event, with bloggers from all over Europe – Germany, Italy, Spain, France and just me flying the flag for the UK! I caught the Eurostar with my PR companion, Charlotte, and after experiencing the world's smallest food snack (I didn't know you could actually carve a quiche so sparingly) we arrived in Paris just in time for dinner. We ate outside – late – under some beautifully warm heaters with the Eiffel tower in view, and as luck would have it, we were opposite Nina Ricci where there was a model casting for Paris fashion week. It was as though someone had emptied a tin of models all over the street as it was buzzing with beautiful people scurrying in and out of Nina Ricci and made for the most interesting people watching. 
The following morning, we took a quick walk down the Champs Elysees to – guess where! The hallowed halls of Sephora, of course, and a quick trip to a pharmacy to stock up on Bioderma Crealine cleanser. Then it was on to lunch in a beautiful restaurant on the very top floor of a nearby building – with lifts that only carried 5 people at a time – but gave us spectacular views of the Paris skyline. 
Finally, we were taken to the actual blogger event. It was totally unexpected and had a wow factor that really did leave us gasping. We were shown the TV ad featuring Kate Moss, directed by Jonas Akerlund, who is known for high energy features, sitting in the Eiffel Suite (erm, over $8000 a night!) of the Plaza Althenee decorated in beautiful muted Dior grey and cream, surrounded by the couture clothes and accessories that Kate wore in the ads. We could photograph and touch all the clothes, bags, shoes and jewellery as well as play with the new lipsticks. The attention to detail was breath-taking – huge vases of flowers everywhere, the iconic Dior white boxes as though the clothes had just been unwrapped; even the bathroom had make up opened and scattered around the mirror and sink as though Kate had just been there. To be honest, it isn't like anything I've experienced before. I'm not even a KM fan particularly, but because the atmosphere was so evocative and so beautifully detailed (I've forgotten to mention the new Dior candles that were burning and filling the room with fragrance; oh, and the plates of petit fours that were generously offered at every turn) I totally got into the mood of the moment and got a little bit besotted, even though I really didn't like Kate's black eye flicks. Anyway, the pictures are here – I hope they convey some of the atmosphere of the event.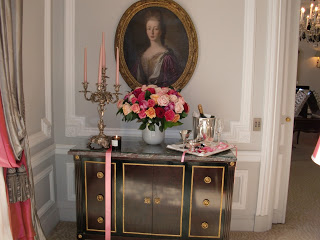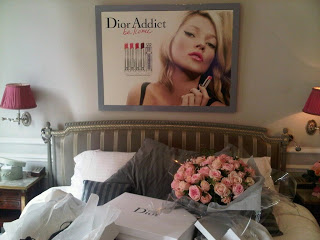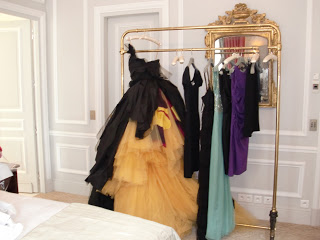 The bedroom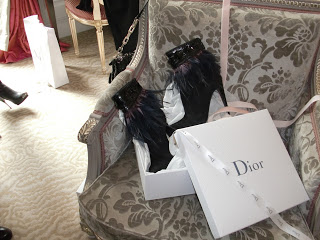 The shoes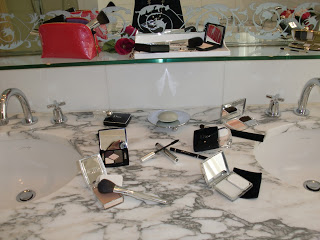 The bathroom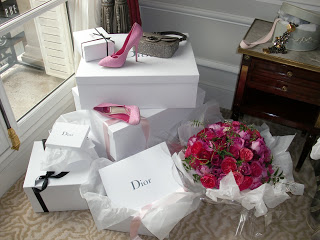 Shoes, flowers, boxes…is it my birthday?!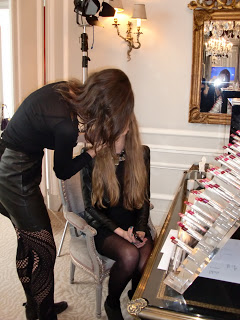 Charlotte having her lipstick applied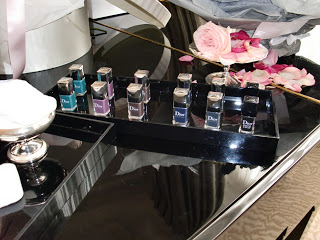 New nail polishes 'Rock Your Nails' launching with the lipsticks in Purple Mix, Nirvana, Perfecto, Blue Label and Underground.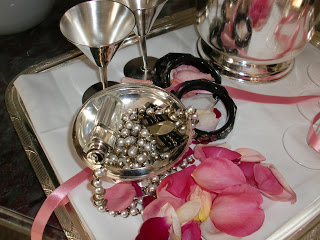 Dior costume jewellery
And the famous picture window that gives a perfectly framed view of the Eiffel Tower, except, it's gone missing in my photo and nobody has any idea how that happened.
Charlotte's picture through the same window…er, complete with Eiffel Tower. Weird.
I've got a few more incidental pics to share, including the promo materials here – the stickers and the 'kiss' postcard that contains a lip shaped sample of the new Dior Addict lipstick in Kate's favourite colour Rock Icon 578 'Dior Kiss' in a soft pink. If you dab it (folded) to your lips you get a perfect lipstick imprint on your lips. These will be available on counters.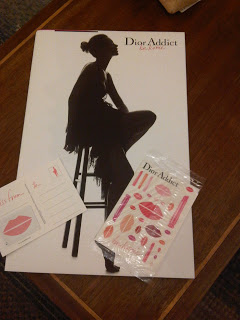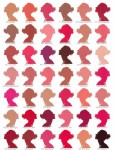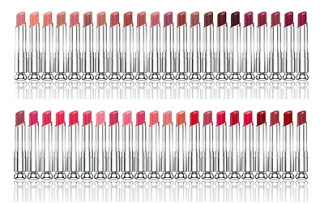 It was a truly memorable event and a chance to really connect with a campaign but I left feeling that there wasn't any pressure to do a 'Dior promo' on the blog, so it's been my choice to post so many pictures. I did bring up the thorny issue of Rock Coat – the smoky top coat for nails that doesn't seem to have any particular reason for being. On light colours it turns them murky, on dark, they just look a tad darker, which defies the entire point of it. I think they felt I'd 'misunderstood' the product in some way – I still don't think I have and can't see what it brings to the nail party. And, I still don't love the eye flick, but I'm completely enamoured with everything else!
Dior Addict lipsticks launch on 24th March at Selfridges and then nationwide from 11th April.You can see the ad here if only to spot some of the things from the post! http://www.dior.com/beauty/int/en/minisite/makeup/addict_2011/tf469-22.html
Transparency Disclosure
All products are sent to me as samples from brands and agencies unless otherwise stated. Affiliate links may be used. Posts are not affiliate driven.