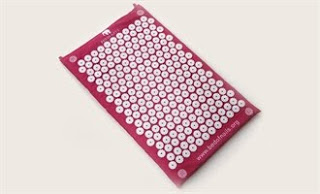 Right, well it took me a little while indeed to summon up the courage – or even the willingness – to have a go at this 'relaxation' tool. It works apparantly by targeting accupressure points and the pressure of the rounded nails (6000 of them) against these points releases endorphins and oxytocin. Once I'd gingerly lain down on the mat I have to say that it did hurt; not excruciatingly as you might expect from, er, nails, but it was not a comfortable experience. However, while there was underlying discomfort throughout, I did start to notice a mild tingling sensation that wasn't unpleasant but did make me see the time limit (20 minutes) through in the hopes that it was doing some good. Oddly, the tingling was mostly in the pelvic region and lower back – a very weird experience let me tell you! It also made my whole back feel warm. While it is billed to be energy stimulating, I can't say I felt any more energetic, but even if it's only attribute is that it makes me lie still for 20 minutes, then it's well worth it. You can't wriggle about at all, you lie literally stock still, and that has to be beneficial. At the end of the session, my back was covered in tiny indentations that didn't last long at all, but you might not want to do this and then wear your best backless dress, for example. They cost £49 from www.bedofnails.org.
NB: I'm looking at my mat now thinking 'there's no way that it has 6000 points', but I really can't be bothered to count them all just to prove a point. Let's just say there are enough.
Transparency Disclosure
All products are sent to me as samples from brands and agencies unless otherwise stated. Affiliate links may be used. Posts are not affiliate driven.