It's a hair-removal kind of day today, because not only do I have news of the new Tria, but I'm nearly ready to post on the Philips Lumea that I have put out on a long-term trial (it's working) with a friend.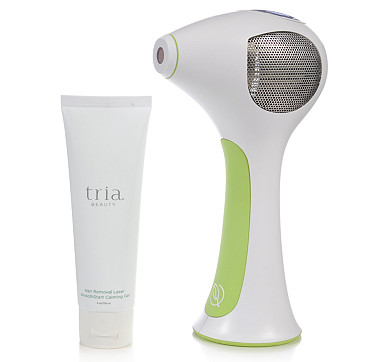 But first to Tria. I went to a presentation yesterday – greatly against my will I might add because I hate sciency presentations. One of the best things was that the technical guy is called Tobin Island which sounds like the best holiday I've never been on! I used Tria when it first launched (and back then it cost around £600) and yes, it works. There's no doubt. But my bug-bear with the Tria, then and now, is that the laser window is so small that it's not manageable for the full body. However, the price has dropped and the technology has improved and I think at £375, it's a punt I would take to treat small areas like face and under-arms. In fact, I am going to trial it myself on underarms (there won't be pictures – don't worry!) but last time around, I gave up on it because it was just too cumbersome and time consuming. Tria 4X uses the same diode technology that you'd get in any salon.
I really do believe in Tria; the upgrade of the machine means that it works far more quickly than the old machine and I think more quickly than any other home laser, promising up to 70% hair reduction in two treatments (although I imagine that will only apply to the very fine-haired; I take it with a pinch of salt). Speed of use has improved too.. there's no pulse and wait any more.. it just goes pulse, pulse, pulse and I think you can get around an armpit in pretty much no time at all and you use it fortnightly for three months. You can use it on the face very safely (ha! maybe I can eradicate that rogue chin hair that keeps appearing).
The machine looks so much better than it used to – less clunky and more sophisticated and if it's of interest, although it isn't to me, I think will come in a variety of colours. So, I'll report back on the results. If it does what it says it will, it's more than worth £375 of anybody's money.
Transparency Disclosure
All products are sent to me as samples from brands and agencies unless otherwise stated. Affiliate links may be used. Posts are not affiliate driven.