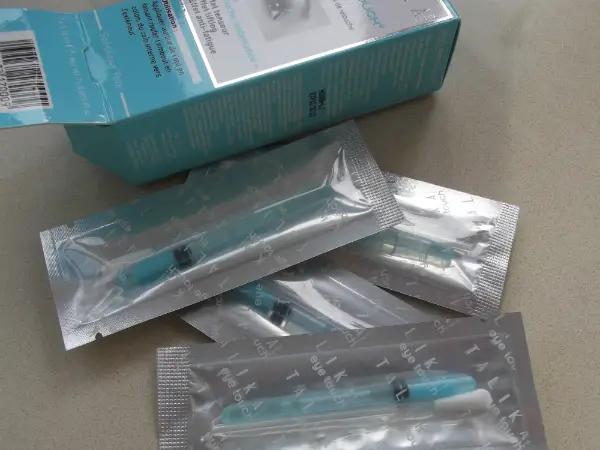 I'm a huge fan of the Talika brand that focusses on everything eyes. However, I've got to say this product was really disappointing.
Inside each individual packet is a cotton bud with an open end that you attach the blue tube to (its filled with product). The product then works its way through to the cotton bud and because of the way the bud stalk fits into the blue tube it creates a roller effect. That's all fine. However, it's supposed to give a tightening and lifting effect and it simply did not. In fact, if anything my under-eye area looked worse than it did before.
I'm getting crosser and crosser with being drip fed product (although to be fair to Talika I chose to review this product, they didn't 'push' it at me) that promises so much and delivers so little. I have just tried another instant filler – this time for the lip – and that was utterly rubbish too.  Products can't 'fill' lines – it's just not possible; they can sit on top of the lines and give a smoothing effect, in theory, but I have never, ever seen it work to any impressive degree.
It's fine for me – I get sent this kind of thing every day, but it's really not fine at all for all those women (and men) who hold so much hope and spend so much money. My first and pretty much only question when I review a skin care product is 'does it do what it says it will' and I would say, especially with 'fast fix' face products, no, they pretty never do. I think however, what I mind most about is that I'm told daily that these products are amazing – they do things that have never been done before, everyone swears by them etc, etc, etc, by people I really do trust and listen to. Then when it doesn't happen, I feel very short-changed and to be honest, let down. There is just no point in sending out products that don't perform in the vague hope they might just do something they've never done before (i.e. work) when I test them. It's just not good enough.
Transparency Disclosure
All products are sent to me as samples from brands and agencies unless otherwise stated. Affiliate links may be used. Posts are not affiliate driven.