This is a bit of a mixed review – there are some definite up-sides to this product, but I'd have to say from the out-set that unless you are very experienced at dyeing your own hair, there is potential for things to go wrong.
The Schwarzkopf Color Mask itself is really easy to use – in fact, from my limited experience of other brands, it's the easiest dye yet. You simply put the colour into the activator, shake the pot and you're ready to go. The best thing about it is that it is thick – like a mask – so it doesn't splatter everywhere (my bedroom carpet still retains the evidence of a thinner formula and a badly timed head shake). The smell is not strong, but there is that 'dye' smell there (unlike Olia, where there is more or less no smell) but it doesn't seem to hang around in your hair, like others can do.
I opted for the Dark Brown colour and left on for half an hour as instructed. The colour guide on the packet doesn't really resemble what happened to my hair – it's almost black which I really wasn't expecting (you can see the colour – I'm calling it Bad Cher – in my You Tube video HERE)  so that was something of a shock. However, the shine on it is immense! So, wrong colour, right shine level. The other shock is that despite the fact that I used balm around my hair line to avoid any marks, I still got dye marks in and around my hair line – 24 hours later one of them is still there, right by my ear. I've used oil remover followed by exfoliator but I can see it will go in its own sweet time and not before.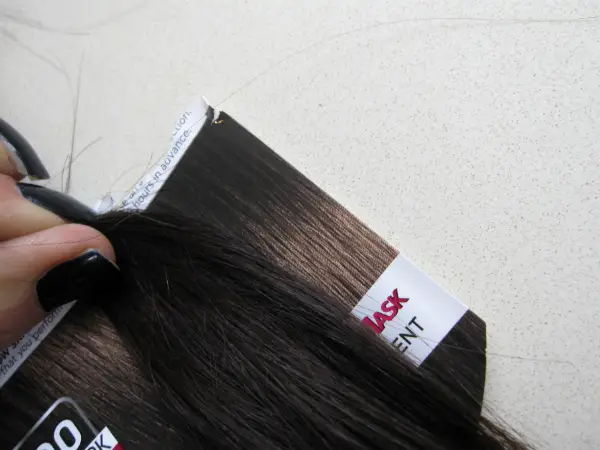 I've only ever used Olia and Nice N Easy before – if I am to compare to either of those, Schwarzkopf Color Mask is a mid-point between the two, low odour but more than Olia, an exceptionally easy formula to apply and remove (in fact, that's a high point – it rinses away like a dream) and way more user friendly than Nice N Easy, but it's not for the inexperienced, as my brown marks and black hair prove. Schwarzkopf Color Mask gives the highest level of shine of the three (I'd love my hair to be shiny like this every day, in fact) but I need to work on taking the intensity of colour out (Ree over at Reallyree.comadvises sleeping in a weighty conditioning mask which is apparently the enemy of colour). Meanwhile, Schwarzkopf need to work on better colour charts and better guides to avoid staining.
Transparency Disclosure
All products are sent to me as samples from brands and agencies unless otherwise stated. Affiliate links may be used. Posts are not affiliate driven.