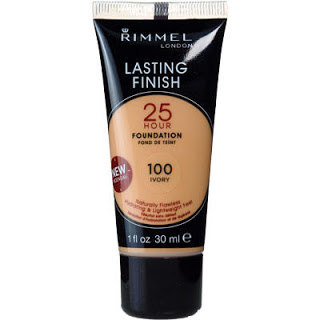 I'm not sure whether Rimmel has just redesigned the packaging for this foundation that launched last year or reformulated because images I've found come in this plastic tube, whereas the sample I have is in a glass bottle. It could also be that it was a US launch in plastic but UK in bottles. But, whatever, a foundation that claims to last 25 hours is making a very big boast. And, to my mind, is very probably relying on the fact that so few people will actually test it out to full capacity, that it won't be particularly proven either way. But, in the interests of proper testing, I have worn it 25 hours straight – actually 27 hours.
Coty (who own Rimmel) claim 'to wake up your make-up for up to 25 hours with a hard working formula with two main active components. It benefits from a revitalizing mineral complex to energise overworked skin and feaures moisturising Aqua Primer so skin feels wonderfully hydrated all day'. It also claims to be non-transferable.
So, I put it on at about 2pm yesterday and am still wearing it now…eek! Of course, because I am not the dedicated blogger I should be, I just wasn't prepared to stay up all night so the test did have to factor in a night's sleep! In fact that proved the non-transfer claim beyond a doubt because there was not a trace on my pillow the next day. The foundation actually feels rather different to other foundations in that there is a very slightly waxy finish to it – you can definitely touch feel it on your skin. It evens out skin tone and gives a good glowy finish. My skin didn't feel stifled in any way at all and the following morning I could still feel it was there with my fingers. That said, although I could feel it, it certainly didn't keep its finish all night and I could see where it had worn away (although I do have to state there is no claim from Rimmel that if you spend the night with your face in a pillow it will stay!). However, there was definitely some coverage left. And now, at 4pm the following day, there is also still coverage although not to the same intensity as when I first put it on.
So, the upshot – it does live up to claims of lasting 25 hours and its ability to remain transfer resistant is impressive from the get-go. If you are ever planning an all-nighter, go for it; I'd easily recommend, but let's face it, unless you are a real party girl it's never going to get a regular for-purpose outing! All in all, I like this foundation a lot.
Of course, there is a downside, and that's the colour choice – for the UK, only 6 shades. If your skin is black or Asian, forget it – you're absolutely not included, which is somewhat shocking. Rimmel, you need to sort that out.
Transparency Disclosure
All products are sent to me as samples from brands and agencies unless otherwise stated. Affiliate links may be used. Posts are not affiliate driven.