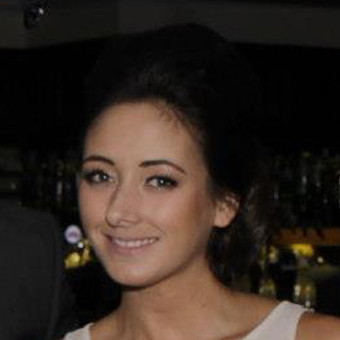 I've used Philips Lumea before so I wanted to get someone to put a new perspective on the latest IPL Hair Removal offering, Lumea Precision Plus. I enlisted Hannah, aged 25, to put it through its paces; a timely decision as she was just about to go for salon laser hair removal treatment. So, over to Hannah (above).
Hannah & Lumea Precision Plus
"Having used salons for waxing for years, I had planned to take the next step, and try laser hair removal.  After initial research, it became clear that this was going to be a costly procedure that may not provide me with the results expected.
When the package arrived it was neatly arranged; each attachment had its own place within the sealed box. There was also a zipped pouch to keep the machine in long term. A full and quick start guide is provided. The instructions are clear, precise and there are various visuals demonstrating the "do and don'ts". Both instruction manuals provide a step by step account of every process involved in this treatment. This instantly put my mind at ease, as I was apprehensive about using a home kit, as opposed to seeing a trained beauty therapist.
The instruction booklet states fully charging the batteries can take up to 1hr and 40 minutes, but I found that after approximately 50 minutes the unit was fully charged and ready for use. In both booklets there is a light intensity table allowing the individual to match their skin and hair colour to the proposed light intensity level, which they will then select from the 5 options on the machine.
I have sensitive skin and even shaving or waxing can cause a rash, so I made sure that I followed the instruction to perform a skin test. This meant choosing a hair free, or newly shaved section, close to the area to be treated. They recommend selecting the lowest intensity for your skin colour, apply one flash and wait 24hrs to check for reactions.
Personally, the area I most wanted to focus on is the bikini line, especially with a holiday looming. When ready, with a clean, dry and shaved area, the device should be placed firmly in position at a 90 degree angle. There is a green light at the top of the device which lights up when the safety ring is in full contact with the skin, indicating that you can now press the button and release the flash. Once this section is completed, move straight on to the next, and so on.
As the bikini area is both contoured and not always easily visible, this did mean slightly angling the device to "access all areas". During the first attempt, this was challenging but nothing that couldn't be overcome with a little practise and before long I was into a routine. The concept of laser removal in such a delicate area caused me to think that it may be a little painful or at least, uncomfortable. The sensations I experienced were more of a heat zap that lasted no more than a couple of seconds after use. There really was no discomfort involved.
Apart from accessing all the bikini line, the only other challenging aspect of the Lumea I found, was to ensure that the same area was not treated multiple times in one session.  This was highlighted in the instruction manual as some may think that this will improve the effectiveness of the treatment which it doesn't. I discovered that by gently pushing the Lumea into the skin, it left a slight indent, which created a grid that was easier to follow.
After two sessions I can see a huge improvement. The Lumea has certainly limited my hair development which is fantastic considering the rate it normally grows.
Following further treatments I can happily say that the hairs have not grown back at their usual pace. The skin has remained unblemished and smooth compared to the rash that often appeared when shaving or waxing, apart from the odd ingrown hair that soon rectified itself.  I have experienced the odd strand of hair, which had made me wonder if the process wasn't going to work to its full potential. However with another treatment using the Lumea, this also seems to have subsided. As the booklet states, I would agree that the 4 minute duration for the bikini line is about right.
From my experience I would recommend this as an alternative to salon waxing. The benefits seem to be endless, in terms of cost, comfort and time. One point I would make is, ensure that you read the instruction booklets thoroughly.  This eliminates using the Lumea on tattooed areas, which can lead to blistering and discomfort. Overall, I would highly recommend this product; I am impressed with the results in a reasonably short space of time."
If you want to find out more about Lumea Precision Plus, click the link in my sidebar.
*Sponsored post.
Transparency Disclosure
All products are sent to me as samples from brands and agencies unless otherwise stated. Affiliate links may be used. Posts are not affiliate driven.