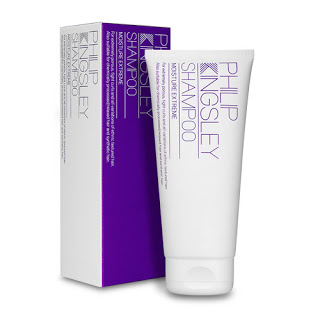 Thank you very much to Henrietta for testing out this new hair duo targeted to those with afro, ethnic or coarse hair.
The Philip Kingsley Moisture Extreme shampoo and conditioner duo was made specifically for all types of ethnic and very coarse hair such as afro hair which needs a lot more moisture than usual due to the texture of the hair. Philip Kingsley is a Trichological expert with 55 years experience and have now developed the Moisture Extreme duo based on this expertise. "Ethnic hair types in particular often lack stretchability due to the low moisture content, which to a great extent controls elasticity (dried out hair for example will break more easily). Moisture Extreme was developed to force moisture into the hair shaft to reduce breakage and protect against friction."
Moisture Extreme Shampoo, £14 – The formula is contains a gentle detergent derived from cocoa butter.
Moisture Extreme Conditioner, £17 – Contains a blend of moisturising ingredients consisting of 4 natural oils Almond, Wheatgerm, Avocado and Babassu which work together to condition the air from the cortex to the
outer layer.
My first thoughts before using the shampoo and conditioner was that there was a lot less product than I am used to for afro hair products however, I did find that once I applied the shampoo to my hair I didn't need as much. It took me three washes to completely get my hair squeaky clean and I only used small amounts of the shampoo for each wash. I found that my hair felt instantly soft whilst washing and the shampoo had a good lather to it making it easier to wash. After washing I then applied the conditioner quite liberally to my hair making sure every strand got covered and kept it on for approximately 20 minutes for a deep condition. As soon as I rinsed off the conditioner I could immediately feel the difference in my hair, it was a lot softer than it has ever been since I've had my hair in its natural state in over a year. I found the blow drying process also a lot easier than normal due to my hair being very soft. I was even told by both my mother and sister that my hair looked and felt very soft.
I can definitely say that since I have stopped processing my hair and now have it in its natural afro state my hair has become a lot drier and I am finding it very difficult to wash and dry. However, with the Moisture Extreme duo I feel that I have found appropriate products to help make my hair more nourished, softer and less dry. I will definitely be using this duo from now on as part of my washing regime and I would also like to try the highly famed Elasticizer Extreme which is a pre-shampoo treatment for ethnic hair.
My only negative about the range is that I would have liked to have had a little more product considering the price.
Transparency Disclosure
All products are sent to me as samples from brands and agencies unless otherwise stated. Affiliate links may be used. Posts are not affiliate driven.