I'm now at the end of the one month trial with Olay Regenerist 3 Point Super System. I've been using 3 Point Super Firming Serum and 3 Point Age Defying Cream as well as OLAY Regenerist Regenerating UV Cream SPF15 exclusively for one month. The only other products I've used that aren't Olay are cleansers.
The products are based on Cellular Bioenergetics which is the process by which cells produce and consume energy. It might not be any surprise to know that there is a decline in skin energy – a woman in her 20's will have wonderfully energetic skin cells, whereas a woman in her 60's, let's say, won't. And although it seems completely obvious, as far as skin energy is concerned, it's always been hard to prove. Olay's studies have now proven this and interestingly, there is no point of sharp decline. You're on a downward spiral from your 20's onwards – sorry to break it so bluntly! Why does energy decline? The answer is in the mitochondria (the powerhouse of our cells) and its ability to produce usable energy. Anything and everything from what we eat to where we live (town or city, sunny or cloudy) can have an effect on the mitochondria.
The bottom line of it is, that by re-energising the cells, you can encourage skin to behave in a more youthful way by restoring the natural bioenergy in older cells. You can't make them any younger than they are of course, but Olay scientists have rebooted Olay Regenerist so that it does give them a good old boost.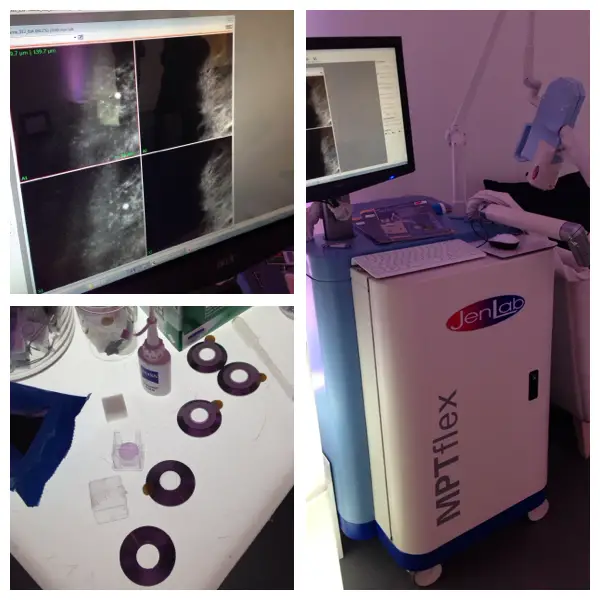 So I think that's enough of the science, because we can be as technical as we like, but what counts to anyone parting with money for this technology is how it performs on the skin. There is, beyond a doubt, a difference in my skin from one month ago. It's brighter, it's glowier and it looks more plumped and even, and yes, there is some firming action in there, too. The proof of a positive result is that I'm definitely keeping The Super Serum in my beauty regime – that's where I think the power is. The Age Defying Cream I will use until the last drop is gone; the UV Day Cream, I'm not so bonded to, so will let that one go.
So, what were the promises? There wasn't much this didn't promise!
After 10 minutes: a noticeable improvement to appearance of eye lines, brightness, and hydration. TICK.
After 4 days: intense hydration firms skin. TICK.
After 5 days: regenerates skin 2 x faster by boosting natural surface skin renewal. Hard to say this happened after 5 days but in terms of radiance, my skin is vastly improved. 
After 7 days: visible reduction in wrinkle appearance. I had to wait a little longer than 7 days to notice this effect, but it certainly did appear. 
After 4 weeks: reverses 10 years of wrinkle appearance. A very hard point to prove or disprove. I don't look 10 years younger, that's for sure, but undoubtedly, my skin is looking and behaving better than it has for as long as I can remember. I think I'd need some intense skin analysis to know whether the clock has been turned back on wrinkles.
I've had compliments saying I look fresher and more well (that catch-all word for when people don't quite know what's different), I'm not prepared to give up the serum, so probably that speaks the volumes that science can't.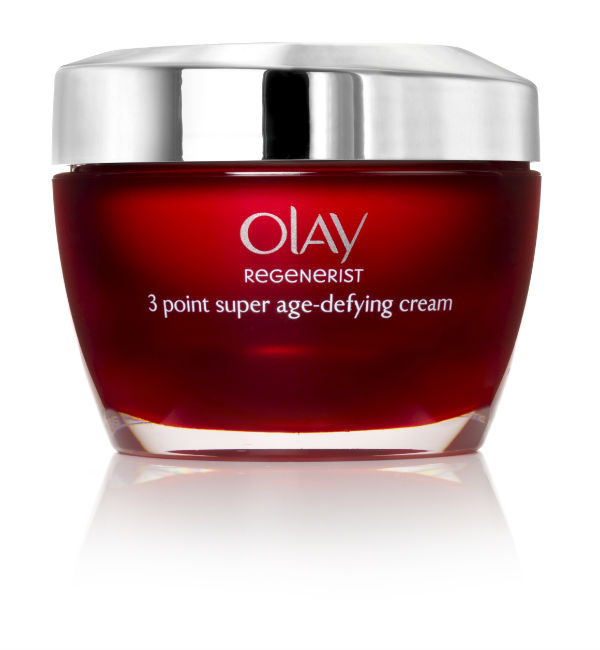 I'm happy to highly recommend that you try it and you'll see most benefit if your skin is 35+.
I've now got a new and better link which means there aren't any hoops to jump through to get a completely free sample of  Olay Regenerist 3 Point Super Age Defying Cream. The first fifty people to email this address will receive a product: bbbolayregeneristoffer@diss.net so please feel free to go ahead.
TERMS & CONDITIONS
This offer is open to all residents in the UK and ROI aged 18 years of age and over.  Offer closes at midnight on 31 March 2014 , or while stocks last.
2.       Only one entry per person. No bulk or third party entries accepted.
3.       To enter send email with your name and address to bbbolayregeneristoffer@diss.net.
4.       There are 50 x Olay Regenerist 3 Point Super Age-Defying Cream samples available to the first 50 entrants.
5.       The samples are as stated and cannot be transferred, sold or exchanged. There is no cash alternative. Only one sample per person.
6.       Prize winners will be notified by e-mail within 7 days of the closing date.
7.       Please allow 28 days for delivery after notification.
8.       The Promoter reserves the right to substitute the sample for a product of equal or greater value in the event of unavailability due to circumstances beyond the Promoter's control.
9.       Your personal details will only be used for the purposes of administering this promotion and for no other purposes. For more information on our privacy policy, please visit: http://www.pg.com/privacy/english/privacy_notice.shtml
PROMOTER:  Procter & Gamble UK, Weybridge, Surrey, KT13 0XP
#P&GSponsoredPost
Transparency Disclosure
All products are sent to me as samples from brands and agencies unless otherwise stated. Affiliate links may be used. Posts are not affiliate driven.