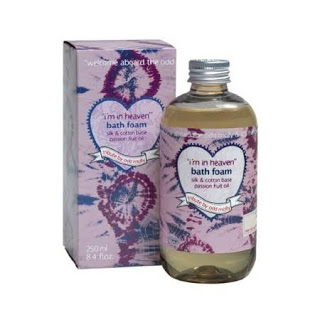 I was recently sent a selection of Swedish fashion brand Odd Molly bathing products; they're cute, decorative and quirky, but that's about where the love ends. I'm In Heaven Bath Foam (abt £17) contains cotton, silk and passionfruit oil apparantly, but truly, you'd never know it. When you first open the bottle and smell the liquid, it does smell pretty, but that's the one and only scent experience you're going to get. Once it gets into the bath, the scent is so diluted as to be indiscernable. And that is annoying…I'm coming across more and more so called luxury shower gels and bathing foams that are little more than Fairy Liquid components with a couple of afterthought ingredients in very low quantities. You know, if you're going to do a thing, do it properly, and don't charge on the way to twenty quid for a small bottle of something and nothing. On the plus though, it is super-foamy, which I do like,and it isn't drying. I think I've got too used to 'foaming oils' which actually leave little more than a surface sprinkling of sad bubbles with Jo Malone a prime culprit for this, that I did appreciate what is a very luxurious amount of bubbles. But, that's liberal use of a (cheap) foaming agent – nothing to do with the fragrance or anti-oxidants etc.
All in all, it looks pretty on the shelf, gives great foam, but my goodness….£17? Not likely.
Transparency Disclosure
All products are sent to me as samples from brands and agencies unless otherwise stated. Affiliate links may be used. Posts are not affiliate driven.