Nivea has asked me to give my top ten tips for smoother mornings – who doesn't want to start the day better? This couldn't be more timely as I'm now an early riser having taken my own advice on making wake-ups as positive and happy as possible. I've blogged before about Nivea In-Shower Moisturiser because it's a genius, time-saving product, so two new fragrance variants are very welcome.
Lose The Snooze The snooze button is your worst morning enemy! You'll pay hard for that extra ten minutes in half-sleep state by feeling groggy and cross. Set your alarm for a realistic time and get up as soon as it goes off. Never get back into bed after you've woken – ON the bed is okay, IN the bed.. no!
The Princess Breakfast Make sure you have food that you actively like to eat in the mornings for breakfast – how many times can you stare at toast and feel it's a treat? Stock your fridge with something you can look forward to, and ring the changes often. With summer round the corner, strawberries, raspberries and blueberries give a lovely vitamin kick as well as a positive and healthy start.
The Overnight Boost A tip I learned years ago is to soak a flannel with water and add a few drops of aromatherapy oil to it. Leave it on the radiator before you go to bed and when the heating kicks in in the morning, your bedroom will be flooded with a gorgeous, uplifting smell. Use oils such as tangerine or sweet orange, known for their uplifting and zesty effect on the senses. I find this works beautifully in winter when mornings are more of a struggle.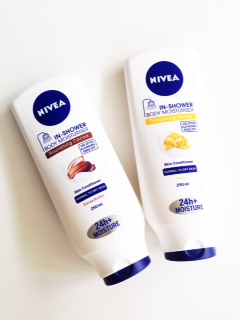 The Power Shower Setting your alarm a few minutes early (and getting straight up!) gives you more time to really enjoy your morning shower rather than making it a rush job. This is where Nivea comes in with their new scented Shower Smoothies; Nourishing Cocoa and Pampering Honey. Use it as you would a hair conditioner but for your body for long-lasting skin moisture. My favourite is Cocoa, because it's got a tropical vibe; Honey is gentler and slightly sweet – a pretty fragrance. It's a gorgeous product that I've blogged about before – and it's such a relief not to have to moisturise afterwards (especially in winter when that moisturiser can be very chilly!). If you're feeling brave, try turning the temperature down by degrees during your shower so you end up with a cool stream (cold, if you're super brave!) at the very end. It's completely invigorating!
Let There Be Light If you really struggle to wake up in the morning, try sleeping with your curtains open or semi-open; you're more likely to wake naturally and more gently with the light than have to wait for the jarring noise of the alarm. I've been doing this for years to treat SAD and it's made such a difference and I can genuinely say it's changed my mornings completely.
Be The Queen of Prep Don't leave yourself too much to do in the mornings; discovering the dress you want to wear to work isn't ironed throws a stress spanner in the works.  Prepare as much as you can the night before, no matter how tired you are; smooth mornings don't just happen. They need a little organization – and on that point, try and keep your bedroom tidy; waking up to yesterday's undies and socks on the floor isn't conducive to a fresh and positive start!
Think of A Wonderful Thing If you can train yourself to find the positive in the coming day when you wake up, no matter how gruelling you think it's going to be, it just puts you in a better headspace. So, for example, rather than focus on the meetings or childcare ahead, think about how much you're going to enjoy that first cup of coffee, your favourite TV show or drinks with friends in the evening. Once you start doing it, after a little while, it becomes automatic and you'll find those moments ring-fenced mentally as pleasures.
Hear Happy Whether you like the radio, the TV or your favourite songs, get some positive noise going when you wake up. I like to catch up with the news – I want to know what's going on in the world and it's a reminder that so much is happening out there and it's time to get on with life.
Mask Of Joy So many people associate skin-boosting face masks with a long soak in a hot bath in the evening. But, why waste the glow on your pillow? Pick out some special pampering masks to use when you wake up so that your glowing skin can be appreciated all day long. It'll make you feel and look good, and that's a great start to any day.
Star Jump Your Day You're either an exercise person or you aren't, but whether it's just giving your body a good flex and stretch (while you lie on bed!) or doing ten star jumps, it does get your endorphins buzzing which can help your focus during the day. I'll be running a little Twitter competition for the next week with plenty of Nivea In-Shower Body Moisturiser sets up for grabs – all I want to know is your top #smoothermornings tip! Look out for my Tweets using the #smoothermornings tag.
And if you want extra inspiration, check out my Pinterest Board HERE with a one-song work-out and breakfast ideas.
#sponsored post
Transparency Disclosure
All products are sent to me as samples from brands and agencies unless otherwise stated. Affiliate links may be used. Posts are not affiliate driven.