Last week I went on a little trip to Hamburg with Nivea as part of their 100 Years Skincare For Life celebrations. I did a post a few weeks ago about Nivea and how it reminded me of my childhood, but can tell you that the brand could not be fast-forwarding more quickly! 
For a start, they've signed Rihanna and are using the song California King Bed to accompany the 2011 campaign. There will be competitions all year for Rihanna concert tickets, downloads and pics as well as a Nivea Tour Bus and sampling campaigns. Nivea are sponsoring the Rihanna tour, and some lucky concert goers will receive the special edition tin of Nivea featuring Rihanna on the tin. As far as I'm aware, these won't be on sale anywhere. 
So, why did they choose Rihanna? Apparantly, she didn't look after her skin as a young girl being something of a tomboy, so her grandmother would smother her in Nivea at any available opportunity! I really like the image this conjours up – a bit like your mum wiping your mouth with a hanky – it's a homely one with a very glamorous outcome.
While I was on the trip, I went to a lecture on the history of swimwear fashion and sun care which (other than insisting that Bath is a sea-side town which had me wriggling in my seat trying to stop myself from saying 'no, it isn't') was fascinating – the things women had to wear in order to swim, it is really a wonder they didn't all drown. I really wish I had a picture of the first recorded teeny-weeny bikini – with a triangular front panel up to the belly button and nothing but a bit of string to the sides….in fact, all bikinis went right up to the belly button for a very long time. The first recorded Nivea sun-protection had a factor of 6. However, now Nivea are using the same melanin production encouraging ingredients that brands such as Institut Esthederm have pioneered putting the method of encouraging skin to protect itself very much into the mainstream.
So, the trip, in brief, comprised a 5 set Rihanna concert on a cruise-ship, followed by cake, acrobats and maybe a cocktail (or six)! My rubbishy photos are here:
Rihanna
Move your head, man!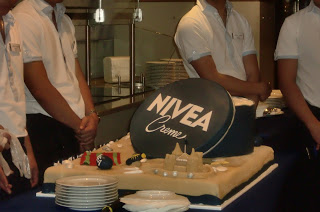 The cake!!
I'm also hoping they might re-issue those Nivea blow up beach-balls – do you remember those? No holiday was complete without! I was lucky enough to get one on the trip and used it for my fool-proof sleep-on-a-plane method because I'd forgotten my cushions. Flip out the front tray, blow up three air cushions (or two thirds of a Nivea beach ball), cover with a pashmina, stack them all up to comfort height, lay head on arrangement and.. sleep. 🙂
Transparency Disclosure
All products are sent to me as samples from brands and agencies unless otherwise stated. Affiliate links may be used. Posts are not affiliate driven.