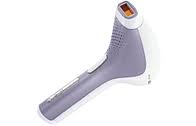 I've had this IPL hair removal system from Phillips out on trial for about 6 months – a friend kindly agreed to do a long-term test and her review is in.
"Like a lot of girls out there I have tried everything waxing, sugaring, threading, epilators, professional lazer, hair removing creams, hair minimisers anything to remove unwanted hair! But I think I've finally found my perfect solution!"
Packaging
The packaging is simple, clean and has a stylish feel. The lazer gun, charger and 2 x different types of heads fit into a compact case. It's easy to store, easy to clean case. There could be a little more room inside the case to make it easier to pack everything away as sometimes it's difficult to close with everything in there
Lazer Gun
The gun itself, is a good size, easy to hold and operate, feels comfortable in the hand, not too big/not too small and not too heavy.
Head sizes
It's great that there are two head sizes, the small is perfect for upper lip and under arm, the larger one which I use on legs and arms is fine however if I could I would make it bigger, only because I'm lazy and I feel the bigger the lazer head the more skin it would cover in one zap therefore the treatment would be quicker. I have seen other lasers with a tiny head so was grateful that this one wasn't too bad, it just sometimes feels like the legs take forever. Also when you slightly press the IPL head into the skin it leaves a faint line in the skin so you can see which area has been covered, if you don't press hard enough or if the line disappears then you have to guess which section has been covered. I have been trying to think how else you could see which sections have been done but it's a tricky one. I know when I tried professional lazer the therapist would draw onto the skin (with a skin-safe pencil I hope!) the section that she was going to zap, maybe that could be integrated to this at home appliance.
Battery life
Slightly frustrating is that sometimes I'm half way through the process and the battery dies on me, you can't use whilst it's charging, so then it means interrupting the session to put it on charge and coming back later. This is a bit annoying as its one of those things you just want done and out of the way, you have to gear your mind up for it, a bit like when you make yourself go to the gym! So then once it's charged you have to motivate yourself to get back to it!
Ease of use
Very easy and simple to use, the instructions are clear, the zapping process is easy, each zap literally takes seconds, I must admit I was amazed, the first time I used it, at how easy it is, nothing complicated about it, no putting it all together and having to take it apart, no mess, just super easy. You know I hate using things like blenders and smoothy makers because of all the things you need to put together and take apart and clean, this was a dream come true, no fiddly bits!
Pain
Hardly any pain at all, it's a bit of a tingle, you set the lazer to the right level for your skin, the instructions make it clear that it's not like 'the higher the setting and the more pain, the better the results', the results are the same if the setting is right for your skin/hair colouring.
Results
Ok so, since before Christmas, I've been using the lazer gun, BUT I haven't been efficient or organised enough to do it every fortnight, the fact that I've done it whenever I get round to it, sometimes once over two months, the results are impressive, it just makes me think if I had stuck to it every two weeks for the first three months then I would have seen the actual results promised, but that's totally my fault and yet I can still see that when hair grows back its very fine and there are patches of completely hair free skin, so it's definitely working and I haven't even followed the right time frames. The results I've seen already prove to me that if it was used as regularly as instructed then you'd be on to a winner.
Convenience
The other thing I love about this is that I can do it in the comfort of my own home, I don't have the stress of making appointments in advance and then having to stick to the appointment or cancelling it, I don't have to travel anywhere to get this done, I don't have to strip in front of a therapist and best of all I don't have to let hair grow I between treatments, as you need to shave the area before using the zapper, so I can be hair free all of the time, whilst using something that will permanently stop the hair from growing. (It's vital to shave before treatment otherwise it will burn the hair, where you will see and smell very faint smoke, this is made really clear in the instructions, it needs to be used on hair-free skin for the lazer to get to the hair follicle beneath the skin. You can't wax or epilate as this interferes with the follicle that the lazer is trying to get to – I think I got that right! That's as far as I can go with the science! Plus you can do it whilst watching TV.
Cost
It's worth the price, I've spent to such on waxing, professional lazer, other hair removing products, this will actually save you money in the long run, if used properly. The model I'm trying is one up from the original, however I know there is now one up from the one I'm trying so that one may have improved on some of the issues I've mentioned.
Note to self
Just do it every two weeks for three months for life changing results!
Advice
As it's such an expensive item to buy, I'd be more than happy to answer any questions on this device based on my personal experience @jazz_benefit
Transparency Disclosure
All products are sent to me as samples from brands and agencies unless otherwise stated. Affiliate links may be used. Posts are not affiliate driven.