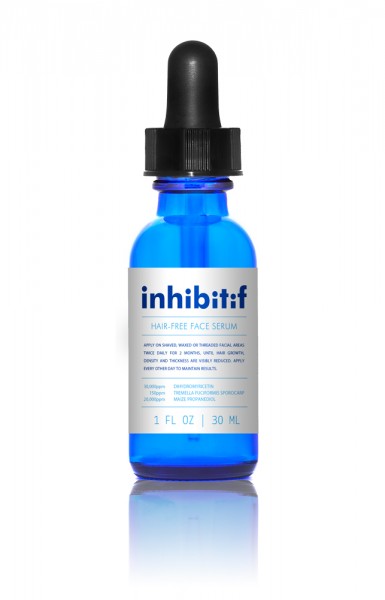 This is such a great idea – I know that facial hair is a real problem. I have one pesky hair on my chin (I know, not glamorous but a reality) that I am so vigilant about – I feel for it nearly every day and look in the mirror and then one morning I wake up and it's about a foot long! Argh – how does that even happen! However, for some women, whether it's what they feel is an excess of downy hair or those annoying bristly ones that emerge like Jack's beanstalk in the night, it's really a confidence sapping problem.
I should just say that facial hair is totally normal – it's when hormones kick in and your body produces too much of one thing and not enough of another that it can become excessive. If you do have excessive facial hair and hate it, you should ideally consult your doctor as there may be an underlying issue before you try any other remedies.
So, now to the product – Inhibitif Hair Free Face Serum. It promises visible results in as little as two weeks, although I think you should set your head timer to four weeks for really tangible results. Quoting from the materials, it promises to 'reduce the prominence and density of facial hair' with optimal results in eight weeks. The serum formula (which will cost £19.99) feels like any other facial serum, making it easy to incorporate into your beauty routine (you need to apply it twice a day). It doesn't really smell of anything for those who are sensitive to scents. There is already an Inhibitif Body Serum (£29.99) for legs and arms so it makes total sense to refine the formula for the face.
When I think about the misery that facial hair can cause, if this is the solution, then I'm welcoming it with open arms. I haven't long term tested, obviously, because I've only just received the news and the product. It won't hit stores until January but is having an early release on Boots.com on 30th October.
There is also an Inhibitif Deodorant coming as well – again, love the incorporation of a hair minimiser into an every-day item that we use without even thinking about. I know it's been tried before by other brands but I think this could be the one that makes the difference.
Transparency Disclosure
All products are sent to me as samples from brands and agencies unless otherwise stated. Affiliate links may be used. Posts are not affiliate driven.