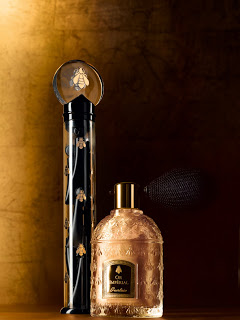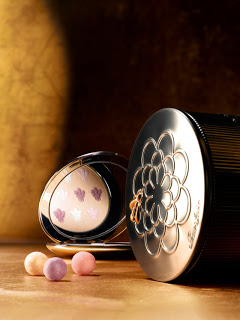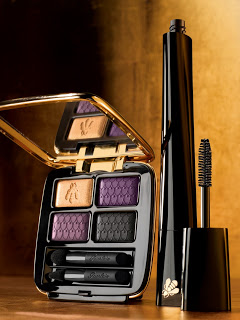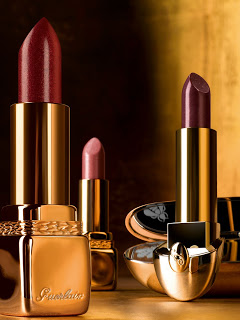 This collection is a feast for the eyes – it's all about gold – and then some! Along with the gold theme for these limited edition pieces, each item features the famous Guerlain bee, inspired by the original Eau de Cologne Imperiale bottle from 1853which was intricately adorned with golden bees. This is something I really love about Guerlain – the fact that it has solid heritage; something that modern day brands just can't compete with. At the helm of creativity is the quirky Creative Director, Olivier Echaudemaison, who takes make up to another level and completely understands what makes beauty-loving women covet inspired pieces as though they were items of jewellery. It's the 'ooh' factor; the thing that pings in your head when you see something you know you have to have! And, it's this essence of covetableness that is missing from an awful lot of brands right now. So I was totally happy to be immersed in all things Guerlain this afternoon.
Ironically, there aren't that many truly beautiful moments for a beauty writer, but I would say watching the atmosphere of the opulent launch room alight with floating golden sparkles from Sublime Radiant Powder being tested to its very limits was one. Breathtakingly pretty.
So, starting with Or Imperial Sublime Radiant Powder Face & Body (£48) – this is one of my favourite Guerlain products. Although I really don't like sparkles, this product is an exception to my self imposed rule. Presented in an old-fashioned spray bottle (with one of those boudoir style pumps) the milling is so fine and the sparkles so infinitesimal that it is just perfect. You could spray in on the usual decolette, shoulders, etc, but I'm liking it for hair. It's fragranced with a delicate violet scent. Next up is Meteorites Perles D'Or Illuminating Powder (£35) in a chiselled metal case, featuring the signature bee. It's my least favourite of the collection because I've never quite understood the 'magic' of these beads. They've never added any illumination to my face – eek! On the other hand, I'm seriously coveting Meteorites Poudre D'Or Exceptional Pressed Powder; a bank breaking £107, but embellished with violet, pink and white bees over a bed of iridescent beige in a white gold compact. I don't care what it does – I want. And, if it is any small consolation, the pebble shaped compact is refillable.
Ombre Eclat 4 Shades Velours D'Or (£37) contains two shades of violet, irridescent gold and an intense black liner – embossed with an Arabesque design taken from past imperial Guerlain bottles. Le 2 De Guerlain Volume (£25.50) High Shine Mascara Volume 13 Or 2 Nuit contains deepest black mascara at one end and a liquid copper gold lacquer to apply over the black. It's gorgeous – you can control the level of gold that you put over the black from full on bling to delicate shimmering tips.
Lastly, the lipsticks. Rouge G De Guerlain Le Brilliant B64 Bee (£28.50) – a super-intense violet shade that would be hard to pluck up the courage to wear, but if you can find it somewhere – wow! KissKiss Strass Crystal Shine (£21) in two new colours; Rouge Imperial, a dark red, and Rose de la Reine, a pink lit beige that's competely in my comfort zone and I'd wear in a heartbeat.
If you can fast-forward in your head to all the opulence and luxury of the Christmas season, with silks, velvets and swishy party dresses, this range fits right in. It's completely caught the mood of the season in terms of colour, nuance and presentation.
NB: The tall perspex cylinder containing phials in the first picture is Midnight Star Collect D'Or; one shot tubes of radiance enhancing cream. £39.
Transparency Disclosure
All products are sent to me as samples from brands and agencies unless otherwise stated. Affiliate links may be used. Posts are not affiliate driven.