Fun times at the Revlon Beauty Class with make up artist Gucci Westman running a tutorial on how to achieve the look she created for Alice Temperley for London Fashion Week – a purple/grey smoky eye and a red lip – and to introduce Revlon's big summer launch, Just Bitten Lipstain.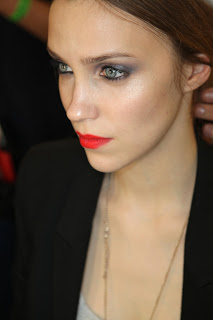 We were each given a set of brushes and the colours we needed to recreate the look – and a real model each to work on. Honestly, it's a whole other thing when you're given an actual person to work on – I was terrified of stabbing her in the eye with my brush, but she was so sweet and accommodating although I don't think I have the gentle touch she's used to because she jumped a few times. Oops.
She's laughing now…..
 
To start, we used our foundation brushes to give a soft, natural look that evened out the skin tone but didn't look overtly made up. Gucci did a clever thing with the blusher by brushing it just under the cheek bone and with a very light touch… I got a bit heavy handed and my poor model looked a little flushed!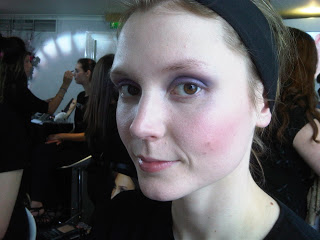 Foundation, blush and one coat of purple over a base of grey on the eyes
So, on the eyes, using a base of pale grey, we brushed the entire lower lid with it, and topped over with a slightly irridescent purple shade. We then added to that a dark shimmering grey shade (mine fell all over her cheeks) at the outer corners and then blended in. Gucci did a little walk about to check everyone's work and when she got to mine she said, 'I love how everyone is interpreting the look differently' which I took to be make up artist speak for 'that looks nothing like it should'!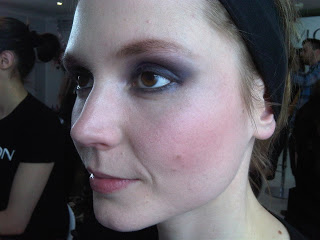 I can only apologise for the brows….
We then added kohl on the inner rims (I got my nice model to do her own because I seriously didn't feel competent to be fiddling about actually inside someone else's eye) and when it came to add the mascara I just wasn't gentle enough on her and she did jump about a bit so I left it at one coat because it didn't seem fair to keep on putting her through it. Then, I had a go at her eyebrows – as you can see above, it wasn't an unqualified success – she has really pretty, natural brows that aren't plucked but were quite fair – so I added wayyyy to much brown brow powder to her and made her look like like one of the characters from Guess Who.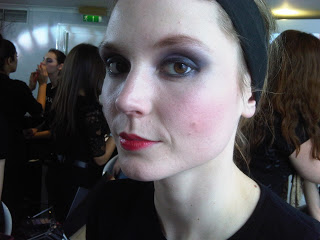 The finished look.
 Finally, we added Just Bitten Lipstain, which handily comes as a dual ended pen with a balm at one end and a pen tip with colour at the other. Gucci suggested that we use the balm first to soften the look before adding the stain. The colour here used is Flame – a pinky red. These launch in June for £7.99.
All in all, it was a really good experience though – if only to prove that my make up artist aspirations should really truly stay as just that – aspirations!
Transparency Disclosure
All products are sent to me as samples from brands and agencies unless otherwise stated. Affiliate links may be used. Posts are not affiliate driven.