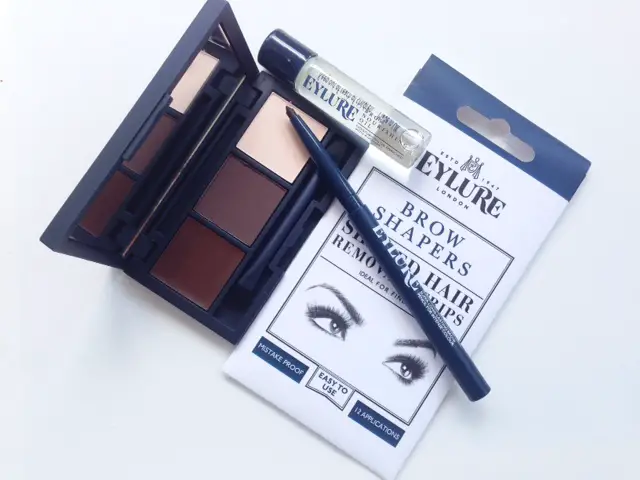 Eyelure's recent packaging revamp has really changed the brand, I think. It's almost an apothecary style which really suits the products and differentiates it from any other lash and brow brand on the market. It's taken me an age to get around to trying and testing, because brows really aren't my thing. I just can't spend forever slicking down each and every hair on my brows and  having them precision groomed – my eyebrows are rather unremarkable really; they're not thick and they're not thin so I just leave them alone! Other than a brow crayon to darken the colour and very occasionally a little home wax to get rid of any strays, they're really low maintenance. However, in beauty world, you see some spectacular brows! The most perfect, groomed and precise arches and to be honest, they do look amazing.
The Eyelure Brow range is very flexible, with everything from a simple brow crayon (soft, fine and stays put) all the way through to wax and powder trios so you can be as groomed as you like – or not, which is as I like. The only product I'm questioning is the brow nourishing oil with rosemary to promote hair growth; I can't find a single decent science based fact to say that rosemary does this, although it's used in traditional folicle stimulating remedies. I'm just not sure it isn't wishful thinking rather than based on fact, so I'd be interested if BBB readers have any experience of it working.
My top pick is the Brow Shaper waxing strips, made with a curve to hug the natural shape of the brow and give a really precise wax – it's genius and I'm amazed that nobody thought of it before. Last time I waxed my brow (with a straight edged strip) I caught my newly lash extensioned lashes and ripped out a huge gap in the middle. The Eyelure Brow Shaper strips are a little bit fiddly – they'd be better with some guide marks on them, but they work really well once you get the hang of them and whip away the fine hairs that grow under the defined arch.
You can find the new Eyelure range HERE with prices from £5.45 for a brow pencil.
Transparency Disclosure
All products are sent to me as samples from brands and agencies unless otherwise stated. Affiliate links may be used. Posts are not affiliate driven.