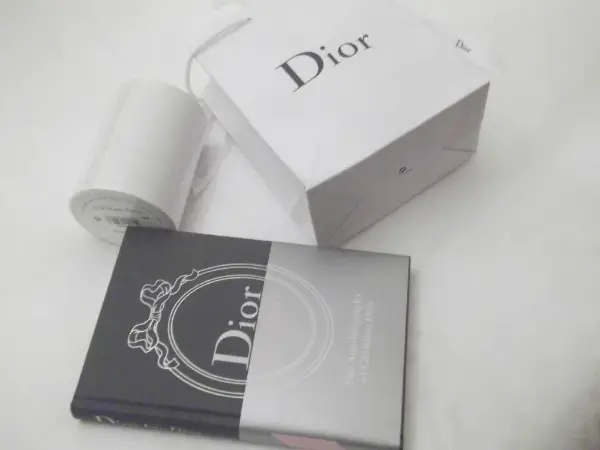 Today is really all about Dior because I'm posting from Paris where I've come to see the forthcoming newness – it's everything for eyes! A wonderful lift and curl mascara, DiorShow Iconic Overcurl Lift & Curl, an easy-to-use pen liner and eighteen brand new mono shades for eyes.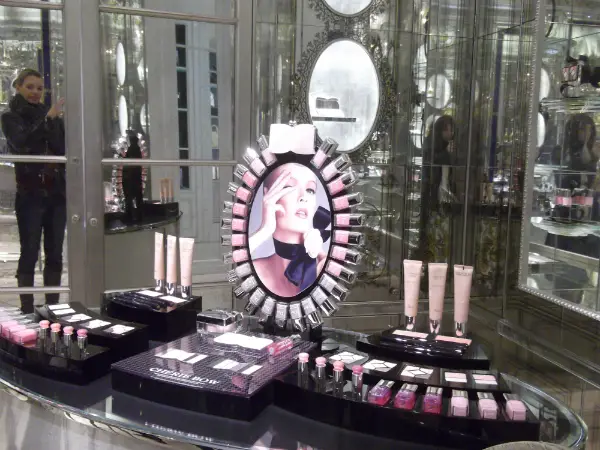 I'm here with Ruth Crilly from A Model Recommends and Charlotte from the Dior Press Office. We kicked off our day today with a visit to the Dior store – it is the best smelling store in Paris because it is scented with my favourite candle in the world; as far as I am aware you can only buy it here. It smells of powdery lily of the valley and is just beautiful. Inside the store is a mirrored room, hung with chandeliers, and that's where all the beauty and fragrance is displayed. There are little touches that are so beautiful – such as these fragrance testing cards, embossed with the bottle of each fragrance group.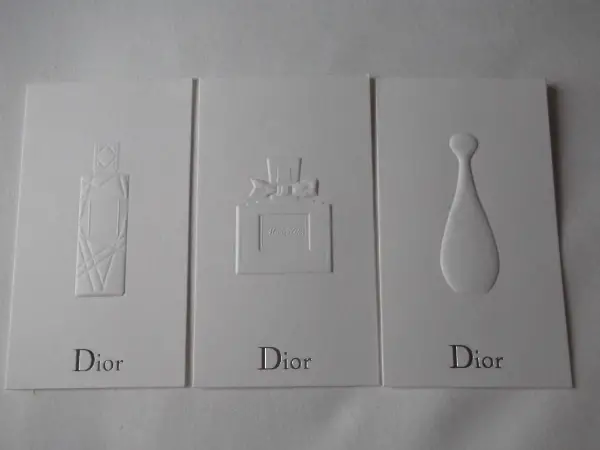 I'm a little bit tempted to put these side by side in a frame.. I love them.
After we'd finished (not) shopping at the Dior store we headed off to a studio in another part of town to have a look at the new launches coming up in February. First up the Monos: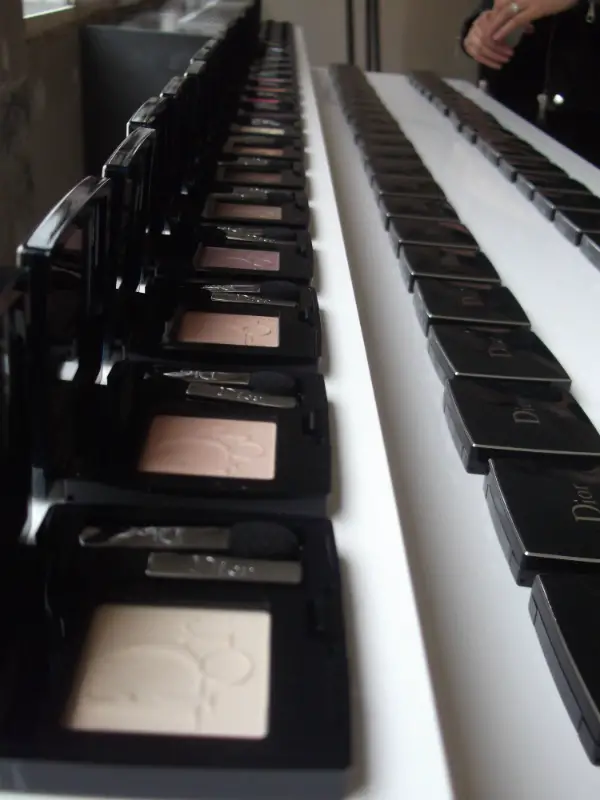 Eighteen brand new shades split into three groups; neutral, colour pop and smoky.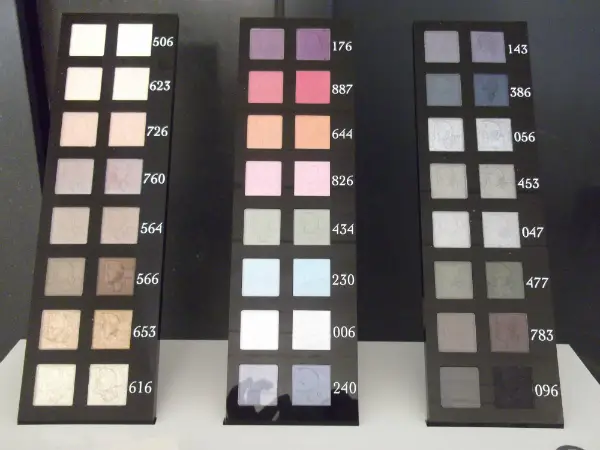 We're here with lots of other bloggers from around the world; some new faces and some old friends; Megan at Refinery29.com (USA), Julia from BeautyInsider.ru (Russia) and Huda from HudaBeauty.com (Dubai). At the studio we had the chance to be made up by one of the Dior Make-up Artists and I chose to step right out of my comfort zone of neutrals to go for the colour pop!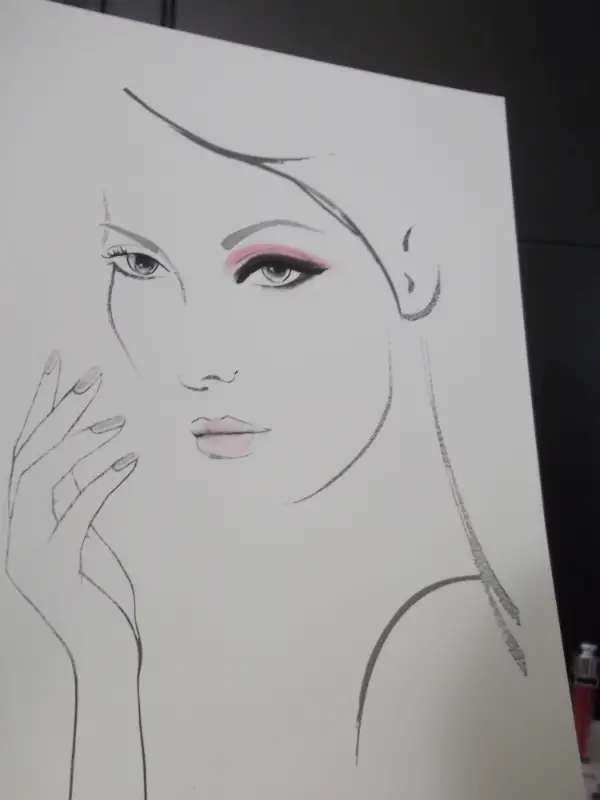 Above is my beauty chart (sadly, looking nothing like me at all!) but gives an make-up artists' impression of how the make-up will look – I opted for shocking pink with black for super smoky, pop eyes.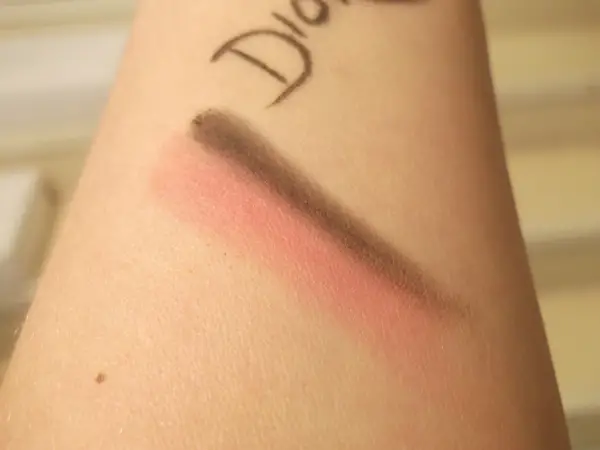 Very cleverly, after doing almost the entire eye socket in the shocking pink (scary!) the make-up artist then smoked almost all of it out with black leaving a blurry pink halo around the edges. He then added liner with the new Dior soft pen liner, some inner rim kohl and under-eye black liner.. smoky is not the word! And, the darker he went the more golden my eyes (which are naturally mid brown) looked. It was quite spectacular. The look was finished with Dior Rosy Glow mixed with some foundation to turn it creamy and a transparent baby pink gloss.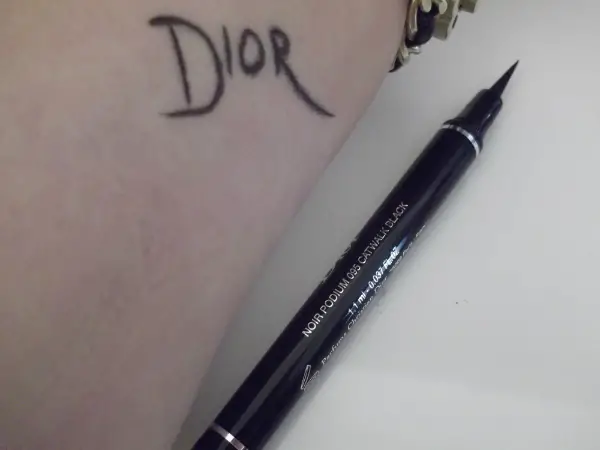 The liner is very soft; the line doesn't bleed out and it's jet, jet black.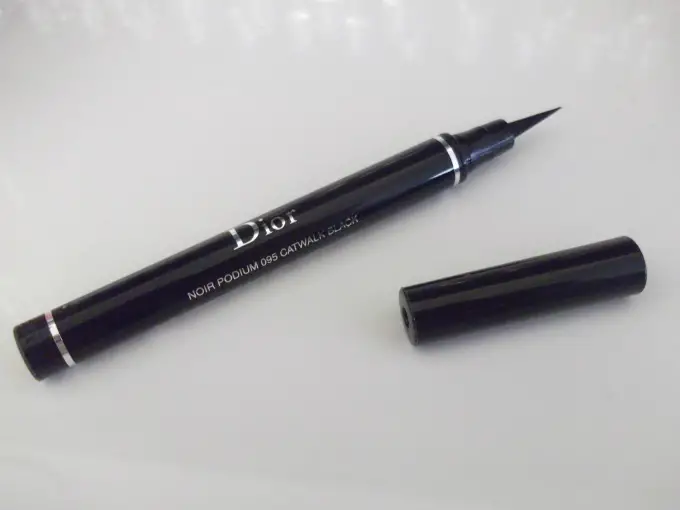 You know how hard it is not to take all the shampoos and shower-caps from hotel bathrooms? Well, that's how I felt about these: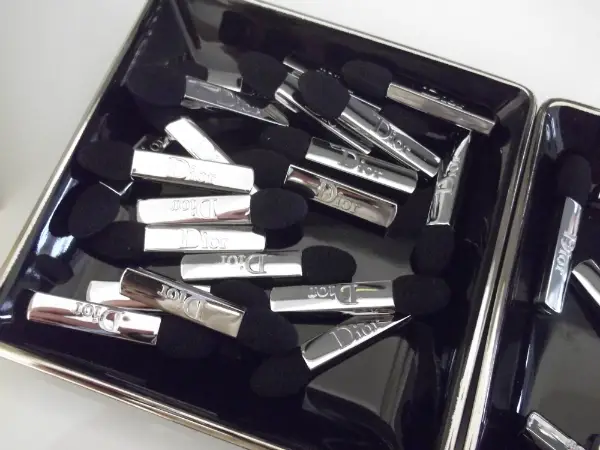 And, er, these: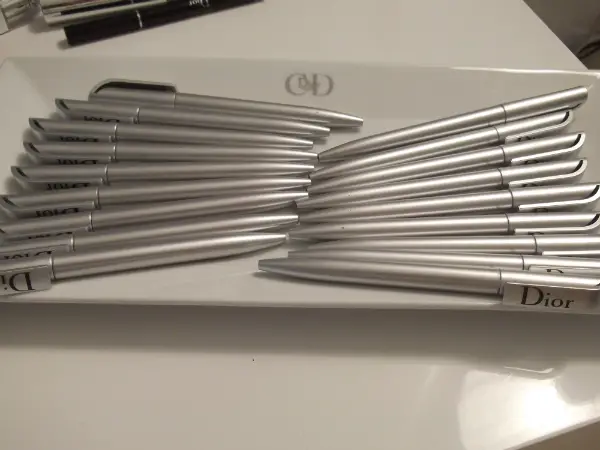 But, I didn't let the UK down!
The big launch for Dior next month is their new Diorshow Iconic Overcurl Lift & Curl Mascara – it has a long, curved, lid shaped brush to really grab the lashes and pull the mascara all the way through. I have lash extensions so didn't try this out – but there were some wayyy long lashes in the room! I'll post more on this when I'm home.
Finally, for now, I've never had aspirations to be a make-up artist, BUT, for the sake of this little thing, I could seriously have a rethink: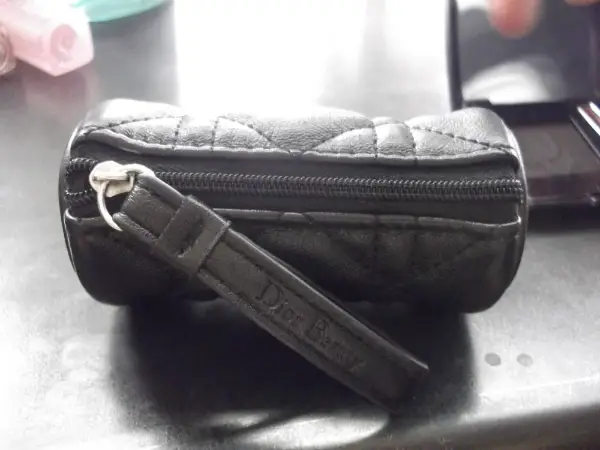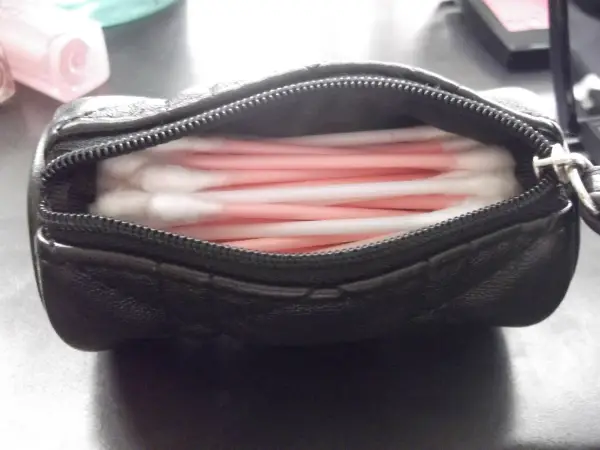 Seriously… !
Transparency Disclosure
All products are sent to me as samples from brands and agencies unless otherwise stated. Affiliate links may be used. Posts are not affiliate driven.