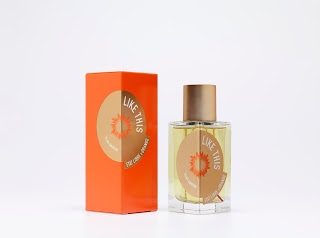 With the exception of SJP 'Lovely', which was actually quite nice, I'm not a sleb fragrance fan. It's just marketing hype and really boring at that. Mostly, they're knocked out in labs with the merest nod at proper perfume, packed up in a nice bottle with a picture of said sleb and then people just go and buy it. I don't really know why. That kind of consumer psychology is probably best left to those qualified to comment – I just don't really understand why even though you rate someone as a singer/actor/rapper/athlete how that would translate to wanting to buy a perfume endorsed by them.
Anyhoooo…as someone who doesn't follow actresses/singers etc, never mind try to emulate them, I'm still quite taken with Tilda Swinton's perfume, Like This. You can almost judge the scent by the actress ranking I think….like, we all know if Dame Judy went off to make a perfume, she'd be involved to the very last nano-drop. The same goes for Tilda. She's just too classy not to bother. And while on the press release she does fall into the (very easy to do) over-wordy actress trap ('simplicity and softness after the duck and dive of definition in the wide, wide world'…eek Tilda, shut up now), it does come across that she understands about simplicity and has been very involved in the process of making the fragrance. To her scent means 'a state of ease' and she likes 'the scents of home'. I get that. She wanted to represent new baking on a wood table, the lazy sunshine of her grandfather's greenhouse, woodsmoke and peat after Highland rain. See, it's simple, beautiful, natural scents that we can all make sense of.
I'll leave the fact it's named for a poem that restores her spirit, human scale miracles, trust….oh, pass the Oscar, someone. This is a fragrance for those who don't really need to understand the fantastical inspirations, or maybe who just don't 'get' perfumes, but who'd love a scent that has a bit of a back story and isn't just another run of the mill bank balance booster for the already rich and famous.
Tilda Swinton 'Like This' £69, www.lessenteurs.com.
Transparency Disclosure
All products are sent to me as samples from brands and agencies unless otherwise stated. Affiliate links may be used. Posts are not affiliate driven.