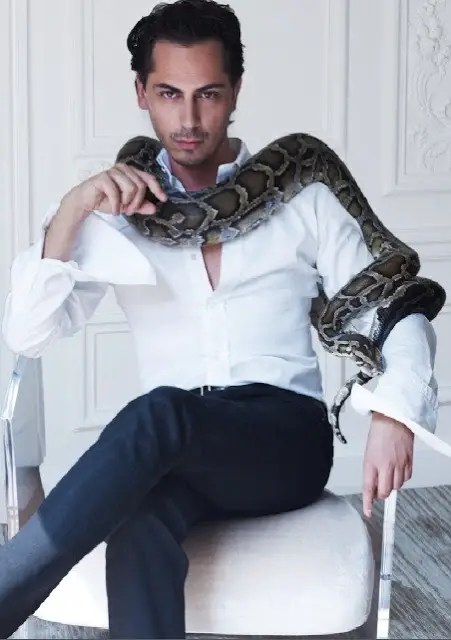 Okay now, to be fair when I got this picture of fragrance creator, Kilian, I just thought, oh my.. what a tw*t. It's sort of Siegfried & Roy gone wrong and I would not have been at all surprised if he'd had a growling tiger and a fire eater at his feet as well.
BUT! In real life, he is quite the charmer and nothing like the Vegas show guy in the picture. In fact, the picture makes far more sense when you realise that his new collection, In The Garden Of Good & Evil is all about Adam and Eve where obviously a serpent features quite heavily. We are lucky in so many ways to have fragrance creators like Kilian. When I met him this morning (sans snake much to my disappointment) I realised the level of detail and thought that has gone into his collection that launches on November 1st at Harvey Nichols is something we cannot readily find in high street mastige fragrances. By Kilian is a range for the fragrance connoisseur, but also for those weary of high street scent that pretty much all smells the same. 

If you look at the picture of the bottle below, the side detailing which is etched into the bottle shows two serpents, a heart, a door knocker (the door to heaven or hell?) and vine leaves, which were used to cover Adam & Eve's modesty once they realised they were naked.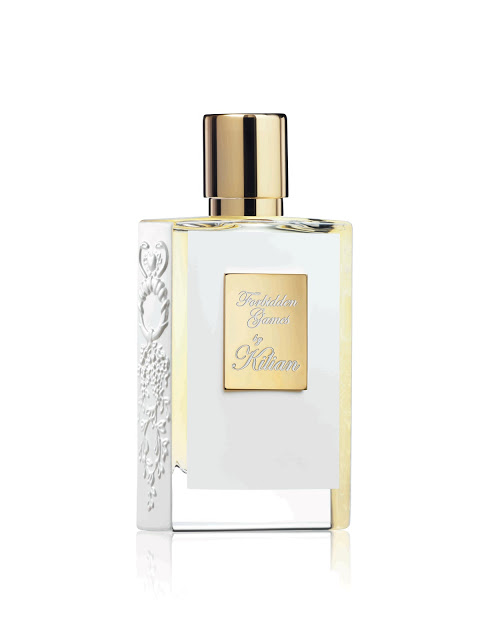 The square edging and the fact that the lid appears straight from the bottle with no moulding – these are all very difficult to do. The plaque on the front is covered with 24 carat gold.. it's just all very, very beautiful and incomparible in craftsmanship with any high street buy.
I guess it is all about how you feel about perfume – whether it is literally just a squirt of something that smells nice or whether you really want to embrace a range. I discovered, while talking to Kilian, that I don't hate vanilla – it isn't vanilla that yields that awful cloying, sweet smell in just about every single perfume these days, it is in fact Ethyl Maltol, a generic caramel smell that is in everything from perfume to sweets and you would instantly recognise it from Thierry Mugler Angel. It's a true Marmite ingredient and I happen to hate it. Real vanilla is rich and warm in nature and nothing like the synthetic sweetie scent that Ethyl Maltol produces. 
So, the fragrances – I'm not even going to try and explain them other than to say that In The City of Sin, Good Girl Gone Bad and Forbidden Games (my favourite) are truly wonderful compositions. If you are going to follow a perfumer rather than the crowd, By Kilian is a very good proposal and his fragrance is the difference between Asti Spumante and Champagne if I am to make an analogy. 
The £160 price tag is possibly made slightly more bearable by the fact that the bottle is held in a white minaudiere with a golden snake entwined across the top – so beautiful that there is no hint of the aforementioned Siefried & Roy. The bottles are refillable so all refills are obviously half the price of the original outlay. By Kilian already has a cult following and I quite see why. Kilian is delightfully charming, an innovator and passionate about his fragrance and I guess if I wanted a proper perfume with integrity and soul, I'd be at the head of the queue to join that cult.
Transparency Disclosure
All products are sent to me as samples from brands and agencies unless otherwise stated. Affiliate links may be used. Posts are not affiliate driven.