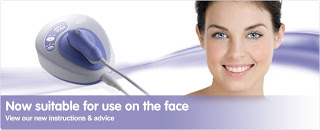 Although I am trialing Philips Lumea currently, I'm only doing that on my underarms, so I'm giving Boots Smooth Skin a go on my legs. I'm not going to use this review to compare the two, but I will say from the get-go that Lumea is undoubtedly slicker and easier to use.
Smooth Skin promises to reduce hair permanently over a period of up to 12 weeks. Without going into long explanations, because refreshingly, the Boots website is a wealth of information, and having read through it, a pretty accurate representation of exactly what it does, my review is more a user experience.
So, I started badly by forgetting that I was supposed to shave my legs before a treatment, so wondered why it felt painful. I stopped as soon as I twigged that I'd omitted one of the basic first requirements and gave up in disgust (with myself!). The following day, armed with the Gel (unlike Lumea, you 'need' to put on a thick layer of gel (provided) before using Smooth Skin, I charged up the machine and shaved my legs. Unbelievably, I then forgot to apply the gel, but didn't realise until I'd completed one leg (I know, not fit to be let loose with an electric toothbrush even). However, this turned out to be something of a revelation, because you do not 'need' the gel although having applied it to the second leg, it is a more comfortable experience with it. That's not to say that without, it is unbearable. Far from it – a slight 'twang' feeling when the light flashes, that is only marginally less when you apply the gel. I'm wondering if the addition of the gel is to keep you purchasing, because after all, once you've paid for this baby, you aren't going to be spending a whole lot on hair removal products of any sort in Boots.
It took an age to do my legs (Boots are honest about this – they reckon about an hour and they were almost spot on), and unless you are incredibly flexible, doing the backs of your legs with such precision is tricky (and would be with any other machine, I suspect). I ended up with an aching back and wondering if it was worth it..because if I continue, I'll spend a total of 12 hours doing this over a period of 12 weeks. The other thing I found irritating is that you do need to recharge – I needed two recharges per leg, which only made the time go even more slowly. There's also a 6 second wait between flashes – which doesn't sound a long time, but quickly starts to feel like 6 minutes!
There's also the issue of the white eyeliner. The instructions suggest marking out your legs in lines with a white eyeliner so you don't lose your place. Really, at the price they should include one. I learned to my cost that while a white eyeliner lasts for years when occasionally used on the eye, once you start crayoning your legs they disappear! I had to resharpen at least three times and will have to invest in a new one probably before the end of the 12 week period. It is, though, a really good idea to line out your legs (although you'll discover that drawing straight lines on curvy legs is for the experienced artist only!).
However, overall, it is an impressive machine; it's corded so you are based in once set place near a plug to do it, but at £324.99, if it does the job, it is at the cheaper end of the market (Lumea is £399.99 also at Boots) and there may well be no need to splash out an extra £75. A major difference is that Smooth Skin can be used on the face and I see this as a huge plus, as Lumea is not suitable for treating facial hair. However, I suspect it won't be long before an updated and more sophisticated version comes along to properly challege the ease of use of Lumea.
Smooth Skin cannot be used on blond, grey or red hair.
Transparency Disclosure
All products are sent to me as samples from brands and agencies unless otherwise stated. Affiliate links may be used. Posts are not affiliate driven.