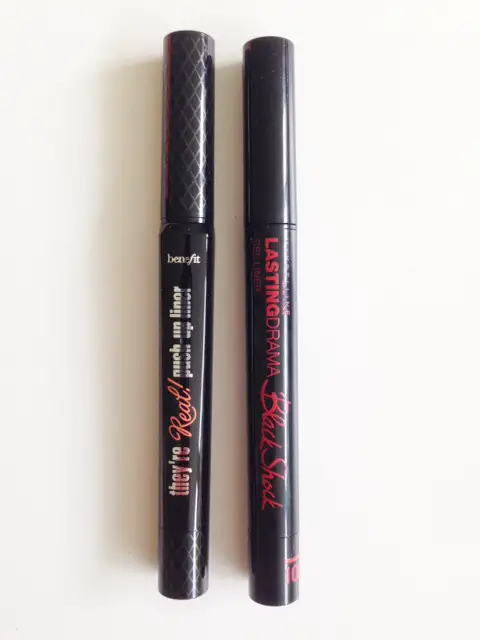 So, Gel Liners with flexi-nibs are going to be a thing. There are currently only two on the market that I know of, although I know there are more on their way. It's Benefit They're Real Push Up Liner vs Maybelline Lasting Drama Black Shock! Benefit Push Up doesn't launch until June; Maybelline Black Shock is available now – I bought mine in Boots at the beginning  of the week. BUT, there's a big difference between the two.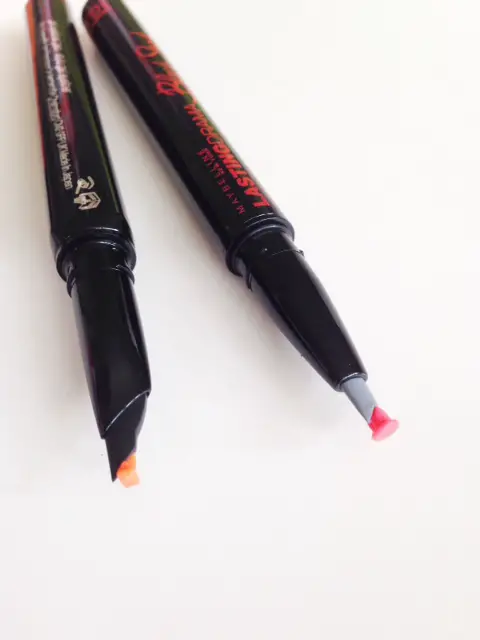 Nearest in the picture is Benefit with the orange stopper, Maybelline is the pink stopper. The first thing I notice is that the Maybelline liner doesn't have such a sophisticated nib – it's much more basic than Benefit, and the hole at the tip is bigger.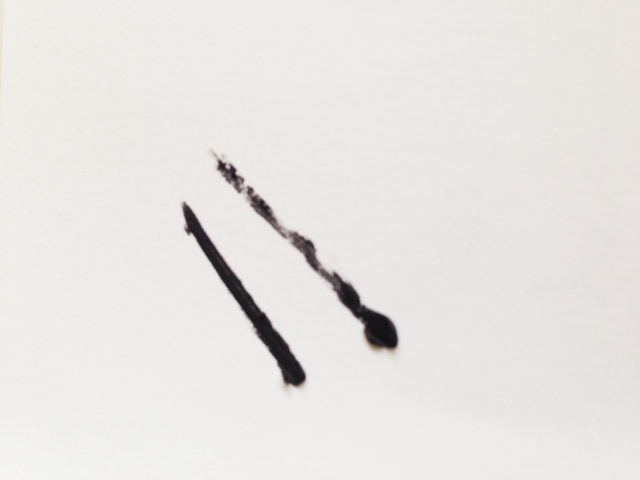 When I tested the line on paper – and they were both freshly opened, brand new products – the difference is clear, with Benefit coming out with a teeny blob but a clear, consistent line, and Maybelline starting with a big blob and a less consistent line. But paper isn't skin, so..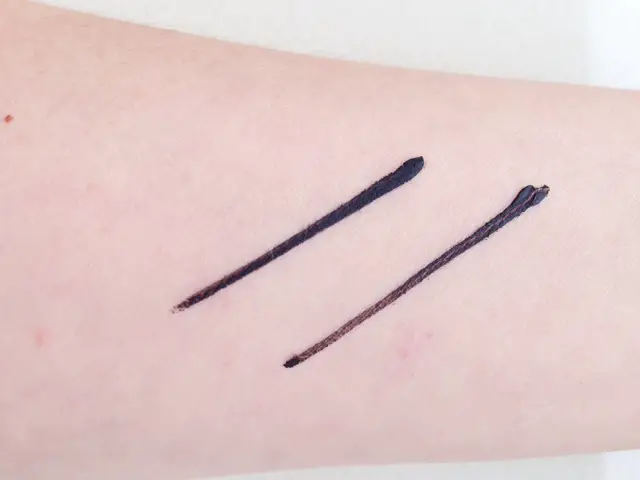 ..on my arm, the first line is Benefit, the second Maybelline. Maybelline undoubtedly has less pigment and is a little less reliable on product delivery. I think if you are good a gel liners anyway, you could get away with the Maybelline product, which at £8.99 is significantly cheaper than Benefit, which will be £18.50.
The upshot of Benefit They're Real Push Up Liner vs Maybelline Lasting Drama Black Shock is that Benefit is undoubtedly the better product in terms of usability and quality, but with practice, I think Maybelline could work as a budget option – however, I must stress that I don't think it's for a novice user. I haven't tested it on longevity yet, so that remains to be seen.
Transparency Disclosure
All products are sent to me as samples from brands and agencies unless otherwise stated. Affiliate links may be used. Posts are not affiliate driven.