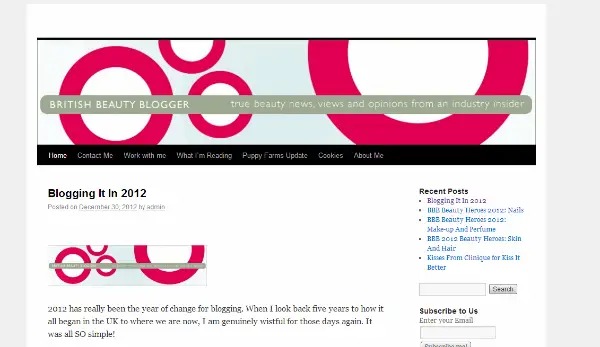 Hard to do beauty retrospectives when there's so much product around and I can hardly remember what happened in September, never mind last January, so I'll do a little mix of blogosphere, beauty and personal goals.
Everything's changed! If you see above, that's pretty much what I said last year.. but this has been the year that blogs have spiralled so fast into mainstream that the beauty industry would be weird without them. It's taken a LONG time for this to happen but yay.. it has. We've proved it's not a fad, and we're here for the long term.
That said, other forms of social media are now much more important than they used to be; brands aren't happy to just appear on a blog – they want to be on ALL of your social channels. This year, I've finally got to grips with Instagram (britbeautyblog if you want to find me) and I love it! I was really late to the party so it's a re-learning curve for me on how to get followers and use it properly – just like it was when I started my blog and Twitter. It never does any harm to be reminded that readers aren't a given; you have to earn them. The way predictions look right now is that it won't be enough to just have a blog – you need all the other channels (YT, Pinterest, Insta) too.
Next year is YouTube Beauty's year. I was very late to YouTube and started my channel in about April time I think, and once again, it's a reminder that you can't assume an automatic readership (or viewers). I like that my channel is small.. it serves as an extension of my blog rather than an entity on its own so for that purpose, size doesn't really matter although a goal for next year is to do more and get my lighting sorted – and learn how to edit!
2013 was when everything got 'professional'. Suddenly, blogs got smartened up and so did YT channels. Instagram apps to make pictures look swish and slick are really popular. Home-grown is gone. I think sites that are intent on emulating magazines in an on-line version of glossy still can't quite capture loyalty in the same way that YouTubers and bloggers can. They're beautiful, but they're cold.
Blogs have become a 'service' rather than an insight. What used to be a peep into someone else's life and views is now regarded as a solid information source. I have never felt under more pressure than I have this year – but only because I want to get it right. It's the ultimate compliment when people turn to you for your opinion, or regularly read your blog, so it better be well thought out and worth the read!
2013 dictated we all have to work out Google+. I still don't get it…that's a goal for 2014! Google Hangouts? Very hazy on that, too, but it's going to have to be tackled. In fact, Google basically wants to rule social media world.. they've created new Picasa software so you can store all your photos there too. Google is just getting scary.
Product of 2013? For me, it was Hand Chemistry (HERE) because it just works so well and it's followed closely by Armani Flash Lacquers (HERE) for being one of the most beautiful gloss formulas ever.
Launch of 2013? It has to be the Charlotte Tilbury make-up range; you don't get brands rising from nowhere and succeeding as well as this has in such a short time very often. And, Stateside, it's the Marc Jacobs beauty line. Again, instant success.
Brand of the year is NARS – constantly reinventing the make-up wheel in a way that other brands simply don't.
Trend predictions for 2014 are for multifunctional products – in the way that BB and CC creams developed for skin found their way into hair care, you can expect to see more unexpected developments that extend a concept. And, make-up wise, it's everything lip.
Personal goals are to worry less about what everyone else is doing and focus on what I'm doing with my blog. I'm comfortable in a competitive environment but definitely need to relax and not stress so much. I've accepted I can't do everything – last year's February flu that took me out for three weeks was enough of a warning not to start 2014 the same way.
Personal achievements for last year include just keeping going! And receiving the first ever Social Star award from P&G – the fact that the award even exists is testament to how far blogs have come. I spent a day as a PR (and Kelly from Pure spent a day running BBB) which taught me first-hand how it is on the other side, and spoke at the L'Oreal Social Media conference in Paris (which somewhere along the line I had heard described as a round-table – imagine my surprise at a vast hall of 300 people – eek – and not a few folks around a table which I had assumed). It's been a very difficult year personally, made better by having the anchor of the blog to hang on to. I've learned some tough lessons and had some horrible moments, but also some utterly joyful moments (one of which is when a lovely lady came up to me in the street because she recognised me from my blog and told me all about the candle she'd just bought) and some very funny ones, too.
Upcoming biggies, beauty wise? Dior Dreamskin for a start, everything purple-pink as dictated by Pantone's colour of the year, Radiant Orchid. Sephora has already teamed up with Pantone for a range dedicated to the shade. Revlon's Parfumerie Nail Polishes will be everywhere; Bumble & Bumble's Cleansing Cream (as opposed to shampoo.. get ready for it!) is a huge innovation, MAC's version of a Naked palette will be a total hit, and don't forget the Louboutin beauty line that's supposed to be emerging soon. That, I cannot wait to see.
So, that's kind of it…I find the changes in blogging both exciting and exasperating and I can only describe the journey as always walking round a corner – you just never know what's coming next. It feels precarious but exhilarating. I cannot wait to get stuck into 2014!
Wishing everyone the best of everything for 2014 and as always, my heartfelt thanks for checking in. x
Transparency Disclosure
All products are sent to me as samples from brands and agencies unless otherwise stated. Affiliate links may be used. Posts are not affiliate driven.