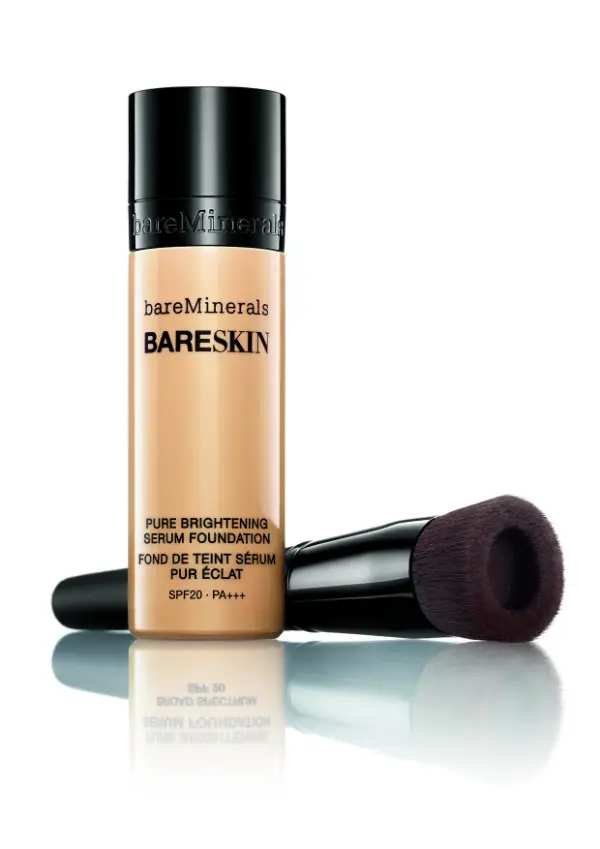 I'm just quickly flagging up that it's launch day for the new bareMinerals liquid foundation although it had a moment on QVC this month. As someone who doesn't like mineral powder in any shape or form, the fact that it's mineral powders in a liquid suspension is a revelation. They've converted me to mineral foundation by stealth!
I was trialling this a while back (original post is HERE) and genuinely loved using it. The proof of the pudding in any of these trials is whether I keep on using the product, and yes, I have kept on using it. I use bareMinerals Brightening Serum Foundation when I want more coverage than a BB can give me (I'm still a fan of BBs) and I guess in my head, it's under the 'glam' category which isn't a place I go that often! All the details are in the previous post so I don't want to be repetitious, but it's really like no other foundation that I've tried. The mineral powders are suspended in a silicone free liquid (and that's a surprise, because it has all the slip of silicone) and you need to like a dewy look. For older skin, particularly, I say, stay dewy! Don't mattify anything!
The applicator brush isn't essential, but I'd say definitely helpful to have, and you need the lightest of touches with this foundation. It's very fluid and silky feeling, and the brush drives the liquid onto the skin seamlessly, but I had to avoid using it on my nose where it kind of drove into the pores – by using my fingers, it swept over them beautifully. To choose colours on-line is a bit tricky – if anything, I'd suggest going slightly darker than you think you are. There's a shot of Vitamin C in the mix to help with brightening skin if you use it on a daily basis, and also SPF20.
I've been nothing but delighted with this foundation – even though it's mineral – it really is a perfected real skin look and totally does the dewy, glowy thing that I like so much. So, today is launch day – it's a biggie for bareMinerals and interestingly comes at a time when there are lot of new foundation launches, but I've yet to come across anything similar.
So, here's the link to the newbie which costs £26 (HERE)!
*NB: Thanks to a reader comment I've just been on QVC and read the reviews there – a lot of women are saying that it made their pores look worse. I didn't find this across my face, but buffing it into my nose didn't work for me so I know exactly what they mean! Driving the product into pores with the brush doesn't work on areas where you have larger, open pores such as the nose. I had to skim my nose area with finger tip application and then it was absolutely fine. I question if you really need the brush at all actually, so if you are able to get samples of this product first, I would strongly advise. Some reviews on QVC are excellent, but the same 'pore' issue comes up. If you have large and open pores, it may not be exactly the right foundation for you.
Transparency Disclosure
All products are sent to me as samples from brands and agencies unless otherwise stated. Affiliate links may be used. Posts are not affiliate driven.