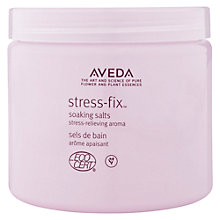 I popped by to the Aveda Institute near Covent Garden last week for a manicure; they've literally just launched the Stress Relief Manicure. However, it was literally just the day after I'd had a Clinique mani for their new 5-free polish range and I couldn't bear to see the colour come off so quickly. So, Aveda were very happy to adapt mine down to a hand massage.
Starting with a scrub consisting of the Stress Fix Soaking Salts and Stress Fix Body Lotion, my hands were beautifully massaged – no airy fairy stroking.. my therapist properly worked those tight hand muscles (if you type a lot, your hands can get very knotted and painful) for a good amount of time and after she'd finished with the scrub and working it in, once the product had been rinsed away, it looked like someone had removed ten years from my hands. I'm not exaggerating.
The therapist then worked in the lotion – it is a calming smell, but you need to like lavender – and it was so soothing that I actually could feel my shoulders drooping in relaxation. And I hate massage, remember.
All the while, I have to admit to being terribly distracted from my massage by a man who'd come in for a haircut. He basically had a bob with a middle parting. I've never seen anything like it. He went off for his shampoo and came back – I was praying the hair stylist was going to whip it all off.. but oh no.. that bob was back and bouncier and glossier than it started. Riveting. So, with that distraction there was no time for boredom. While I can't attest to the mani, I will assume it's just as good as the massage – my hands looked positively rejuvenated for days afterwards.
Any Aveda spa near you should do this – the new Stress-fix mani/pedi is a national roll-out.
Transparency Disclosure
All products are sent to me as samples from brands and agencies unless otherwise stated. Affiliate links may be used. Posts are not affiliate driven.