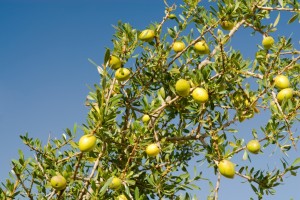 For those who don't know, Argan oil comes from the Argan nut, extracted by Berber women co-operatives in Morocco. Argan trees grow only in Morocco. The oil is full of fab things for hair and skin, such as vitamin E, essential fatty acids, lipids, antioxidants and ferulic acid to name but a few. There's a huge surge in the number of beauty products including Argan oil in their ingredient line up and I'm a big fan of Argan oil myself, particularly for hair.


To be honest, if all the brands that are using Argan oil as an ingredient were using it in a meaningful capacity, there would be no Argan oil left in the world. Personally, I only use pure 100% Argan oil bought from reputable sources such as Mir Skincare or Melvita, but it is starting to really bug me the number of brands that are using the Argan trend to cash in and only using it in tiny quantities, that in my view, can't really bring anything much to the party. Don't get me wrong, Gielly Green Argan Rescue is one of my favourite hair products, but it also uses sea buckthorn and neem oil although Argan is listed second on the ingredient listing, indicating correctly that it is one of the main ingredients.


Not so for other brands, who use a very small quantity of Argan oil to justify using Argan in the name of the product or marketing materials. I've spoken at length with a well respected formulator who says, "It isn't actually a requirement to list ingredients in weight order when they are present at quantities of less than 1%, so if an ingredient appears half way down or lower on the listing it is likely to be only present in the barest of quantities." Which means, pretty much, that it doesn't really make any difference if it is there or not. There are also clever formulation tricks such as splitting your key ingredients in such a way that you can push the 'trend' ingredient further to the top of the listing. The formulator I spoke to is doubtful that even at 5% there is any actual impact on skin or hair. 
If you check on the Kiehls website and look at Superbly Restorative Argan Dry oil, while it mentions that the product 'utilizes' Argan oil, the key ingredients listed are apricot kernel oil and olive oil. So, it isn't really clear just from looking at the site how much Argan you actually get for your £26. Similarly, with the new Lee Stafford ArganOil From MoRocco range: I actually asked outright what percentage of the products were actually Argan oil and they declined to answer. I don't question that the products will be great for hair, but I do question whether it's the Argan oil that makes it so.

It is perfectly okay to use pure 100% Argan oil on hair or skin although you might want to consider your hair or skin type before you do this. I suggest you look really closely at brands that scream 'Argan' in their labelling and opt for the real thing as and where you can to get the optimum Argan benefits.


Transparency Disclosure
All products are sent to me as samples from brands and agencies unless otherwise stated. Affiliate links may be used. Posts are not affiliate driven.