Yesterday was such a full-on day of launches and press days, so a brief round up of the fabulous new things that I saw before I head away for a week: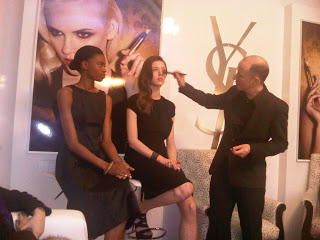 First stop was YSL and some brand new Touche Eclat. Somehow it had passed me by that there were ever more than one shade of Touche Eclat, but we were presented the entire lineup of seven shades from palest No1 through to No7 Lumious Mocha, suitable for black skins. We were shown (above) how to use them as highlighters by Fred Letailleur, make up artist for Yves Saint Laurant and how they work on differing skin tones – I experimented with No5 (Lumious Honey) and it was perfect to highlight my olive toned skin. The technique is to dab the fluid onto the cheek bones and blend with a brush, as in contouring. I am instantly in love with it – it really worked to give my skin an extra sheen. I was also colour-matched for Teint Radiance and absolutely love the brush application system of the foundation. The new Touche Eclats launch on 19th of May into Selfridges at £24.50 each and then nationwide from 4th August. I can see one of these will never be enough!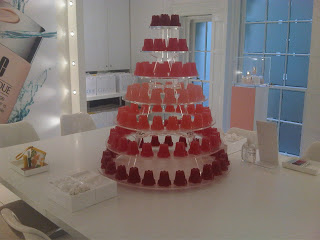 Next, I headed over to Clinique for what was in fact a make up artist event, but since I was spending the day with my make up artist friend, Kenneth, I called in to say hi more than anything because I've already seen the fabulous Chubby Sticks. This central arrangement was created by Bompas & Parr (Jelly Makers extraordinaire) and each jelly was flavoured to match the names of the Chubby Sticks, so Melon, Watermelon and Raisin amongst others. They were absolutely delicious!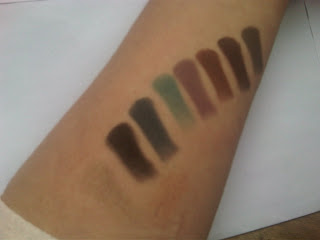 We then headed off to Bourjois who have some beautiful bright nail colours for summer – yes, there is a yellow. But, the product that got everyone really excited is swatched above. The new Intense Little Round Pots are extremely pigmented – mainly matt shades (but for three) and boy, are they intense! I've never seen such a black, well, black and completely fell in love with a deep grey/khaki. I'll review properly when I'm back.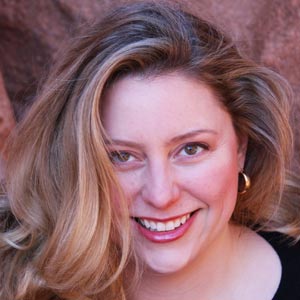 After that it was over to Knightsbridge for the Harvey Nichols Press Day. In the beauty section intuitive healing sessions were being offered by Kristin Taylor, a Canadian who is now part of the team at Harvey Nichols Beyond MediSpa. I've never in my life been healed before and I have to admit it was a strange experience. She asked me what was the one thing I would like to change in my life and and I said I would like to have more energy. So she worked with her eyes closed, holding a crystal and talking gently to me explaining what she was doing. Now, I would have to say that nothing much happened other than her eyelids fluttered a lot, but I started to feel very, very sleepy and for at least half an hour afterwards I could not stop yawning. An hour later, I'd found the energy to go to an awards ceremony brimming with vitality. She talked a bit about allowing certain energies in and letting some negativity go: I didn't really have to do anything as she was supposedly doing it for me. Without feeling significantly different, other than a bit more energised, I really couldn't say if anything much had happened at all. And more of a skeptic you could not find than me… but wait!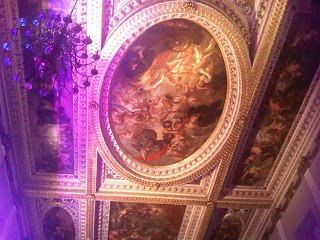 This is the ceiling at Banqueting House, painted by Peter Paul Rubens in 1629-1630, a magnificent setting for the Fifi Awards, the Fragrance Foundation industry awards. Apart from having George Lamb compering, Beverly Knight and Blue handing out awards (I was a guest of the Gucci Guilty team who picked up a couple of awards), there was a staggeringly good raffle that included a Chanel handbag. I'd been sent a list of the prizes ahead of time and had my heart set on that bag. So much so that I took a hundred pounds to spend on it. You had to write your name on a twenty pound note and they all went into a whirly barrell. So my five went in, and somewhat unbelievably I won the bag! Yes, I screamed. All proceeds went straight to Look Good, Feel Better which just made things even more amazing. Here's my prize, modeled by my good friend over at Groomingguru.com.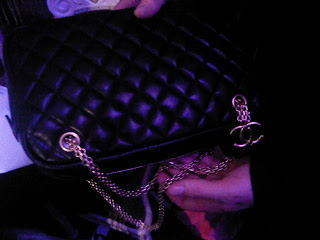 I'll never know if it was the visit to the healer or simply sheer good luck that brought it my way, but either way, I feel like the luckiest blogger in London right now! 
Transparency Disclosure
All products are sent to me as samples from brands and agencies unless otherwise stated. Affiliate links may be used. Posts are not affiliate driven.