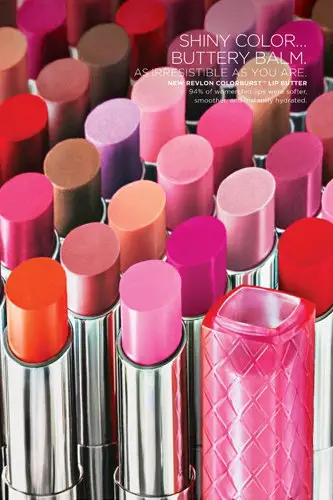 Prices go up, that's the natural way of things, but I can't help noticing that lipsticks seem to be going wayyyy up! It's almost completely normal to be asked to pay £20+ for a lippie which seems excessive to me, no matter what's in it.
I asked Twitter followers if they felt the same. Comments were really interesting.. one person commented that their Chanel Rouge Coco had shot up from £21 to £23 in a year, and similarly others felt that MAC has gone up a lot (£12 to £15) in the last year or so. Remember when No7 was considered completely budget? It's now £9.50 for a lipstick.
I had a lovely tweet from someone who bought an Elizabeth Arden lipstick and nail polish in 1982 and it cost £7.50 for both. Now you can kiss goodbye to £19.50 and that's for a lipstick only. Someone else commented that they thought it was the 'Tom Ford' effect – that's a good point – TF lipsticks are £36.50 each. You can actually buy quite a nice handbag for that. YSL, Guerlain and Armani are just under £25, while Estee Lauder is bang on £20 (or £21 depending on which range you buy from, moving up to £26 for the Mad Men limited edition). Dior is £26, and Lancome is £21, while Clarins looks like a bargain at £18. The effect being that if one brand prices high, then others will follow in order not to be left out of the luxury line-up. You can't be luxury if you're too cheap.
So, what could possibly be in lipsticks that costs as much as a pair of shoes? Well, there isn't a huge deal of difference in material costs; pigment, waxes etc, but the difference in price is often reflected in the packaging – you can't compare Mad Men say, with a No7, packaging wise, nor a metal case with a plastic one; a big proportion of what your money goes on is advertising. A brand that doesn't advertise can afford to sell lipstick at a cheaper price than one that does.. those costs, marketing, advertising and promotions are pretty well built into that delicious red shade from the get-go.
However, there are some general industry price hikes that every make-up brand will be susceptible to. For a start, while lipstick is built from waxes and pearlescent pigments, some do use higher quality waxes to prevent a dragging feeling and increase pay off, there genuinely is a price hike at manufacturing end for synthetic waxes. This is because there is an increased demand for them (look at how many new make-up launches there are in the UK every year and then times it by the world). There is genuinely a shorter supply of beeswax (I keep saying it, be nice to bees) due to declining bee populations, and pearl prices go up every year as a matter of course. This doesn't explain away how a lipstick can cost £36, but ya know.. at least you know about £6 of it is worth it.
Transparency Disclosure
All products are sent to me as samples from brands and agencies unless otherwise stated. Affiliate links may be used. Posts are not affiliate driven.