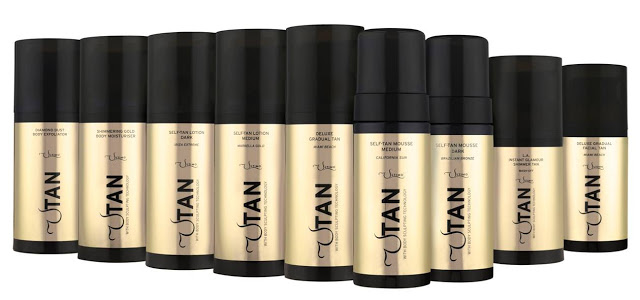 You've got to love an entrepreneur, right? Michelle Mone is a highly successful business woman who started the lingerie brand Ultimo and has now moved into the beauty world with self-tan range, UTan. Michelle received an OBE in 2010 for services to UK business which is incredibly impressive in such an economic climate. All the UTan products are made in the UK which of course, means more UK jobs – something you wouldn't immediately consider when buying a tan, but it's an important factor in commitment to the UK economy. Another aspect that you probably wouldn't know about is that Michelle recruited two of the beauty world's most respected women, Jill Goldsmith (whose past success includes Shiseido and Molton Brown), and Margaret Attwooll (who held the post of head of beauty at YSL) to partner in the project and if they don't know what women want from a beauty product, then nobody does. 
UTan is a self-tan range that doesn't just tan. It's a proper, busy-girl multi-tasker that does a bit of body contouring too by improving and smoothing skin tone and firming the skin… perfect if you have a bikini to wriggle into anytime soon. And the absolute bug-bear of any self-tan – the horrible, tell-tale smell is completely gone. 
When you look at the ingredient list, it isn't a roll-call of unrecognisable chemicals; there are some heavy-weight plant extracts in there such as Wild Strawberry Leaf, Wild Indigo Flower and Buriti. And, it is the inclusion of these potent ingredients that transforms UTan into skin care that tans. The ingredient I am most interested in is Wild Indigo which is said to remove signs of stress from the skin 'by stimulating the release of euphoria molecules and endorphins.' I want euphoric skin! I really do! In reality, it translates to smoother and softer skin.. and I want that, too. 
The ingredients are heavily targeted at that ultra-soft, I-don't-know-how-she-does-it skin that looks radiant and super-smooth. I only ever achieve that when I'm on holiday and slathering on sun-cream three or four times a day so I'm guessing it is down to the high level of moisturising ingredients.  
Finally, the tan comes in six colour and texture variants (and yes, I'm scared of the one called Ibiza Extreme) so you can find your level quickly and easily, and there's a gradual tan (Miami Beach) for the very fair who want to take it slow. It's not cheap at £28.50 for the very dark shades (cheaper for the lighter tans and accompanying accessories such as body exfoliator), but if you bought a skin firming treatment and a decent self-tan it would come to about the same.
I don't write about tans very often but this one has caught my eye because it's come from a very successful start point from glamorous women who understand what glamorous women want. If only they could bottle that, hey?
To celebrate the launch of Ultimo Beauty UTan, Michelle Mone, OBE, will be at Boots Buchanan Galleries, Glasgow, from 12-2pm on Tuesday 22nd May and Boots Westfield, White City, London, from 11am – 1pm on Thursday 24th May. If you can't make it along there, you'll find it in Boots stores and on-line here: UTAN
NB: Sponsored Post.
Transparency Disclosure
All products are sent to me as samples from brands and agencies unless otherwise stated. Affiliate links may be used. Posts are not affiliate driven.