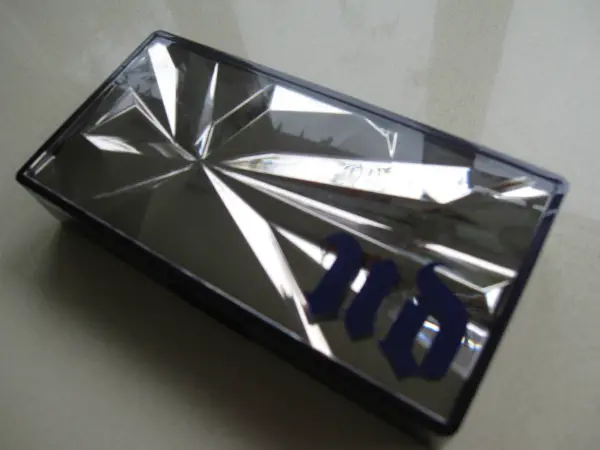 Ooh, my camera doesn't like these mirrors! But I like the palette, so I'll plough on.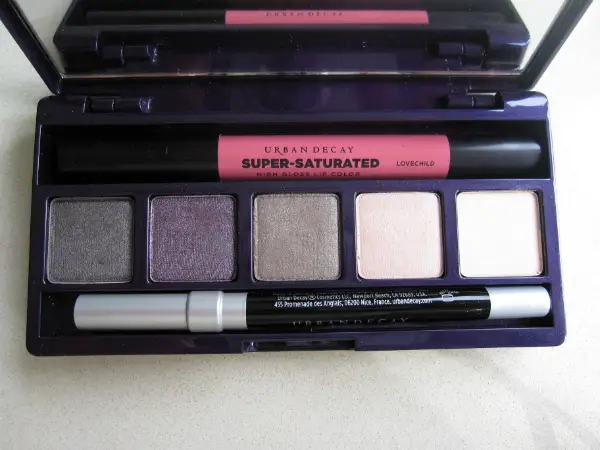 Although there are only five eye shadows, they're very versatile – I don't really believe in day looks and night looks (you should wear what you like whenever you like) but you can certainly create more muted looks with a bit of drama to amp it up if needed.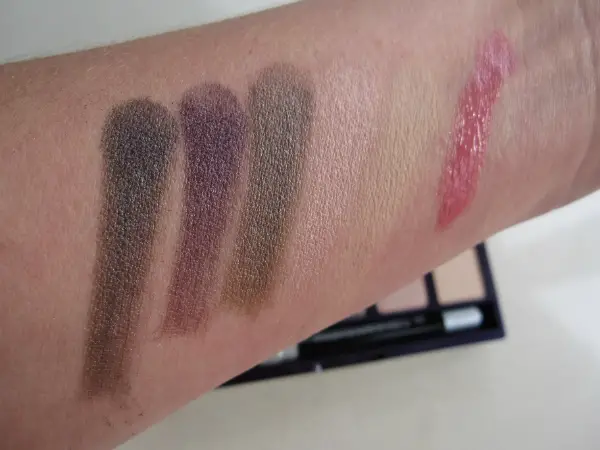 My camera has knocked out most of the shimmer, but they have a definite sheen to them with the exception of Bleach at the very end which is matte. Shades from near to far are: Shakedown, Remix, Nameless, Minor Sin and Bleach. Urban Decay Shattered is a go-anywhere palette. Also, tucked in the top tray is a travel size 24/Glide On Liner in Black and a Super Saturated High Gloss Lip Colour in Lovechild which is the creamy pink you see on my hand.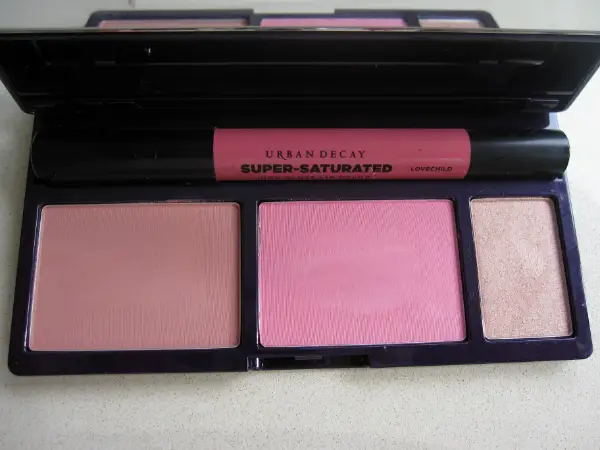 On the lower level two blushes, one highlighter and very confusingly, another Lip Colour in, er, Lovechild. I thought maybe because this is a sample, someone had mistakenly put in an extra Lip Colour – but no, when I check the UD site, there is one on each level of the palette. And yet, it's not mentioned anywhere in the description. I'm not about to complain that I have two Lip Colours when I was expecting one, but something's awry here!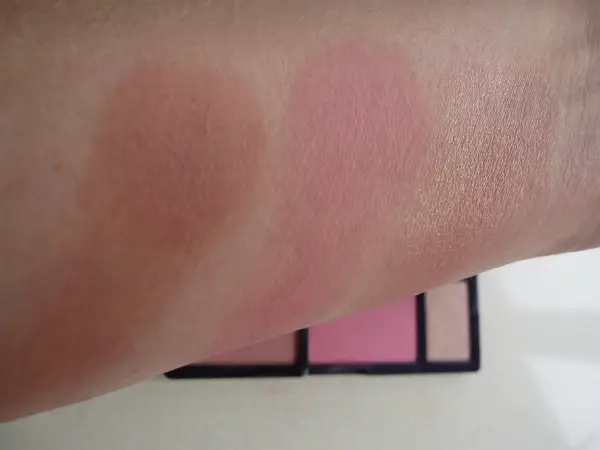 The two blushes are brilliant intensity; Overexposed is the peachy shade and gives a warming hue, while Temper is the pink shade – a baby pink that gives a pretty flush. The Highlighter is Glint. There are mirrors on both levels to stop any faffing about – this palette has gone straight in my KEEP drawer because I'll use and wear absolutely everything in this.
It's £30 HERE – I've checked US reviews and nobody is mentioning that extra, same-colour Lip Pencil. It's a mystery!
*NB: Okay, so I have been well and truly fooled by the Shattered Case and that lip pencil. It's got a clever little system – there is only ONE lip colour by the way – which means when you open the second layer the pencil drops down into it. I never had both layers open at once which means that it always looked like there were two! You cannot imagine the head scratching when I was looking for both to photograph to show they were identical – and could only find one, then for two to miraculously appear back in the box by which time I'd lost interest! The PR emailed me today to explain and the penny dropped.. honestly, I am such an idiot! But its had both of us laughing (and some readers as well by the looks of things) so it's brought a smile to my face in more ways than one! *head-desk*
Transparency Disclosure
All products are sent to me as samples from brands and agencies unless otherwise stated. Affiliate links may be used. Posts are not affiliate driven.