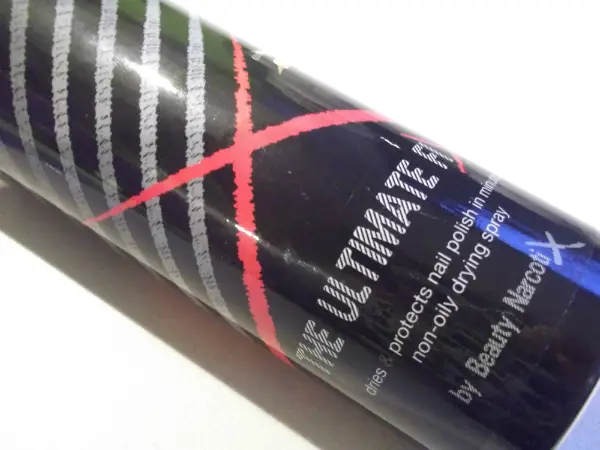 I've now done a test of Ultimate Fix; the drying spray for nails that you can use between coats. One of the claims is that it adds extra protection against chipping – I think I have to say that I have found that to be true – I have a lot of nail splitting (mainly on the non-swatch hand, thank goodness) and they lose polish very quickly indeed – I mean almost overnight – and they've been absolutely chip-free for 48 hours. It might not sound like much but I am battering away at my laptop all day long and it's a big ask of any polish. But this time, I have no chips.
As for the drying between coats – yes, it does dry between coats – I can see that for professional use (imagine manicurist behind a fashion show desperately trying to get models ready for the runway) it will be incredibly useful – but the spray does smell a bit.. in fact, my nails still smelled of the spray a couple of hours later. Not strongly, but, you know, it was there. Using the paint and spray, paint and spray method, I think I got quite a lot of fumes and that can't be good thing, so I wouldn't use it every single time I don't think. I think that nail purists might say it knocks down a little of the shine, but I am impressed with it nonetheless for hurry-up days when time is at a premium because it does dry polish not instantly, but very, very quickly, and it's something to have in the beauty cupboard, I think.
The big can is £17, but there's a smaller, more bag friendly size coming out soon that you might want to hold out for because it will cost less so you can decide if it's for you or not without a big outlay. Ultimate Fix is HERE.
Transparency Disclosure
All products are sent to me as samples from brands and agencies unless otherwise stated. Affiliate links may be used. Posts are not affiliate driven.