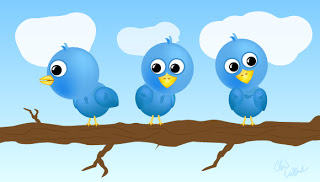 Image credit: problogdesign.com
My Twitter timeline is about 50/50 on whether Twitter parties are any fun.  Personally, I really don't object to Twitter parties: it's no different to when my timeline is hijacked by X Factor tweets or a juicy news item being re-tweeted and is all part of Twitter being a community. Bearing in mind that Twitter is still relatively new, you have to let people experiment to a certain extent without being too judgemental; after all, what does it really, truly matter?  As long as you aren't being flooded with objectionable or unpleasant Tweets (totally at odds with the point of a Twitter party) then use your judgement. Your choices are a) join in, if it is an open party, b) ignore, c) unfollow or d) moan. I would rather a million times have my timeline flooded with party than moan. 
Ideally, all Twitter parties should be open for everyone to join in; spot prizes are good fun but not if you can't get your hands on them! And, if they're sponsored, as long as it is correctly declared in accordance with the OFT guidelines, then it is far better to be informed than uninformed, and I'd expect someone to get paid for their time if they're hosting or producing a Twitter party. It's really all too easy to be judgemental and a nay-sayer when something different happens in your timeline, but it is your timeline… you don't have to keep anyone in it that you don't want to! 
I want to be open to Twitter parties and make a judgement based on the event, not the theory. Watch and learn, I think is the way to go with this one. And anyway, one day I might have a genius of an idea for a Twitter party…Chanel might phone.. (okay, well not likely in my lifetime, but you know.. a girl can dream).
Transparency Disclosure
All products are sent to me as samples from brands and agencies unless otherwise stated. Affiliate links may be used. Posts are not affiliate driven.