Okay, so Fashion Week is about to hit London; it's the craziest of weeks where you'll see tempers frayed (lack of cabs), the most attention seeking, photo-me outfits (fash bloggers) and fashion editors weak with hunger as they try to get to twelve shows in a day made for three. London comes to life in the most colourful, stylish and frantic way possible.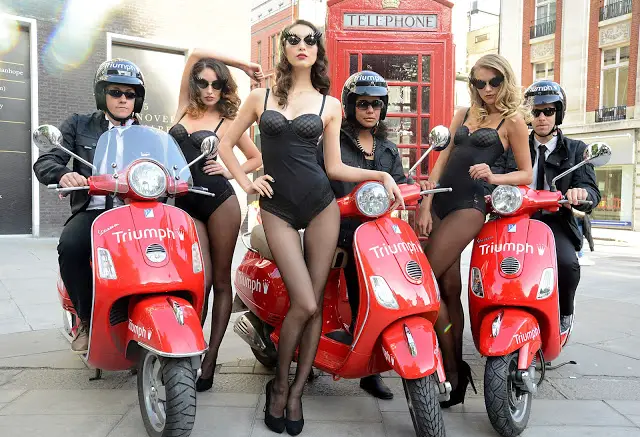 I'm mostly avoiding Fashion Week this year, but what I don't want to avoid is the fact that Triumph (of the good-fitting bra experience last week) are underpinning the shows, so to speak, as official catwalk lingerie suppliers. 
Undies don't get a lot of exposure normally; there's always a conspicuous absence of underwear on the runway (showing perfect nipples, usually, and failing that, some cute bum cheeks) so it's rather nice that smalls are big news this year. 
Make sure if you are London based that you stay eagle-eyed for the Triumph Vespa Model Squad on bright red Vespas (#SpotTheVespa) zipping around the capital delivering lingerie to the designer shows, including Mark Fast, Nicole Farhi and Temperley London. The thong carrying couriers will also have lanyards to give away with details on how to register on the Triumph Facebook app to have a chance of winning tickets to London Fashion Weekend. They'll be whizzing about from 14th to the 18th September but you can log onto the Facebook to register to win tickets from now til 18th. Find Triumph HERE
and I'd love to know if you win them! There are lots to give away so everyone is in with a good chance.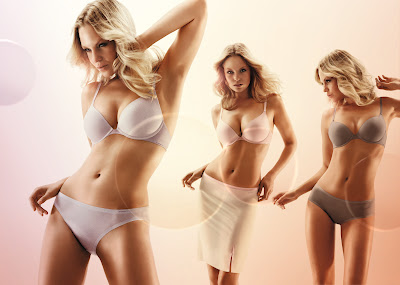 While I'm on the subject of beautiful bras, I've also discovered that Triumph do a range of undies called Body Make Up (above, and sadly that's not me!), that doesn't show through your clothes. I had always considered that shade of beige to be the most unattractive possible colour you can put on a body, but these days 90% of my wardrobe is made up of 'oyster' (I like it a lot better with that name!) coloured undies. For a start, you can't see it under white or light coloured clothing.. particularly useful for the essential white linen trousers and secondly, the Body Make Up range actually comes in different skin tone colours from ivory to dark tan, kind of like foundation does.
If I get some beautiful undies images, I'll pop up another post, but in the meantime, spot those Vespas and if you see a famished fash guru, be kind and slip her or him a non-fat, soya latte and a Dukan friendly biscuit. 
Transparency Disclosure
All products are sent to me as samples from brands and agencies unless otherwise stated. Affiliate links may be used. Posts are not affiliate driven.