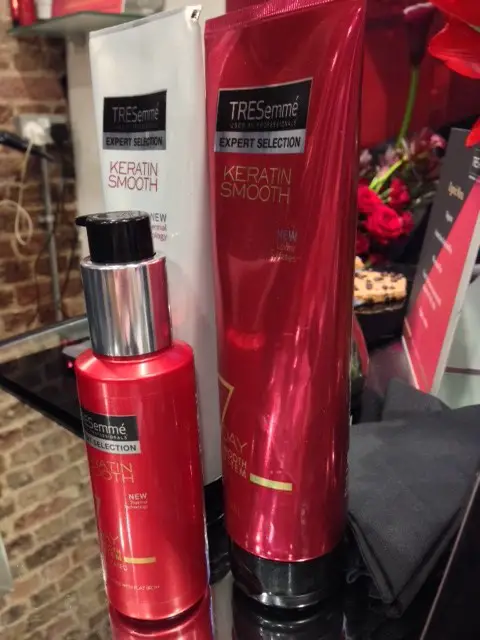 Just as I was discussing the horribleness of Fog Hair on Twitter yesterday with @thatsntmyage, today, along comes Tresemmé 7 Day Smooth. If you don't live in the UK, chances are you won't know what fog can do to hair! Fog, which stops us being able to see even a metre ahead, is basically a thick cloud of tiny water droplets – so thick you can barely even see out of it so imagine how many droplets that is!
While I doubt very much that even 7 Day Smooth can control fog levels, what it can do is rectify the situation far more quickly than normal. Although I'm not all that interested in hair, this new technology has definitely got me interested – smoothing kits have come and gone but this time the concept has been pretty much reinvented by Tresemmé so I'll cut to the chase and explain how it works.
Here goes: We pretty well all know if that cuticles on hair shaft are ruffled, there will be frizz. If they're smooth, then there will be smoothness. So, using two highly, but oppositely charged polymers that bond under heat to form a bond between the themselves and the hair surface. You can't see or feel this bond. Add in heat stylers and it causes a light film over the hair (which you can't see or feel either) that stops hair flexing and therefore ruffling up. It's also suitable for Afro Caribbbean or tightly curled Brazilian hair.
I've had my hair done today and of course it's super smooth because a hair stylist did it, but I'll be keeping a close eye on the claims that hair smoothness is improved for seven days (through washes as well) because it's quite a claim. I have never wished for fog before, but am definitely wishing for it now to put these products to the ultimate test. I want to see whether I can run straighteners through and it will go back to its smooth self or not.
So, what do you need to know? It's not expensive at £5.99 for Shampoo, £5.99 for Conditioner and £6.99 for the 7 Day Smooth Heat Activated Treatment. Actually, now I think about it, I didn't ask whether you really *need* to use the shampoo and conditioner or whether the real action is in the Treatment. The range launches into Superdrug in January (definitely a fog hair warning month) and then elsewhere in February.
Transparency Disclosure
All products are sent to me as samples from brands and agencies unless otherwise stated. Affiliate links may be used. Posts are not affiliate driven.