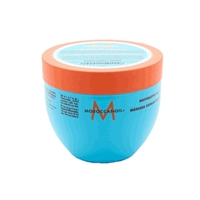 Moroccan Oil Restorative Hair Mask
I'm already using the regular Moroccan Oil hair oil that acts like a smoothing serum, but I was so impressed with that that I wanted to try another item from the range. So, I opted for vegetable protein packed Moroccan Oil Restorative Hair Mask. My immediate criteria for a hair mask is rinsability; there is little that makes me more annoyed that a head full of gunk that won't rinse out. The mask requires little in the way of rinsing; it comes out cleanly and easily and leaves hair very soft and silky feeling. I know from other blog reports that if your hair doesn't react well to silicones you won't like this, but my hair – naturally curly and quite thick, prone to frizz – loves it, to the point that people have been commenting on how good it looks (and that my friends, NEVER happens!!).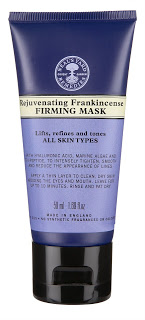 Neals Yard Remedies Rejuvenating Frankincense Firming Mask
I love the absolute lightness in consistency of this mask…it's a gel formula so it feel like wet air on the skin and very fresh. It's full of hyularonic acid, marine algaes and tri-peptides; a combination virtually guaranteed to do something good to your skin! While it claims firming benefits, I didn't notice that my skin was magnificently tautened; but it was distinctly softer and there was a smoothing effect that I was pleased with. I'd use this in future in the mornings if I have meetings just to pep up my skin a bit – especially when tired – and can see it becoming a regular in my beauty cupboard.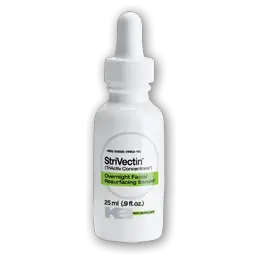 Strivectin Overnight Resurfacing Serum
Right, I am always a little bit suspicious that Strivectin is style over substance. I don't like the pseudo medical packaging particularly, but on the plus it is a clean looking product that isn't over burdened with decor. I gave the Overnight Resurfacing serum a go because I'm currently using a moisturiser that is quite basic – but very, very effective – and wanted to see if I could add to the effect. Strivectin is packed with enzyme activators, plant-based exfoliants and botanical brighteners apparantly, so it's good for those whose skin is discoloured by sun damage, or those whose skin is just a bit meh in the dullness stakes. It's a hugely pleasant surprise that this tiny bottle of low maintenance serum is really, really good! I could definitely feel the effect in terms of softness and a super-smooth texture, and when I went to fetch my morning coffee (virtually make up free), they said I look 'well'. Unheard of. This is a keeper.
Transparency Disclosure
All products are sent to me as samples from brands and agencies unless otherwise stated. Affiliate links may be used. Posts are not affiliate driven.